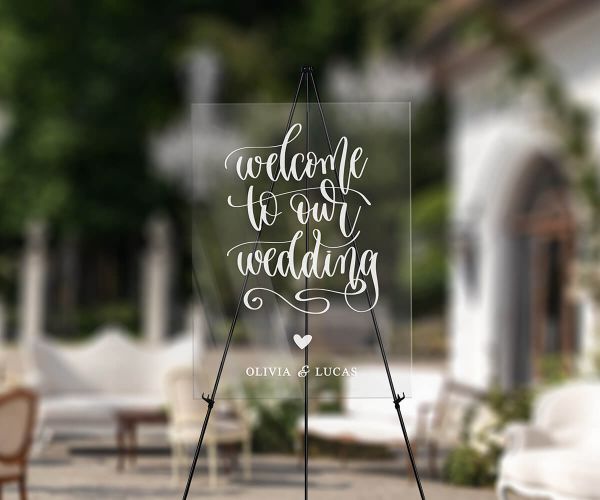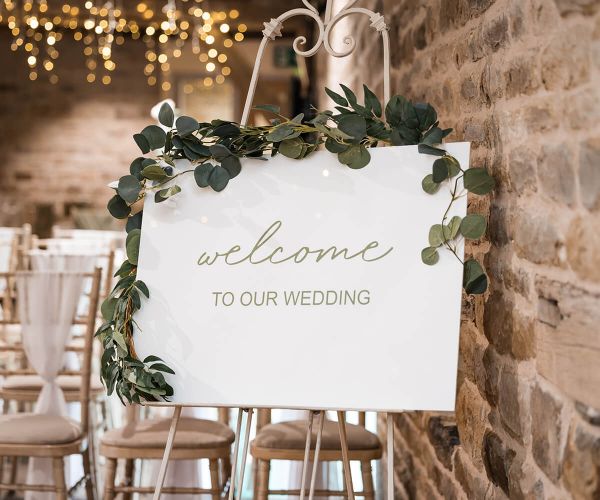 View Video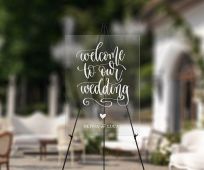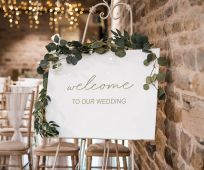 Make Your Special Day Fancier With Custom Wedding Welcome Signs By AxiomPrint
Welcome your guests with a beautiful and memorable wedding welcome sign. This unique and stylish wedding sign will be the perfect addition to your special day and will make a lasting impression on your loved ones.
Made from premium quality materials, this wedding sign comes in an elegant white finish that will complement any theme or color scheme. It is also incredibly durable and will withstand all types of weather, ensuring that your special sign is always looking great.
Wedding welcome sign printing is perfect for any wedding, engagement, or special occasion. Simply hang it up for an instant and beautiful statement. With its timeless design, Wedding Welcome Sign is the perfect way to greet your guests in style. It will bring a touch of class and sophistication to your special day and will be a lasting reminder of your special occasion.
Characteristics of Wedding Welcome Sign Printing
Customization
AxiomPrint offers an array of customization options for wedding welcome signs printing. With our easy-to-choose options you can create personalized wedding welcome signs that will reflect your special day design. In our customer-friendly online ordering system, you may choose the sizes, material, shaping and the quantity that meets your needs. Be assured that all of your special requirements are covered. We are very flexible and open to all special requests to make your special day even more memorable.
Material
For Wedding Welcome Sign printing we offer foam (¼" black and white) and acrylic (⅛" white, clear, black):
Foam is lighter than acrylic, making it easier to handle and mount.

Acrylic provides a higher quality, glossy finish for printed images, while foam board has a matte finish.
Shaping and Easel Stand
Wedding welcome signs are typically printed in large, bold font on high-quality material, with an arching top and an easel stand for displaying. The arching of the top helps to draw in attention from afar, while the easel stand helps to hold the sign in place and makes it easier to display.
Whether you need a unique shape for your welcome sign, make sure that we offer custom cutting for these signs.
FAQ:
Q: What is the best size for a wedding welcome sign?
A: The best size for a wedding welcome sign will depend on its intended use and the location where it will be displayed. Common sizes for wedding welcome signs range from 12'' x 18'' to 36'' x 48''.
Q: What should be included on a wedding welcome sign?
A: A wedding welcome sign can include the names of the bride and groom, the wedding date, the location of the ceremony and reception, and any other relevant information or messages. Some welcome signs also include decorative elements such as graphics, images, or custom illustrations.
Q: Can wedding welcome signs be personalized?
A: Yes, wedding welcome signs can be personalized with the names of the bride and groom, the wedding date, and other relevant information. Our designers may also offer custom designs or illustrations for your wedding welcome signs.
Q: How much does it cost to print a wedding welcome sign?
A: The cost of printing a wedding welcome sign will depend on factors such as the size, material, and personalization options chosen. On average, wedding welcome signs can range in cost from $30 to $200 or more.
Q: What if I don't have design options, do you provide design services?
A: We have a design service. Our team of creative designers have years of experience and are happy to help you perfect your preferred design. Before printing, we share with you the initial design of what it looks like and make changes if needed.
Q: Is there a minimum order quantity?
A: No. There is no minimum order quantity for foam boards printing.
Q: What is the turnaround time?
A: Our regular turnaround time is 2 business days for wedding welcome sign printing. But for last minute events we may be able to work with your tight deadline, next day or same day turnaround.
Q: How much does delivery and shipping cost?
A: Click on the "Shipping Estimate" button, which is right under the "Continue" button. Enter your zip code and it will automatically calculate the price.