View Video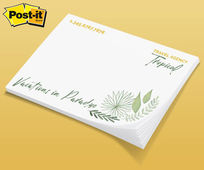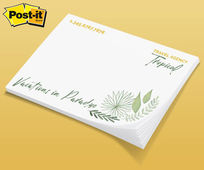 Order Custom Printed Sticky Notecards For All Cases
Custom Post It Note or simply a Sticky Note is made of a small piece of paper with a unique re-adherable glue strip on its back side. This means the sticky notes may temporarily be attached everywhere, from the kitchen fridge reminding your child to take some meal, to business documents and other surfaces. A repositionable adhesive allows the custom sticky notes to be attached, removed or re-posted anywhere with ease, and without even leaving any residue.
The value of sticky notes should never be underestimated! In this world of digital revolution, custom sticky notes continue blooming as a productive and effective tool for improving office works, study areas, learning skills and most importantly reminder tricks. There is no such kind of organizing or reminding applications which have that much popularity as sticky notecards. We've seen these yellow sticky notes everywhere. Indeed, they are ubiquitous and very eye-catching.
In recent years, thanks to printing innovations, besides full color sticky notes, it is also possible to make branded or custom printed sticky notes. If we call them promotional sticky notes, we refer to those main marketing essentials which every professional marketing specialist should consider as a must-have package before promoting the business into the market. Custom sticky notes are more than just marketing tools, they are those promotional items of brand strategy, which guarantee your brand's high visibility and distribution.
Basic Uses of Custom Printed Sticky Notecards
Sticky notes are everywhere and for everyone.

If you are studying then

sticky notes

are perfect for marking some passages or pages of your book. Outlining interesting facts or brief notes becomes easier with colorful

custom sticky notes

. They not only help you to organize yourself and your studies, but also provide such a joyful and colorful atmosphere for learning. And so,

sticky notecards

are suitable for decorations as well.
Custom sticky notecards are part of a great branding strategy.

Whether you plan to generate your brand awareness or improve your branding strategy, make sure that what sticks to your customers' minds follows them for a long time. Nowadays, branded or

custom sticky notes

are fully incorporated into marketing campaigns. With professional design options, the sticky notes may involve your company logo, name, tagline, contact information or just your brand colors. Later, these

custom sticky notecards

may serve as special giveaways for your target audience or loyal partners.
Custom sticky notes are cost-effective and affordable.

They are relatively inexpensive to print and can be cut in different sizes to meet the needs of your business. Contrary to some marketing tools which will cost you thousands of dollars, consider sticky notes as the easiest and cheapest way to spread a word about your brand. Pay less, receive more!
Best Materials for Custom Sticky Notecards Printing
Packs of custom sticky notecards will definitely do their job and will be found in every corner of our life. Here at Axiom Print, the quality of sticky notecards is unsurpassed by any other competitors out there. We not only value your time and efforts, but we take care of your brand's reputation. We are the ones who offer much care and punctuality for every printing order.
Axiom Print offers custom sticky notecards in two sizes: 3'' x 3'' and 2.75'' x 3''.
You decide how many sheets you would like to have in each pad: 25, 50 or 110.
make us feel happy, and of course we offer those 4 colors for sticky notes which will surely make you and your customers feel good. Also, remember that printing can be on the front part only!
Building a business reputation is hard work, but Axiom Print is ready to go the extra mile and help your brand stand steady in this fast changing business world.
Our experts will provide the printing of Custom Sticky Notecards within 7 business days. But thanks to our printing gurus, high-speed machines and brand new facilities, we offer rush printing, and even same-day printing services. We can fulfill the order with next day or even same day turnaround.