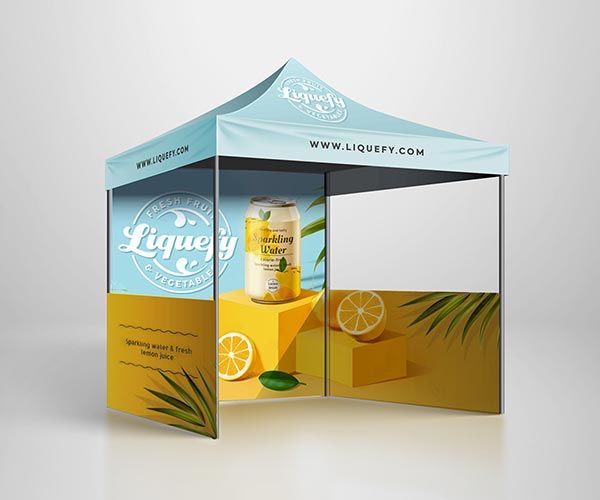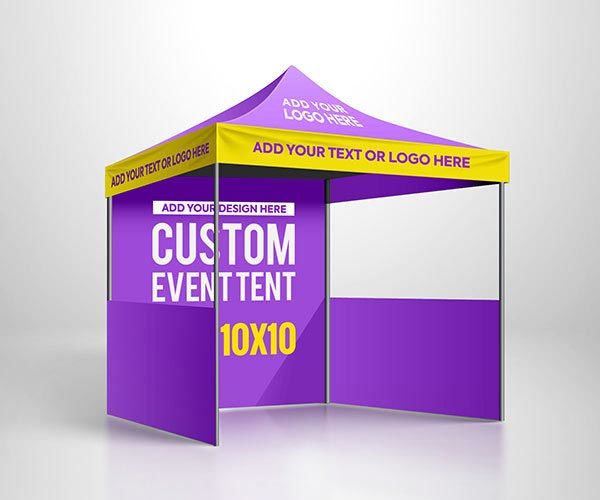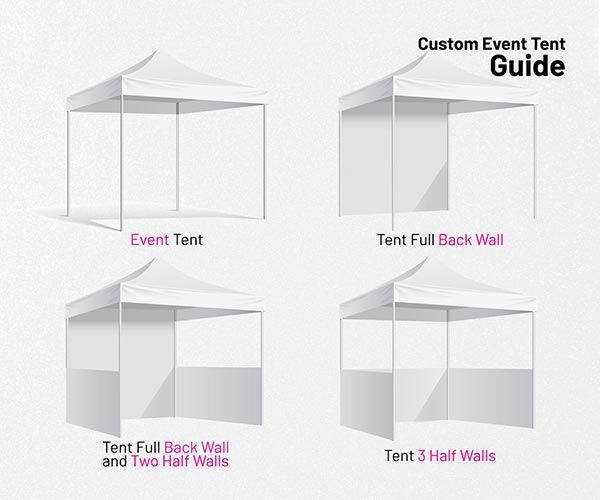 View Video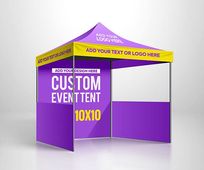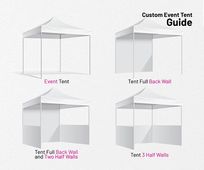 Custom Event Tents for Indoor and Outdoor Events
Custom event tent or Commercial event tents is a partially enclosed canopy structure that displays your company's name, logo, and branding in 360 degree view. Event tents are best used for outdoor events, exhibition halls, conventions, ceremonies, festivals, craft shows and various fairs to draw attention to your business. These well-designed outdoor and indoor event tents are durable, practical, provide shelter and include a travel case for easy set up.
Whether you need a pop-up tent for a small event, festival, or an expo you can trust Axiom Print to deliver the highest quality, and the quickest turnaround. suggest a versatile and practical addition to your venue at any upcoming event. Custom event tents perfectly go well with other branded outdoor marketing products, such as Stands and Displays or Banners and Stands.
Characteristics of the Axiom Print Pop-Up Event Tent
Customization
We offer Customized event tents to boost your brand awareness. Our event tents come in different styles printed in full digital color for a bold, and dramatic look. You can customize any side of the canopy. You may have one common design or four different designs on the canopy. Feel free to choose a simple tent or add half wall banners and/or a backdrop banner to enhance your branding.
Durability
Our 10 foot Pop-Up Event Tents are printed and sewn Weather Resistant Tent Polyester. The stands are heavy duty hex shape 40mm. Aluminum hardware which gives strength for outdoor installations. Telescopic legs offer flexibility in height and the interior lattice expands the tent interior with a simple crank of a handle. Each foot includes a plate ready to be staked to the ground. The super smooth fabric is scratch and tear-resistant. To save you money and a trip to the store we include ropes, stakes and a standard carrying bag with the hardware.
Enhancement Walls
Want to add more to your tent? We offer walls to give you privacy in your tent and more visual representation. Additional features include two half walls that can be printed in full color on both sides or one side. Have more to say? Add a backdrop banner to your tent with a message to your potential customers. All the banners are easily attached to the custom event tent with velcro.
Material
6oz. Tent Fabric (600x600 denier)
Size and Weight
Assembled Shortest- 120''w x 120''d x 124.5'h
Assembled Tallest-120''w x 120''d x 137"h
Weight - 43lbs | Hardware + 8lbs | Canopy Graphic = 51lbs | Full Package
Accessories
Carrying Bag w/Wheels
Sandbags
FAQ
Q: How to take care of your Custom Canopy Tent?
Damp Cloth can be used to clean your canopy. When your event is over, simply fold your canopy and store it in the carrier provided by Axiom Print.
Q: What happens when a part is broken?
Axiom Print sells parts separately. If the hardware breaks, or the canopy is damaged, you will be able to purchase them separately as a replacement.
Q: How do I set up the files for the canopy?
A: Once you place the order, we will email you a template to set up.
Q: Can I adjust the size of the canopy?
A: Yes you can adjust the size of the canopy. The aluminum hardware has adjustable legs.
Q: What is the turnaround time?
A: Axiom Print is known for offering clients express services. Our regular turnaround time is 6-7 business days but for last minute events we may be able to work with your tight deadline.
Q: Can I leave the canopy graphic on while retracting the tent frame?
A: We recommend removing the graphic before retracting the tent frame.
Q: Can I use a different artwork for each side?
A: Yes, you can upload up to four different graphics, one for each side
Q: How many graphics can fit in the Carry Bag Graphics/Accessories Compartment?
A: The bag can fit either one canopy graphic top or one full wall plus 2 half walls.
Q: What do you recommend for cleaning the event tent Graphics?
A: We recommend hand washing the event tent by using soft brush, mild soap and warm water to clean. DO NOT machine wash.
Q: How would canopy and full wall connect together?
A: Canopy and full wall can connect with velcro
No full wall = No velcro on all sides
1 full wall = Velcro on side C
2 full walls = Velcro on sides B and D
3 full walls = Velcro on sides B, C, and D
4 full walls = Velcro on all sides
Q: Who uses custom pop up tents?
A: Sports Teams, Car Sales, Businesses, Clubs and Organizations, Catering Companies, Radio Stations, Local, State or Federal Agencies, Recruiters and More!