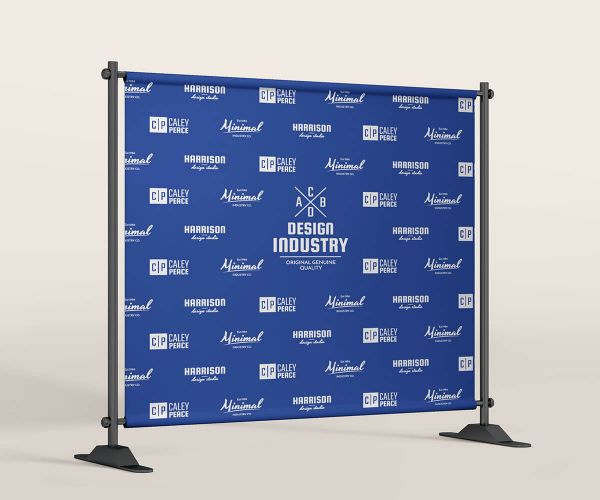 View Video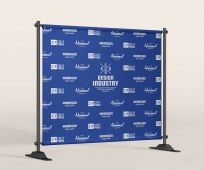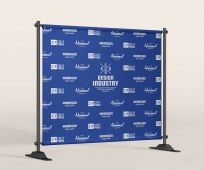 Order Custom Step and Repeat Banners with AxiomPrint
Designed for red carpet events, trade shows, or photo backdrops, custom printed step and repeat banners feature an eye-catching display of your logo or graphics in a repeating pattern. is a large, branded backdrop commonly used at events such as red carpet premieres, press conferences, trade shows, and other promotional occasions. The design features a repeating pattern of logos, brand names, or graphics in a step-and-repeat pattern. This layout ensures that the logos are prominently displayed, providing a visually appealing and highly recognizable background for photographs and media coverage.
Step and Repeat Banner printing is popular for creating a professional and branded atmosphere at events, offering an effective way to showcase sponsors, partners, or the main event logo in a visually striking manner.
Characteristics of Step and Repeat Banners Printing
Customization
For maximum appeal our team of professionals will help you get a bold design and add custom specialities to target your audience. AxiomPrint offers easy-to-choose options to create uniquely customizable banners to promote your brands. With our customer-friendly online ordering system, you can choose the material, printing sides, and the quantity that meets your needs. No matter what standards appear in our website, we are flexible and open to all special requests.
Material
Choose our 13oz. Matte Vinyl for a sleek and sophisticated finish that minimizes glare, providing excellent visibility for logos or graphics. For a more refined look, our Fabric (Wrinkle-Free) option ensures a seamless and polished presentation, creating an impeccable backdrop for red carpet events, trade shows, or photo opportunities.
Enhancements
Make your presentation better with the option of 3" Pole Pockets Top & Bottom, providing easy installation and a polished, professional look. To complete the red carpet experience, we offer a red carpet add-on that adds a touch of glamor to your events. Additionally, our sturdy and reliable stand ensures your banner stands tall and proud, creating the perfect backdrop for photo opportunities, trade shows, or any special occasion.
FAQ
Q: What is a Step and Repeat Banner?
A: A Step and Repeat Banner is a large, branded backdrop featuring a repeating pattern of logos or graphics. It is commonly used at events, red carpet affairs, and photo opportunities to provide a high-visibility backdrop for capturing images.
Q: What Material Options are Available for Step and Repeat Banners?
A: We offer diverse material choices, including 13oz. Matte Vinyl for a sleek finish and Fabric (Wrinkle-Free) for a polished presentation.
Q: What are the enhancements available for Step and Repeat Banners?
A: Enhancements include 3" Pole Pockets Top & Bottom for easy installation, a red carpet add-on for a touch of glamor, and a sturdy stand to ensure a professional display.
Q: Can Step and Repeat Banners be used for outdoor events?
A: While Step and Repeat Banners are primarily designed for indoor use, the choice of material can impact their outdoor durability. Consult with our team for suitable outdoor options.
Q: What if I don't have design options, do you provide design services?
A: We have a design service. Our team of creative designers have years of experience and are happy to help you perfect your preferred design. Before printing, we share with you the initial design of what it looks like and make changes if needed.
Q: Is there a minimum order quantity?
A: No. There is no minimum order quantity for step and repeat banners.
Q: What is the turnaround time?
A: Our regular turnaround time is 2 business days for these banners printing. But for last minute events we may be able to work with your tight deadline, next day or same day turnaround.
Q: How much does delivery and shipping cost?
A: Click on the "Shipping Estimate" button, which is right under the "Continue" button. Enter your zip code and it will automatically calculate the price.