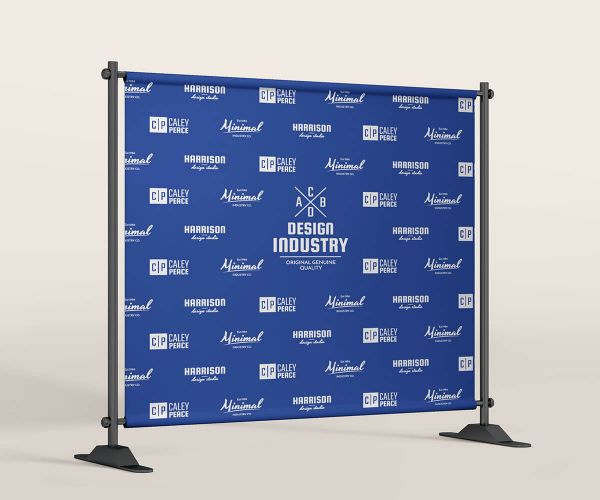 View Video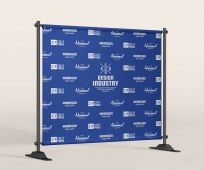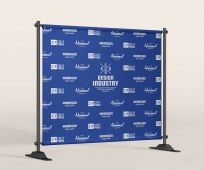 Enhance your business with Custom Step and Repeat Banners
A step and repeat banner is a great way to stand out in trade shows or large gatherings next to a competitor. They are a great way to take pictures in front of and post them on social media. Step and repeat banners can also cover unwanted backgrounds where you can hide cables and cords. They are commonly used at trade shows, events, or conferences to take pictures in front of. Nowadays many well-known companies use step and repeat banners for red carpet events, company parties and large social gatherings. Thus, seeing your custom step and repeat banner in social media or at your event, people will be tempted to take pictures in front of and post them on their social media creating a big audience for you for free. This is great for brand visibility and it won't break your bank.
Custom Step and Repeat Banner or Backdrop Banner Specifications
Step and Repeat Banners are printed on 13oz. Vinyl, wrinkle free fabric or stretch fabric. They are typically printed on standard 8x8 size, though 10x8 size is also available. You can finish the look by adding some enhancements such as Pole Pockets Top and Bottom, Grommets on Every 2 Ft. Custom step and repeat banners can be used for both indoor and outdoor. They are durable, high-quality and easy to carry.
How to get custom Step and Repeat Banner or Backdrop Banners with Axiom Print?
Either you can upload your own design or you can work with our designers to create a custom design that demonstrates your brand and industry creatively for an added fee. Our team of creative and skilled designers will create a design that meets all of your needs and those of your clients.
Axiomprint offer innovative printing, quick turnarounds and personalized account managers to give you the ultimate printing experience you deserve.