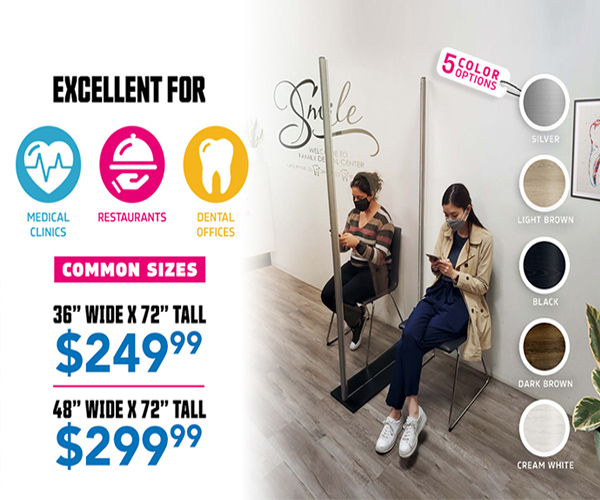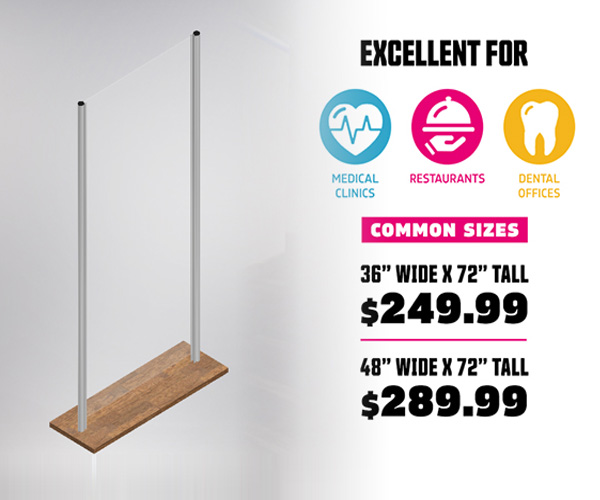 View Video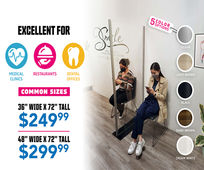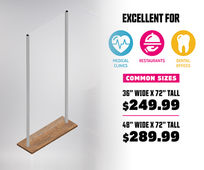 How To Get Stand Alone Sneeze Guards with AxiomPrint
Does your business typically have a waiting area for people? For example, do you manage a restaurant, health clinic, dental office, or government agency?
If you answered yes, then we recommend our stand alone sneeze guards.
With a wooden base, these tall clear acrylic sneeze guards help separate people that may be waiting for an appointment.
These long plexiglass sneeze guards are made in-house at our production facility in Los Angeles County. These clear shields help create a barrier between people who may be coughing or sneezing besides you. Due to this product being one large piece, we cannot ship these. This product is meant specifically for local organizations in the area who can pick it up. It already comes pre-assembled so you can just set it wherever you'd like! That's as easy as it gets!
Our shields are transparent so you can see through them easily and interact with the person next to you. Our acrylic (aka plexiglass) is a strong material so it will not crack easily upon impact. Lastly, they stop droplets from a cough of sneeze from reaching you which is why it is also known as a sneeze guard!
To sum it up, below are the eight benefits of our clear stand alone sneeze guards:
Transparent

Portable

Shatter resistant

Pre-assembled

Lightweight

Easy to use

Protection from germs and bacteria

Convenient
Although this product is for anyone, businesses that regularly interact with people are more likely to benefit.
Below are some examples of places that can use these clear stand alone sneeze guards:
Dental Offices

Clinics

Restaurants

Hospitals

Government Offices

Law Firms

Hotel Lobbies

Airports
Our stand alone sneeze guards currently come in two sizes:
36 x 72 inches

48 x 72 inches
As for the wooden base sneeze guards, you can pick from 5 color options to match your interior decor:
Black

Light Brown

Dark Brown

Cream White

Silver
At AxiomPrint, we offer high-quality sneeze guards at the best prices. Place an order online using the sidebar on the right.
Custom sizes are available upon request. If you're also interested in sneeze guards for counters, check out our page.
Take precautionary measures during COVID-19 times by ordering from our Los Angeles sneeze guard printing company TODAY.