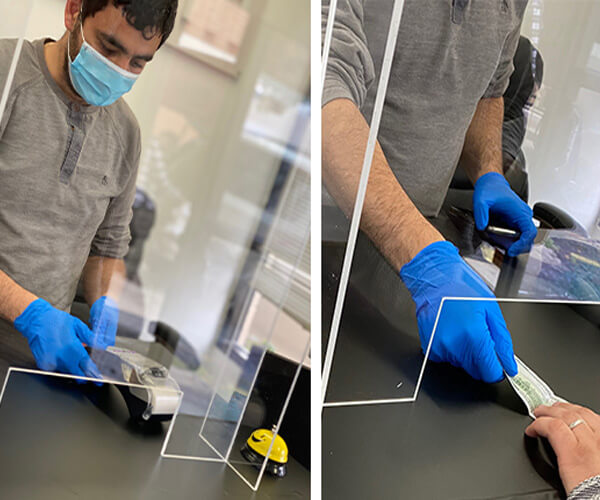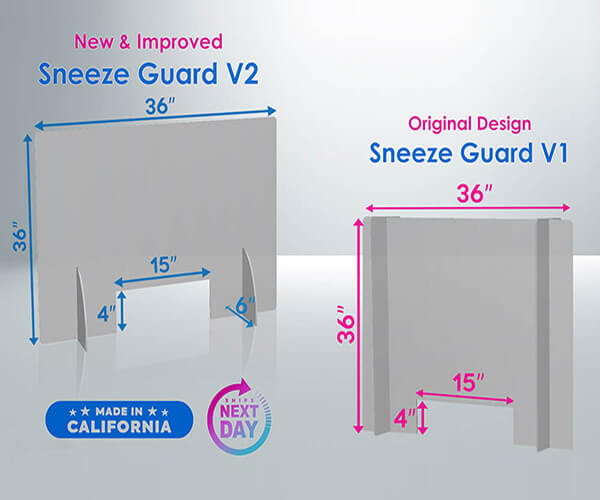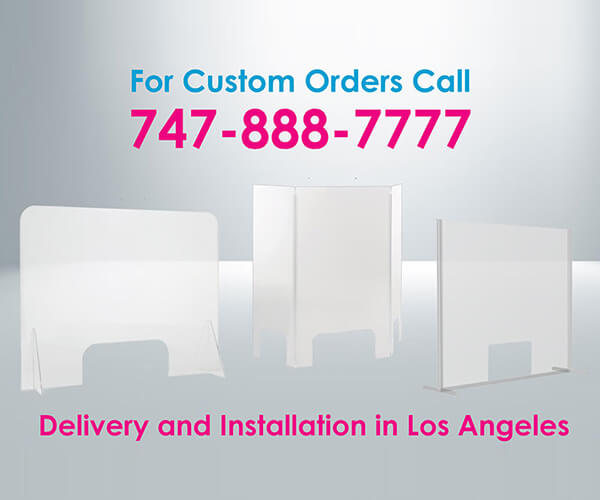 View Video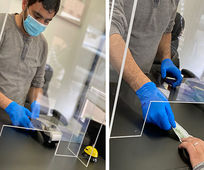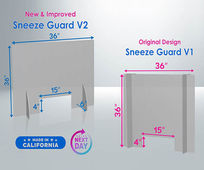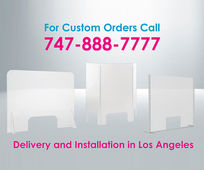 How To Get Sneeze Guards for Desk with AxiomPrint
Does your business have to stay open during the quarantine? Are you interacting with people coming in and out of your place of business?
If you answered yes, then we highly recommend our
sneeze guards for desk
These ¼ inch thick plexiglass sneeze guards are made in-house at our production facility in Los Angeles County. These clear shields help create a barrier between people who may cough or sneeze in front of you during a transaction. It already comes shipped to you pre-assembled so you can just set it wherever you'd like! That's as easy as it gets!
Our shields are transparent so you can see through them easily and interact with a customer. They come pre-cut with an area to hand cash, files or documents. They are lightweight so you can carry them or move them to a different location rather easily. The acrylic plexiglass is a strong material so it will not crack easily upon impact. Lastly, they stop droplets from a cough of sneeze from reaching you which is why it is also known as a sneeze guard!
To sum it up, below are the eight benefits of our
sneeze guards for desk:
Transparent

Portable

Shatter resistant

Pre-assembled

Lightweight

Easy to use

Protection from germs and bacteria

Convenient
Although this product is for anyone, businesses that regularly interact with people are more likely to benefit. Below are some examples of places that can use these
sneeze guards:
Banks

Hotels (particularly the check-in desks)

Office (particularly the lobby or reception area)

Pharmacies

Gas Stations

Airports
If you have a rather large counter where you have multiple lines, such as at a bank, you can purchase several of our sneeze guards for desk and put them side by side. And in case you would like to create a safer environment for your customers, you can also consider our stand alone sneeze guards.
Our
sneeze guards for desk
currently come in four sizes:
36 x 36 inches

24 x 24 inches

36 x 24 inches

24 x 36 inches
Custom sizes are available upon request. If you would like your logo printed on our sneeze guards, we can do that for a small added fee.
We have both short run and bulk printing options for the sneeze guards for desk.
If you are in a rush, we totally understand! That's why we offer same day and next day turnarounds which you can directly select when adding to cart.
At Axiom Print, we offer high-quality products at the best prices.
Get started today by filling out the sidebar on the right side of this page.
Ignore the part where you have to upload a file, there is no file needed so you can just select "upload file later."