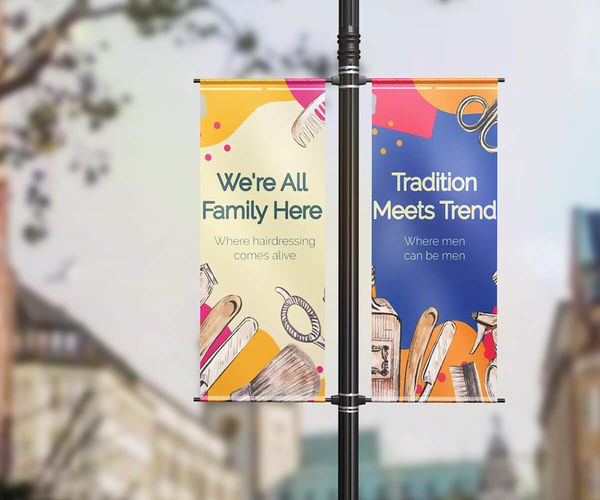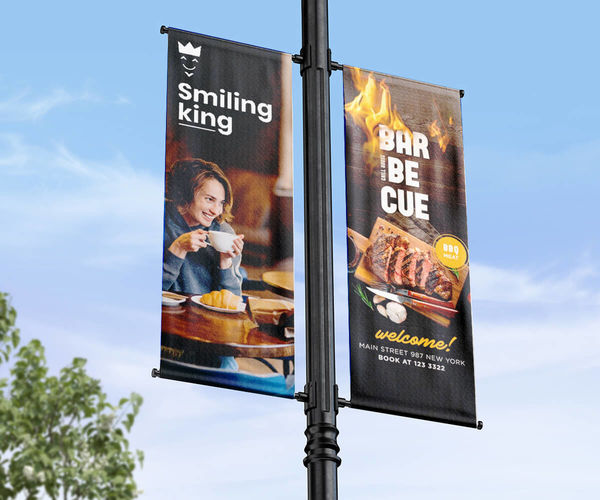 View Video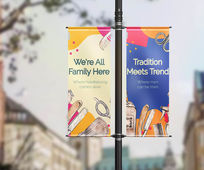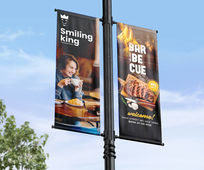 Send Your Message Up With High-quality Pole Banners by Axiom Print
Custom pole banners or pole signs are weather-resistant signages typically displayed on street posts and light posts. Pole banners are vertical flag-like banners printed on vinyl or polyester, which in some cases are paired with bracket hardware to be installed on lamp and light posts. These banners can be displayed all year long.
Pole banners are among the most efficient outdoor advertising tools. Pole banners promote your desired message to foot and car traffic. These banners have high visual impact and citywide showing. Pole banners are most commonly hung in crowded avenues, shops and malls, boardwalks, cafes and restaurants to draw attention of anyone walking or driving by.
Characteristics of Pole Banner Printing
Customization
Axiom Print offers an array of customization options to get your desired pole banner. We offer pole banners that are fully customizable on the front and back, and with all sizes, allowing you to add your unique graphics. Moreover, with our user-friendly online ordering system, you may choose the sizes, material types and quantity that meets your needs.
For an appropriate installation hemmed pole pockets are added on the top and bottom of the banner, and banner rods are inserted through both pole pockets. You may also choose adding wind slits, which obviously reduces the wind load on the banner.
Durability
At Axiom Print pole banners are printed with weather-resistance in mind. The materials we consider for pole banner printing are highly durable, resistant to wear and tear, and ideal for outdoor uses. Printed to be displayed all year round, these materials are not only waterproof but also designed to stand UV light. And if cleaned carefully, they can serve for several years. We add grommets for double strengthening to make sure the banner will not tear during heavy storms or strong winds.
Material
13oz. Vinyl Banner

- strong and durable material, provides semi-transparent appearance

18oz. Blockout Vinyl Banner

- double-sided material, has optimal strength and perfect for outdoor installations, withstands to all types of stressful environments.
Sizes
Available sizes:
from 18'' x 24'' to 36'' x 96''
FAQ:
Q: Is standard vinyl thinner than blockout vinyl?
A: Yes. Blockout vinyl is thicker than standard vinyl. Blockout vinyl is heavier, stronger and doesn't let the sun through or be transparent.
Q: Are your pole banners printed only single-sided or do you offer double-sided printing as well?
A: We offer both options. Our online ordering system offers several options for customization. By clicking the "printing" option, you may choose one-sided or two-sided printing. For your custom request another small window will appear below to fill in your contact details. Our super experts will contact you to discuss further details of your order.
Q: Can I have different designs on each side of the banner?
A: Yes, you can upon your custom request.
Q: Do you include grommets with your pole banners?
A: Sure. There are four grommets on each banner corner. These come standard.
Q: Do you offer design services?
A: Yes. We do offer FREE design services. Our team of creative designers have years of experience and are happy to help you perfect your preferred design. Before printing, we share with you the initial design of what it looks like and make changes if needed.
Q: Can I make a bulk order?
A: Depending on how many you order, we offer wholesale prices. For more information, reach out to our customer service team.
Q: What is the turnaround time?
A: Axiom Print is known for offering clients express services. Our regular turnaround time is 2-3 business days for pole banner printing. But for last minute events we may be able to work with your tight deadline, next day or same day turnaround.