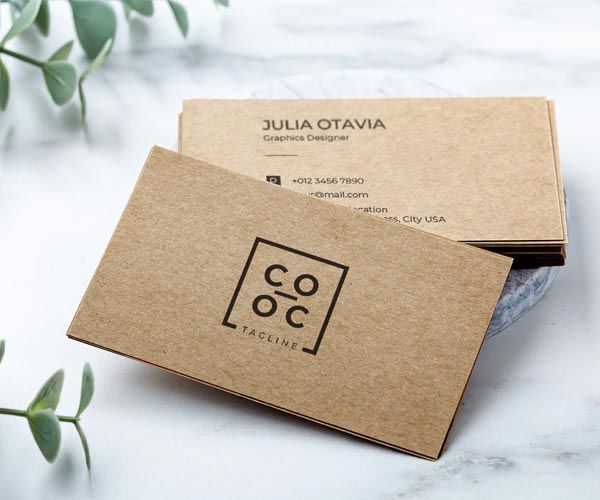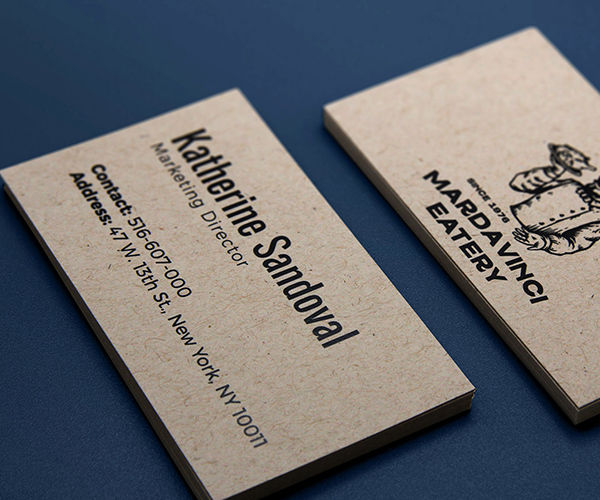 View Video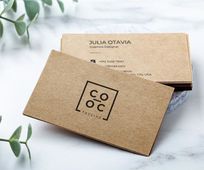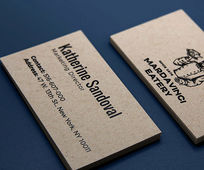 Order Organic-looking Kraft Business Cards Printing By AxiomPrint
Get ready to switch to 100% recycled paper materials and show off the green-free approach of your business!
Brown Kraft paper, more popular as kraft, is a durable cardstock which is made of 100% recycled materials and leaves NO bad environmental effects. Brown Kraft paper has many benefits offering eco-friendly marketing options for your business. As such, kraft business cards are perfect paper alternatives which are widely used from beauty product producers to food and e-commerce packaging.
With brown kraft business cards you can get that natural, organic and simple design-look of your brand and stay away from traditional styles. The thickness and durability makes cards perfect for carrying them at all times and impressing new connections. Choosing kraft business card can be a winning way to position your brand as an environmentally-friendly business who puts nature protection in the first place.
Characteristics of Kraft Business Cards Printing
Customization
Embrace your inner imagination to create personalized business cards. Axiom Print offers easy-to-choose options to create uniquely customizable kraft business cards to yield only the best sides of your brand. Our team of talented professionals is ready to meet all your expectations! And with our customer-friendly online ordering system, you may choose the sizes, colors, corner forms, print sides and the quantity that meets your needs. Be assured that all of your special requirements are covered. We are very flexible and open to all special requests, notes and customization requirements.
Material
Axiom Print offers 18PT Brown Kraft Paper for kraft business cards printing to transfer the feel and look you want. With this kraft paper you will get:
thickness and durability

subtle flecks to make it look more organic

rich brown color

print options for both sides
Sizes and Corners
Kraft business cards come in a range of sizes:
3.5" x 2" (Horizontal)

2" x 3.5" (Vertical)

2" x 2" (Square)

3.35" x 2.16" (European)
Here you can choose both square and round corner cuts. Rounding the corners of your kraft business cards is just a nice way to make your cards look more elegant. The rounded corners will protect the edges from being worn out and bending.
1/8" Round, 4 Corners

1/4" Round, 4 Corners

1/8" Round, 2 Corners

1/4" Round, 2 Corners
FAQ
Q: What are the common businesses that order kraft business cards:
A: In contrast to other types of business cards, kraft business cards are more organic and give that space to perfectly show the strength of your brand, to share the good and eco-friendly side of your company. Most commonly these cards are ordered by beauty and skincare product producers, cafes and restaurants, representatives or supporters of green initiatives and others alike.
Q: Can I order kraft business cards to send them with takeaway food? Is that safe?
A: Yes. Kraft paper is often used for wrapping and packaging food and beverages. It is safe and approved for direct food contact.
Q: Is Kraft Paper made with recycled materials?
A: Yes. Kraft paper is made of 100% recycled materials, out of which 30% is post-consumer waste.
Q: Can I use my own logo and design?
A: Yes, you can send us any designs you want.
Q: Can I use a different artwork for each side?
A: Yes, you can upload different graphics, one for each side.
Q: What if I don't have design options, do you provide design services?
A: We have a design service. Our team of creative designers have years of experience and are happy to help you perfect your preferred design. Before printing, we share with you the initial design of what it looks like and make changes if needed.
Q: Is there a minimum order quantity?
A: Yes. The minimum order quantity for kraft business cards is 50pcs.
Q: What is the turnaround time?
A: Our regular turnaround time is 3 business days for kraft business card printing. But for last minute events we may be able to work with your tight deadline, next day or same day turnaround.
Q: How much does delivery and shipping cost?
A: Click on the "Shipping Estimate" button, which is right under the "Continue" button. Enter your zip code and it will automatically calculate the price.