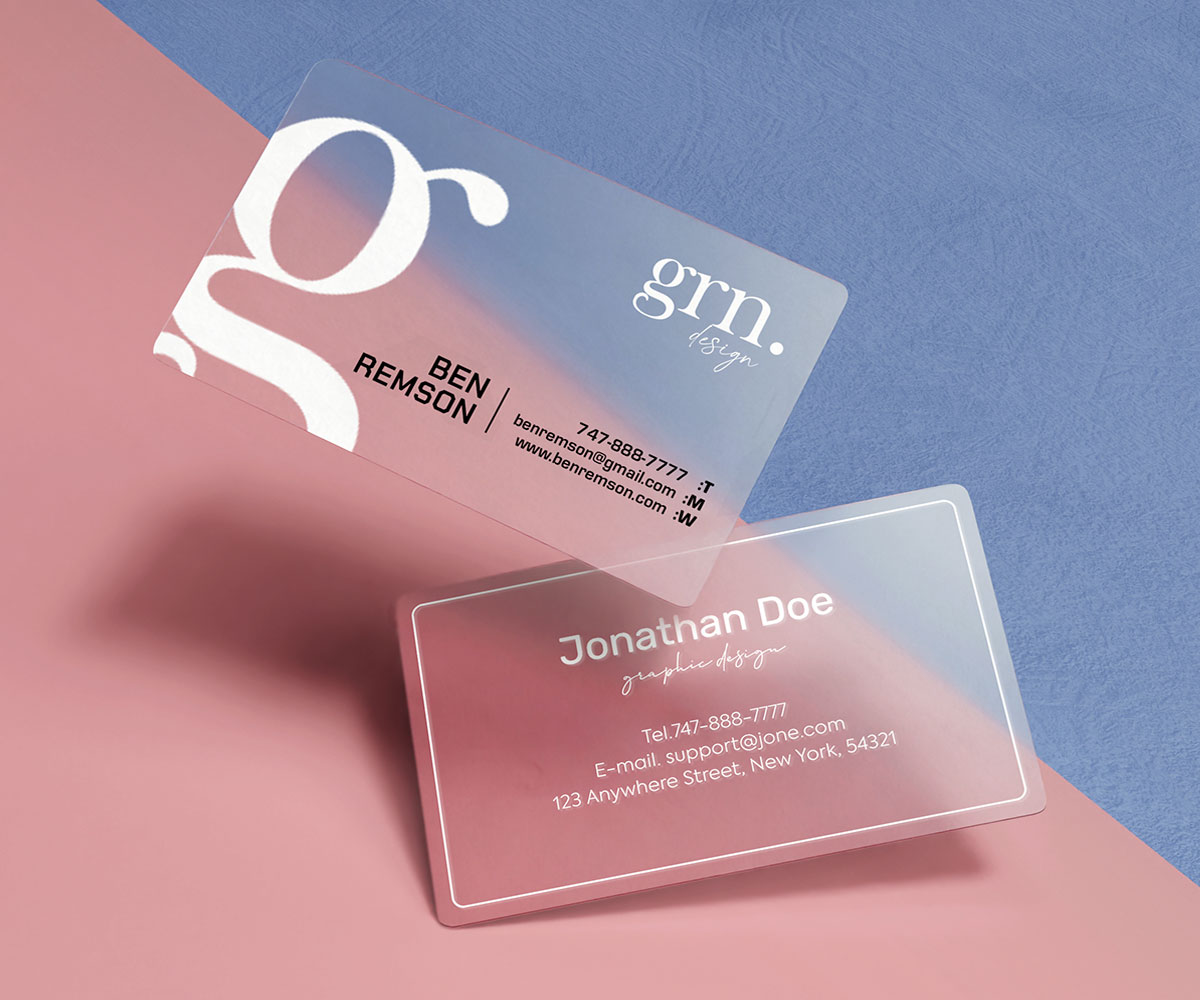 View Video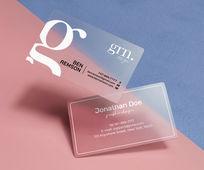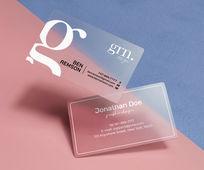 Order Frosted Business Card Printing with AxiomPrint
Frosted plastic business cards offer a sleek and modern look that stands out from traditional paper varieties. These are a type of business cards that feature a frosted or translucent finish. This gives them a unique, elegant look and feel. The frosted finish can be applied to the entire card, or just to certain areas, such as the text or logo. AxiomPrint offers Frosted Plastic Business Cards printed on durable thick plastic with a distinctive "textured" like look. Our plastic cards are waterproof and tear-proof, offering a durability that will ensure your cards provide everlasting value.
Frosted plastic business cards are perfect for businesses and individuals in creative or luxury fields such as fashion, beauty and design, as they give a sense of elegance and luxury.
Frosted business card printing is printer-friendly and affordable – making them fit even tight budgets without sacrificing style or functionality.
Characteristics of Frosted Plastic Business Card Printing
Customization
Here at AxiomPrint, frosted plastic business cards can be customized in a variety of ways to make them unique and stand out. Along with our customer-friendly online ordering system we offer a wide range of custom options including size, shape of corners, colors, and more. Our team of experienced designers can make your business cards look professional and easy to remember. Be assured that all of your special requirements will be covered. Impress your customers with unique frosted plastic business cards and set yourself apart from your competitors.
Material
Our frosted plastic business cards are made with the highest quality materials and are printed to a very high standard. For frosted business cards printing we offer 20PT frosted plastic. The cards are thick, waterproof, tear-proof and durable, making them perfect for business cards.
Sizes and Corners
Frosted plastic business cards come in a range of sizes:
3.5'' x 2'' (Business Card Size - Horizontal)

3.35'' x 2.16'' (Credit Card Size - Horizontal)

2'' x 3.5'' (Business Card Size - Vertical)

2.16'' x 3.35'' (Credit Card Size - Vertical)
For this product we offer rounded corner printing. Rounding the corners of your business cards is just a nice way to make your cards look more elegant. The rounded corners will protect the edges from bending or being worn out.


FAQ
Q: What materials can be used for frosted business cards?
A: The choice of material depends on the look and feel you want to achieve, as well as the budget and the level of durability required. Frosted business cards can be made from a variety of materials, including: plastic, pvc, acrylic, paper, wood. At AxiomPrint we offer 20pt frosted plastic, which is durable and tear-proof.
Q: What are the advantages of using frosted business cards?
A: There are several advantages of using frosted business cards: they are unique and elegant. The frosted finish gives a sense of elegance and luxury to the card and makes it stand out from traditional cards, making it more memorable. Frosted plastic business cards are durable. The main material is thick plastic, which is sturdier than paper cards, which means they are less likely to get damaged or worn out. Frosted plastic business cards are versatile. They can be customized in a variety of ways, such as with different colors, sizes, and shapes, to create a unique and personalized card.
Q: What is the best way to design my frosted plastic business cards?
A: The best way to design your frosted plastic business cards will depend on your personal preferences and the image you want to project for your business. Simplicity is never out of fashion. Consider having a clean and simple design. This is often the most effective, as it makes the information on the card easy to read and understand. Use your brand colors to make your card consistent with your other marketing materials. And if you're not confident in your design skills, consider working with a professional designer:)
Q: Can I use a different artwork for each side of the frosted business card?
A: Yes, you can upload different graphics, one for each side.
Q: What if I don't have design options, do you provide design services?
A: We have a design service. Our team of creative designers have years of experience and are happy to help you perfect your preferred design. Before printing, we share with you the initial design of what it looks like and make changes if needed.
Q: Is there a minimum order quantity?
A: Yes. The minimum order quantity is 50pcs.
Q: What is the turnaround time?
A: Our regular turnaround time is 3 business days for frosted business cards printing. But for last minute events we are able to work with your tight deadline, next day or same day turnaround.
Q: How much does delivery and shipping cost?
A: Click on the "Shipping Estimate" button, which is right under the "Continue" button. Enter your zip code and it will automatically calculate the price.