View Video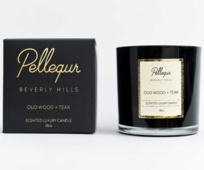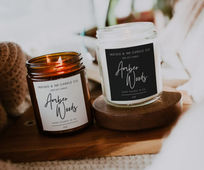 Custom Candle Labels That Stand Out
Axiom Print offers professionally-designed candle roll labels which guarantee 100% quality. Custom candle stickers feature neutral color background paper and black or brown text for simple visibility. These candle container labels are eye-catching enough to highlight both the brand name of the candle making company, and safety precautions text in bold, which easily drives people's attention and the instructions of which are crucial for the consumers to follow. Make a good showing by using custom designs for your specific candle labels.
Candle warning labels are widely applied for candles, candle containers, candle jars, candle tins. Cost-effective candle stickers are perfect for all types of candle making and marketing projects, reminding people to be cautious when selling or taking them as gifts.
The machine-made and hand-made candle business is growing. Along with designing and deciding what fragrances and materials to include, it's essential to note that there are certain compulsory requirements regarding the candle's safety labeling which should be followed by all candle manufacturers and suppliers.
The types of candles vary. Besides being in different shapes, sizes and styles, the material for holding containers of the candles do matter: they can be made of glass, rustic metal and other materials that contain non-flammable properties. One should choose appropriate labels and stickers in order to avoid further possible troubles.
Things You Should Consider Before Using Custom Candle Labels
Candle Roll Labels are versatile. This means they can stick on any surface. It is perfect for any types of candles, including luxury candles, diy candle labels, soy candle labels. These adhesive stickers are a great addition to any candle manufacturer.
Candle Labels should be designed properly. While many candle manufacturers continue implementing candle business with non-professional methods, it is crucial to fix one thing: if a product supplier cares for their consumers, they must apply a candle warning label on each candle container. Three universal security rules' tags include: burn within sight; keep away from combustibles; keep away from children. If you are not sure how to add these to your candle container so that the picture looks like a design-friendly label, make sure that Axiom Print experts are ready for any designing and printing assistance.
Candle manufacturers who aim at spreading some two words about their candle brand or company, candle label roll is a nice solution to make this process in a more creative way. Because roll labels come on a roll sheet, you can cut them off and give them to your customers. Due to their adhesive back they can be used to stick to different items, such as laptops, phone backs, notebooks, doors. This will definitely raise awareness about your product or candle brand.
Materials We Use For Making High-Quality Candle Labels
Here, at Axiom Print we offer printing labels in custom sizes and in multiple shapes such as rectangular with round corners, rectangular with square corners, circle and of course custom shape. We know how much you prioritize the quality of printed marketing materials that are used for brand or business promotion. And so, out of a variety of materials, our experts put forward the most popular and durable ones. These include white matte bopp, silver gloss bopp, clear gloss bopp, white matte paper and silver glos paper. We also have uncoated paper and kraft paper for organic look.
The process of lamination is all about putting a thin layer of film/sheet adhered to the surface of a label, making a plastic barrier for protection. It also protects against scuffing and splotching. Lamination also helps to protect the ink from chemicals and oil that may fade the printing. For the label to have a rich glossy finish we offer Gloss Lamination. If you want the candle label to look more classical and smooth, we suggest choosing Matte Lamination. And Gloss Gold Glitter is ideal for people who prefer the high-shine candle labels.
Before ordering the custom printed candle roll labels, make sure you choose the right quantity which can be sufficient to meet your daily demands and other designing usages. Our experts will provide the packs within 5 business days. We also offer rush printing services, and in some cases we are able to fulfill the order with next day or even same day turnaround.