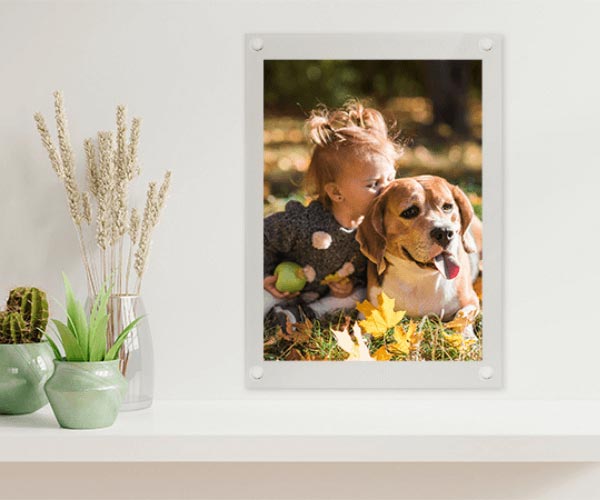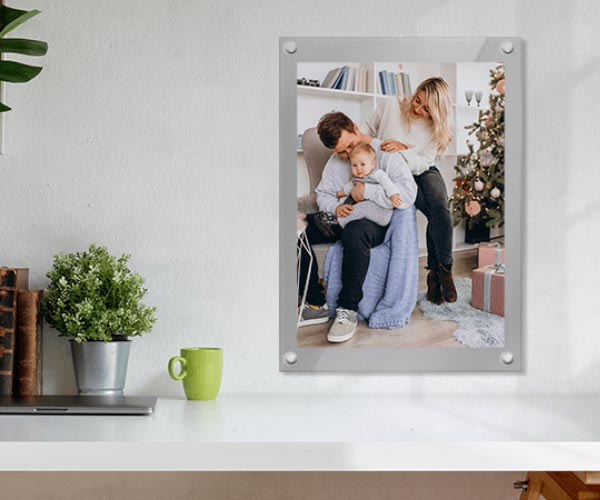 View Video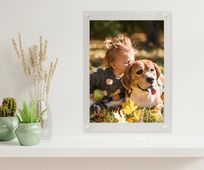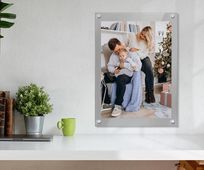 Order High Gloss Acrylic Wall Art Printing at Axiom Print
Acrylic Wall Art is the new word in the sphere of modern interior design and contemporary wall art graphics. Acrylic wall art features an acrylic photo frame which provides the reproduction of a photo or any other images printed directly on high gloss acrylic sheets which feel like glass.
Acrylic wall photo frame is lightweight, vibrant and modern-looking. With plenty of natural light, the acrylic frame reflects and imbibes it to create a dynamic looking piece of wall art. Due to its glossy look, an acrylic photo frame can be placed everywhere and convey a very sophisticated look to the interior.
Acrylic wall art gives that perfect opportunity to transfer your favourite photo or design on the sturdy material without any other accompanying additional frames. And we are convinced that the flawless results will truly amaze your guests or just visitors.
Basic Uses and Advantages of Acrylic Wall Art Printing
Acrylic wall art

is suitable to be installed everywhere.

Probably you wonder what we mean by saying everywhere. Every wall is literally suitable for our high-quality

acrylic photo frames

. The lounge or sitting room, hallway or living room are those ideal places to show off pictures of your loved ones, family and friends. It is another great way to remind them how important their role is in your life. Next is your kitchen. One should not only enjoy the delicious food cooked according to your grandma's receipts, but also the design of the kitchen. Consider the walls as the mouths of your kitchen. The wall should be designed with

acrylic wall art

featuring the images of favorite drinks, simple classic fruit and veggie photos, which will move your guests to completely another world. And who said that our bathrooms can't be beautiful? Consider hanging

acrylic photo frames

which will convey a kind of soft tranquility when entering in.

Acrylic wall art is that awaited unique and creative gift to your loved ones for special occasions.

The Holly Jolly Christmas is on its way, which means the season for gift exchanging is around the corner. Choosing the right gift may seem the hardest job to many people. But Axiom Print is here to turn all of your weirdest ideas into reality. Make sure that well-chosen

personalized acrylic photo frame

is that perfect gift which will prolong those cherished memories you had with that special person and of course will make the little corner of the room more beautiful and engaging.

A nice way to turn your house into a home.
Acrylic wall art is affordable and easy to hang.

Be confident while investing in

acrylic photo frames

, because this unique product is worth every penny. While other expensive artworks and ornaments require a special installation process, hanging

acrylic photo frames

requires no great effort. Especially when Axiom Print provides the stand off.
Best Material For Acrylic Wall Art Printing
Acrylic Wall Art is the perfect design solution for stores, offices and homes. Meanwhile, purchasing high-quality and long lasting printed Acrylic Wall Art for interior design is not a simple task. Whereas the customers and professionals of Axiom Print ensure that working with us gives that stress-free printing journey and at the end everyone is happy and satisfied.
The main material for Acrylic Wall Art is plexiglass gloss vinyl or simply an acrylic glass. It is ten times stronger than simple glass, and twice as light as glass material. Though it is lighter than standard glass, acrylic glass is durable and very flexible. The backing of the acrylic frame is White Adhesive Vinyl 1 inch Chrome Finished Standoff Hardware, and of course + Mounting Screws.
There are three available sizes for Acrylic Wall Art printing 16'' x 24'', 20'' x 30'' and 24'' x 36''. Ideal for long term outdoor and indoor use, it is waterproof and UV safe.
Axiom Print truly values your time. Before ordering the Acrylic Wall Art, make sure you choose the right quantity which can be sufficient to meet your daily demands and other designing usages. We will provide the printing of Acrylic Wall Art within just 3 business days.
Apart from our Acrylic Wall Art printing, feel free to explore what holiday essentials we offer for the most wonderful time of the year, that is magical Christmas: Holiday Greeting Cards, Christmas Gift Tags, Place Cards, Personalized Table Calendars, Holiday Window Cling and many more.