View Video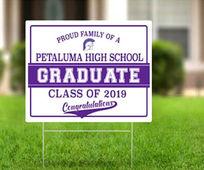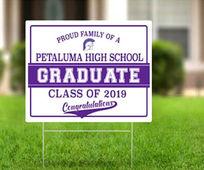 High-quality Custom Printed Yard Signs For All Cases
Printed Yard Signs, also known as Coroplast sign or Corrugated sign, may be that perfect budget-friendly and tried-and-true option for your advertising campaign. Yard signs are one-sided or two-sided waterproof and stain-resistant plastic corrugated boards with wire or wooden stakes, which are inserted into the ground and ensure permanence through all weather conditions. Yard signs are the perfect solution if you plan to place announcements or advertisements without any difficulties, attract your future target audience and drive foot traffic. Yard Sign Printing is optimal for both outdoor and even indoor applications.
Yard signs are a powerful and transferable tool for quick outdoor advertising. These are the traditional part of every business promotion, political and marketing campaign, real estate and properties promotion, event gatherings, graduation parties. From miniature business yard signs to bigger real estate yard signs, they attract attention and generate interest in the minds of your place's passer-bys about your products, services or just properties. Adding yard signs to your marketing campaign, will definitely amaze you with its results. It's another easy way to convey a message to thousands of people.
Basic Uses of Yard Sign Printing
Custom printed yard signs are flexible and lightweight: for most business owners it is a must to use such marketing tools that will require less work and more results. Make sure that the process of Yard Sign installation requires no effort, time or further assistance from backing crew members. With its comfortably designed set, it is extremely easy and possible to install the set on your own, just like counting 1, 2, 3.
Printed Yard Signs

are ideal for all kinds of celebrations, including various events, weddings, birthdays, graduation parties. Imagine you are about to host a great event and it's not a secret that pre-decided planning brings good results and satisfaction to attendees. Make sure the list of your decorations and

marketing materials

also includes

Event Yard Signs

. They are intended for a very special purpose: directing your guests to the right place, avoiding inconvenience and not letting them get lost. Yard Signs spread positivity and good mood. For celebrations like Birthdays, you can order unique

Birthday Yard Signs,

which may include a number of personalized birthday wishes or quotes. With the help of our

creative designers

, brightly coloured yard signs

combined with

custom vinyl banners

and

custom table throws

will make your guests feel they are most expected and cherished.

Yard Sign Printing

is the new way of communicating the message! No matter if you order them for political or business campaigns, yard signs are perfect for targeting your voters or customers. Every professionally-designed campaign has a word to say, and with custom size printed yard signs it is possible to draw the gaze towards the idea or message you are propagandizing.

Political Yard Signs

ensure a huge boost in the candidates' chances in locations where they install them. The placement of yard signs for the support of a certain candidate also acknowledges the voters that this party's campaign is quite active and initiating. The same trick works for real estate campaigns.

Real Estate Yard Signs

are believed to be more effective and striking, rather than online announcements. Indeed with the help of outdoor physical indication or yard signs, interested people directly and more easily contact the agents. No need to mention always eye-catching

Yard Sale Signs

which people seek out while looking to buy a house. With its bold lettering it maximizes visibility and stands out in the neighboring areas.
Best Materials For Your Yard Sign Printing
While saying it is cost-effective, it doesn't mean bad quality. Be assured that Axiom Print provides ONLY high-quality and tried-and-tested materials. Our printed Yard Signs are made of durable, sturdy, lightweight 4mm White Coroplast, which is stable to every harsh weather condition.
Printed yard signs come with different sizes, but of course, you are free to click the 'custom size' option and choose the width and height by yourself. If you are going to hang the sign somewhere without damaging it, you may also choose the quantity of grommets (top 2 or 4 corners). To put it into simple words, grommets are for reinforcing holes, through which you may pass a thread.
Our Custom cut option is designed for shaping your sign to the accurate edge that you want. With our large inventory of sign cutting machines, besides standard shapes, our product experts will also offer a customized advanced cutting. While making the order, just consider where you plan to place your Yard Sign and we, together with you, will choose the best matching shapes.
Last, but not least, we also provide H stakes along with the signs. Vertical direction of the flutes enables use of sign stakes/ sign stands. With careful use, the stakes may be reused.
We know that you look for stress-free printing journeys! Our experts will provide the printing of Yard Signs within 2 business days. But thanks to our printing gurus, high-speed machines and brand new facilities, we offer rush printing, and even same-day printing services. We can fulfill the order with next day or even same day printing turnaround.
Axiom Print makes everything possible to help you meet all of your deadlines!