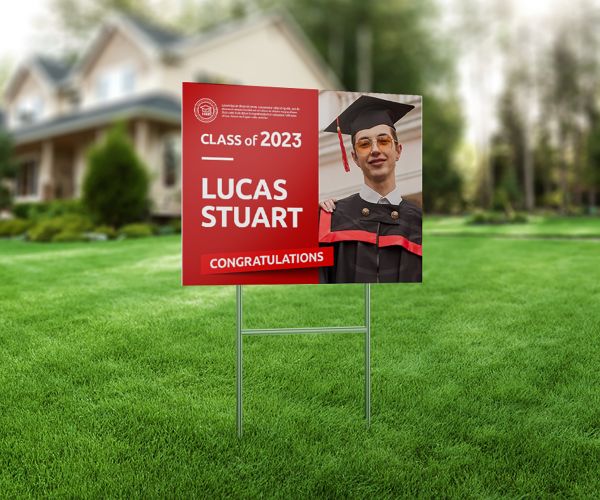 View Video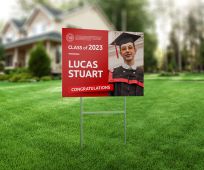 Get High-quality Custom Printed Yard Signs For All Cases
Printed yard signs, also known as Coroplast sign or Corrugated sign, may be that perfect budget-friendly and tried-and-true option for your advertising campaign. Yard signs are one-sided or two-sided waterproof and stain-resistant plastic corrugated boards with wire or wooden stakes, which are inserted into the ground and ensure permanence through all weather conditions.
Yard signs are a powerful and transferable tool for quick outdoor advertising. These are the traditional part of every business promotion, political and marketing campaign, real estate and properties promotion, event gatherings, graduation parties. From miniature business yard signs to bigger real estate yard signs, they attract attention and generate interest in the minds of your place's passer-bys about your products, services or just properties. Adding yard signprinting in your marketing campaign, will definitely amaze you with its results.
Characteristics of Yard Sign Printing
Customization
For maximum appeal our team of professionals will help you get a bold design and add custom specialities to target your audience. AxiomPrint offers easy-to-choose options to create uniquely customizable yard signs to promote your brands. With our customer-friendly online ordering system, you can choose paper types, finishing types, and the quantity that meets your needs. No matter what standards appear in our website, we are flexible and open to all special requests, notes and customization requirements.
Material
4mm White Coroplast is a type of corrugated plastic border we use for yard sign printing. It is 4 millimeters thick and has a white color. It is made from high-quality polypropylene resin and is lightweight yet sturdy, making it an ideal choice for outdoor signs, yard signs, real estate signs, and other temporary signage applications. Its smooth, matte finish provides a professional appearance and allows for easy printing and graphics application. Additionally, it is waterproof and resistant to UV rays and scratches, making it a durable and long-lasting solution for your signage needs.
Sizes
Yard signs generally come in several sizes:
12'' x 12''

18'' x 12''

24'' x 18''

24'' x 24''

or custom sizes
Grommets and Custom Cut
When it comes to promoting your business, you definitely want t0 make a professional impression. For which we offer the highest quality grommets and riders for your yard signs. For cutting we offer circle/oval, as well as:
We offer rectangular shaping, as well as:
"Custom Shape Cut (Simple)"

which

typically involves cutting the yard sign print into basic, straightforward shapes such as squares, rectangles, or circles.
"Custom Shape Cut (Advance)"

involves cutting the yard sign print into more complex shapes that may have intricate details and curves. This type of cut often requires more precision and specialized equipment compared to simple cuts.
FAQ
Q: Can I print custom designs and logos on yard signs?
A: Yes, yard signs can be fully customized with custom designs, logos, and text.
Q: What is the typical size of a yard sign?
A: The typical size of a yard sign is 18" x 24", although sizes can vary depending on the specific requirements and printing options.
Q: What are some common uses for yard signs?
A: Yard signs are commonly used for advertising political campaigns, real estate listings, construction sites, garage sales, and community events.
Q: How do I install a yard sign?
A: Yard signs can be installed using H-stakes, which are inserted into the ground and hold the sign in place.
Q: What if I don't have design options, do you provide design services?
A: We have a design service. Our team of creative designers have years of experience and are happy to help you perfect your preferred design. Before printing, we share with you the initial design of what it looks like and make changes if needed.
Q: Is there a minimum order quantity?
A: No. There is no minimum order quantity for yard signs.
Q: What is the turnaround time?
A: Our regular turnaround time is 2 business days for yard signs printing. But for last minute events we may be able to work with your tight deadline, next day or same day turnaround.
Q: How much does delivery and shipping cost?
A: Click on the "Shipping Estimate" button, which is right under the "Continue" button. Enter your zip code and it will automatically calculate the price.