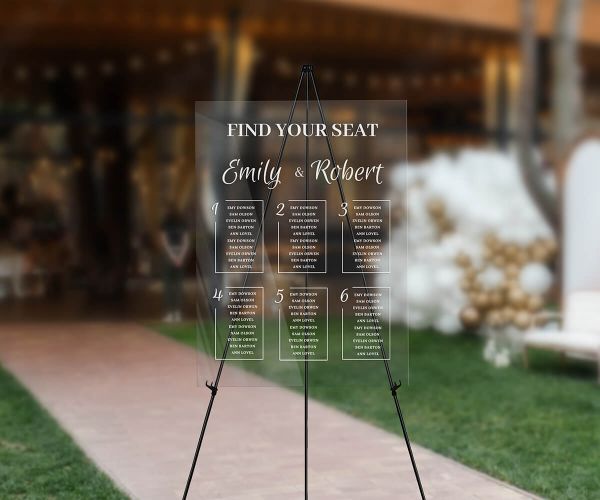 View Video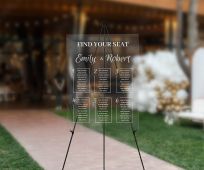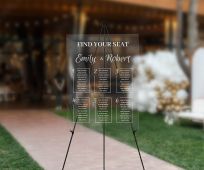 Make Your Special Day More Organized With Custom Printed Wedding Seating Charts
Whether you're planning a large wedding or an intimate dinner party, our custom seating chart is a stylish and practical solution for organizing your guests' seating arrangements. With its durable design and customizable decals, this seating chart is sure to become a cherished part of your event planning toolkit.
Made from high-quality, durable materials, this seating chart is a modern way to display your guests' names and table assignments. The choice of material depends on your preferences, with foam board and acrylic being popular choices due to their durability and easy-to-read printing. Our wedding seating charts provide all perfect sizes for displaying your preferred texts in a clear and easy-to-read format. The acrylic is also easy to clean and maintain, ensuring that your seating chart looks its best throughout your event.
Characteristics of Personalized Wedding Charts Printing
Customization
Creating personalized wedding seating charts is a great way to make your special day even more organized and aesthetic. We create a unique design and print experience for each customer. AxiomPrint experts will guide you through product selection that will best suit your needs. In our customer-friendly online ordering system, you may choose the material, sizes, custom cutting and the quantity that meets your needs. Be assured that all of your special requirements are covered.
Material
Wedding seating chart boards can be printed on two most popular and durable materials: foam board and acrylic board:
1/4" White Foam

1/4" Black Foam

1/8" White Acrylic

1/8" Clear Acrylic

1/8" Black Acrylic
Overall, the choice between foam board and acrylic depends on the factors such as appearance, durability, and cost.
Shaping and Easel Stand
Wedding seating charts may come with an easel stand. The Easel stand is a beautiful and functional addition to any wedding reception. It provides an elegant display for your seating plan and ensures that your guests can easily find their seats, making your special day run smoothly and seamlessly.
Besides rectangular shaping we offer the option of custom shape. Whether you need a special cut-out for your wedding or just a special day, custom cutting and shaping can help you achieve your desired results.
Sizes
For Wedding Seating Charts we offer four sizes or you can tell us your preferred sizes:
12'' x 18''

18'' x 24''

24'' x 36''

36'' x 48''

Custom Size
FAQ
Q: What size should my wedding seating chart be?
A: The size of your wedding seating chart depends on the number of guests you have and the font size you choose. A standard size is around 24x36 inches, which can accommodate around 150 guests.
Q: Can I print my seating chart on different materials?
A: Yes, you can print your seating chart on a range of materials, including foam board and acrylic. The choice of material depends on your preferences, budget, and the durability you desire.
Q: Can I customize my seating chart with my wedding colors and theme?
A: Yes, you can customize your seating chart to match your wedding colors and theme. You can choose the font, colors, and designs that best suit your wedding decor.
Q: How do I display my seating chart at my wedding?
A: You can display your seating chart on an easel stand or a frame. Easel stands are a popular choice for their simplicity and elegance.
Q: How far in advance should I order my seating chart?
A: It's a good idea to order your seating chart at least a month in advance of your wedding to ensure that you have enough time to make any changes and receive the final product before your big day.
Q: What if I don't have design options, do you provide design services?
A: We have a design service. Our team of creative designers have years of experience and are happy to help you perfect your preferred design. Before printing, we share with you the initial design of what it looks like and make changes if needed.
Q: What is the turnaround time?
A: Our regular turnaround time is 2 business days for wedding seating charts printing. But for last minute events we may be able to work with your tight deadline, next day or same day turnaround.
Q: How much does delivery and shipping cost?
A: Click on the "Shipping Estimate" button, which is right under the "Continue" button. Enter your zip code and it will automatically calculate the price.