View Video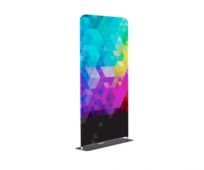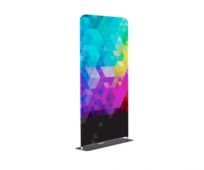 Get Tension Fabric Banner Stands That Guarantee a Strong First Impression
Tension fabric banner stands belong to the category of portable banner stands that are very effective and popular because they are extra durable, lightweight and resistant to scratches. The stand of tension fabric banners consists of a steel bottom with lightweight tube poles which fit together and make the top of the display curve-shaped. For increased visibility tension fabric display may be both one or two sided and is arranged in minutes.
Visual appeal plays a major role in communicating the message in an effective way. Tension fabric banner stands along with table throws remain the most trendy and central tool for promoting products, services, businesses, trade shows, exhibitions and events.
In the world of marketing, banner advertising or banner displaying is a perfect solution for making the brand visible and outstanding. With well-designed tension fabric displays, any event organizer and a business owner has that perfect opportunity to grab the attention of their customers, attract them and make them be a part of a journey. Nowadays, along with the rapid growth of digitalization and a huge shift from pen-and-paper to messengers, both indoor and outdoor printed ads still continue driving more traffic. Because they are compact and easy to move, the customized tension fabric banners regularly may be seen at various events, exhibitions, trade shows, business gatherings and presentations. The tension fabric displays are excellent for entryways into special gatherings, trade shows, events and also for longer term uses such as for marketing promotions.
Strategic Uses of Tension Fabric Banner Stands
Printed messages, graphics, advertisements on

tension fabric frame stands

track

more foot traffic

and provide

maximum visibility

, rather than online advertisements. One may wonder how to get the brand noticed. If tension banner stands or just printed banners are installed at the entrance of your exhibition or trade show, make sure that thanks to well-organized and eye-catching design of the fabric banner, each passer-by will be curious about going inside and exploring what is happening there.

Tension fabric trade show displays

are the most modern and convenient displays to exhibit your brand and share some messages. With their first strong impression, the visitors will definitely trust you and your brand!

Tension fabric displays

are

adaptable and versatile

. This is good news for creative and all-rounder marketing experts. Not a secret, there are companies that are inclined to match their marketing strategies and marketing campaigns according to customers' changing preferences. They do their best to regularly change the content and design of promotions. With

Axiom Print tension fabric stands

it is possible to switch to your preferred designs and match them with the preferences of your customers or visitors. You keep the stand, we make your next design!

Tension fabric banner stands

are

incomparably long-lasting

. With high-quality stands, each time it is possible to tailor different new designs, graphics, messages, and noticeable elements. Tension banner stands really make your design pop out. Unique animations, images or signs can convey extra eye-catching aspects and messages. This should also be added according to the scopes of the brand identity and should not deviate from the main colour contrast. Our design magicians will get things rolling to your preferred directions:)

Tension fabric frame stands

are

much cheaper

than other well-known types of advertisements. Printing companies like Axiom Print, offer special options of displays like

retractable banners, a step and repeat banner and X banner stands

to design the stands matching exactly to the customer's preferences. And in this case the price is generally much lower than online forms of advertising. Moreover, concerning the cost-efficiency of the product,

fabric banner stands

are durable and constant.
Top-quality Materials for Tension Fabric Banner Printing
Not a secret why Axiom Print stands out from other companies: just because we choose the highest quality materials and facilities. And the high-quality digital color printing of tension fabric banner stands is not an exception.
Tight polyester fabric is the material our experts take for tension fabric banners. The fabric stand is available either in 36''x90'' or 48"x90" sizes. As we have already mentioned for increased visibility, printing of the tension fabric displays may be both one or two sided.
The simpler Tension Fabric Stand seems from the first sight, the easier the installation process is. No tools are necessary for setting up the stand. The interlocking tube hardware is lightweight and does not need any additional heavy supplements. Just two simple steps: slip the "pillow-case" stretch fabric graphic over the frame and zip the graphic closed. Voilà! The fabric banner stand is ready to be placed wherever needed.
We value your choice and so, we provide both options of fabric banner stands, with or without the stands.
But what we value more, is your time. Our experts will provide the printing of Tension Fabric Banner Stands within 3 business days. But thanks to our printing gurus, high-speed machines and brand new facilities, we offer rush printing, and even same-day printing services. We can fulfill the order with next day or even same day turnaround.