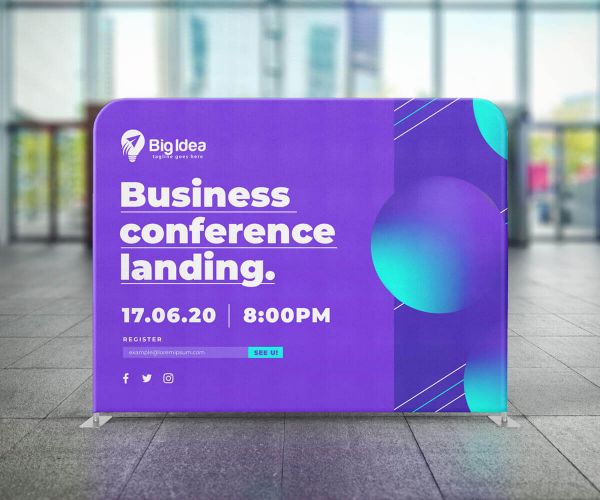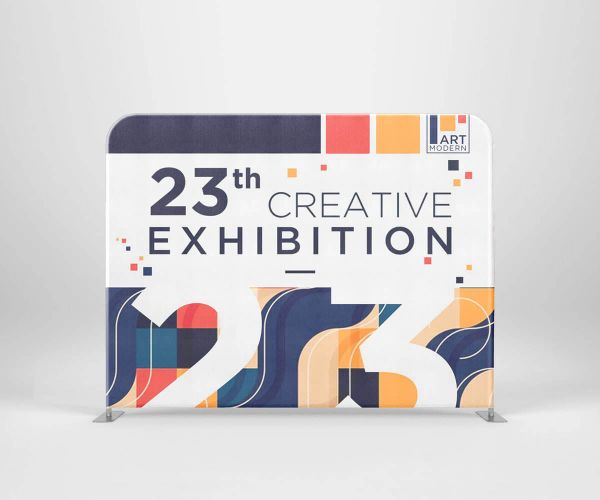 View Video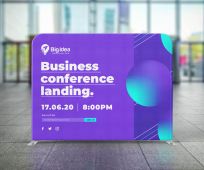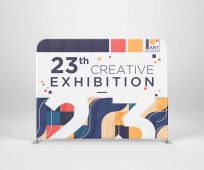 Order Durable Tension Fabric Backdrop Printing at Axiom Print
Searching for best options to make an impact at your next trade show, event or exhibition? Then consider these high quality tension fabric backdrops. This practical tension fabric display features stretchable material which expands to fit over a table, framework or other aluminum frame, depending on the type, so the installation process is effortless.
At Axiom Print the stretch polyester fabric is printed in full digital color and converted into a pillowcase shape which drops over the tube-frame and displays your design on a seamless graphic. The modern-looking tension fabric backdrops will create an exceptional theme and professional look of your exhibit booth. This will certainly pull in the event attendants.
The Characteristics of Tension Fabric Backdrop Printing
Customization
We suggest a versatile and practical addition to your venue at any upcoming event, exhibition and trade show. We offer customized tension fabric backdrops to boost your brand awareness. Our tension fabric backdrops come in different sizes, printed in full digital color for a bold, and outstanding look. You can customize any side of the fabric. You may have one common design or two different designs on each side.
Durability
Durability is the main reason why tension fabric backdrops are installed in many different settings. Our tension fabric backdrops are printed and sewn with weather and tear resistant polyester. For the frame, the tube stands are partially heavy aluminum hardware which gives strength for outdoor installations as well. Our tension fabric displays can be used over and over again, for long periods of time which certainly justify your investment and time.
Material
High quality tensioned fabric with fully customizable graphics and optional durable framework.
Size
Accessories
Our tension fabric backdrop is easy to set up and breaks down into a small carry case. You can purchase an optional transportation case for storage or for carrying:
Soft Canvas Bag

Hard Case (No Podium Print)

Hard Case w/ Podium Print
FAQ
Q: Can I choose single-sided printing for my tension fabric backdrop?
A: Yes, sure. We offer both options for printing: one-sided and on both sides of the display.
Q: I have the frame, can I order only printing on tension fabric?
A: Yes, you can. We also provide custom printing for only graphics, that means you can choose the size and shape which best meets your requirements and suits your frame.
Q: Can I adjust the size of the backdrop?
A: Yes, you can adjust the size of the backdrop. The aluminum hardware has adjustable legs.
Q: Can I clean the tension fabric?
A: Tension fabric material is easy to clean after each use. It's quite a simple process to keep your display looking fresh and new for an upcoming event.
Q: Where can I install tension fabric backdrops?
A: Wherever you are going to have a special booth for spreading a word about your brand or product and catch the attention of passers by: be it an event, exhibition or trade shows.
Q: What if I don't have design options, do you provide design services?
A: We have a design service. Our team of creative designers have years of experience and are happy to help you perfect your preferred design. Before printing, we share with you the initial design of what it looks like and make changes if needed.
Q: Is there a minimum order quantity?
A: No. There is no minimum order quantity for tension fabric backdrops.
Q: What is the turnaround time?
A: Our regular turnaround time is 4 business days for tension fabric backdrop printing. But for last minute events we may be able to work with your tight deadline, next day or same day turnaround.
Q: How much does delivery and shipping cost?
A: Click on the "Shipping Estimate" button, which is right under the "Continue" button. Enter your zip code and it will automatically calculate your shipping.