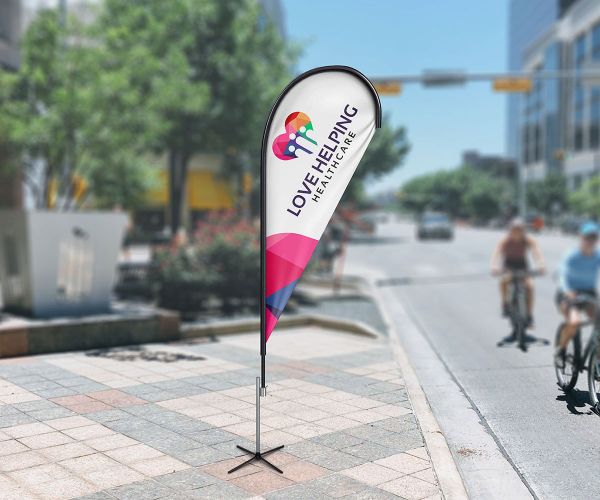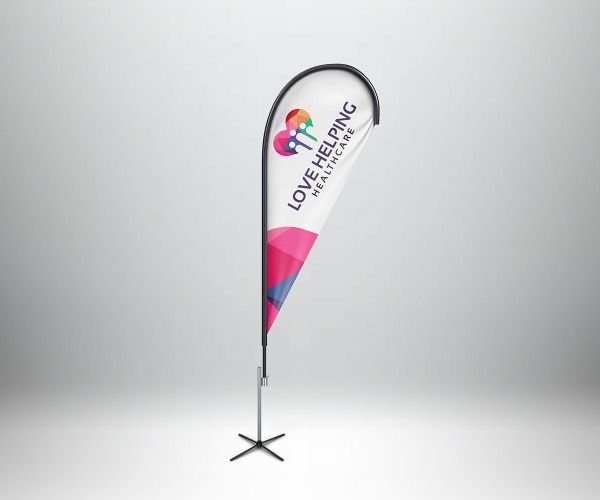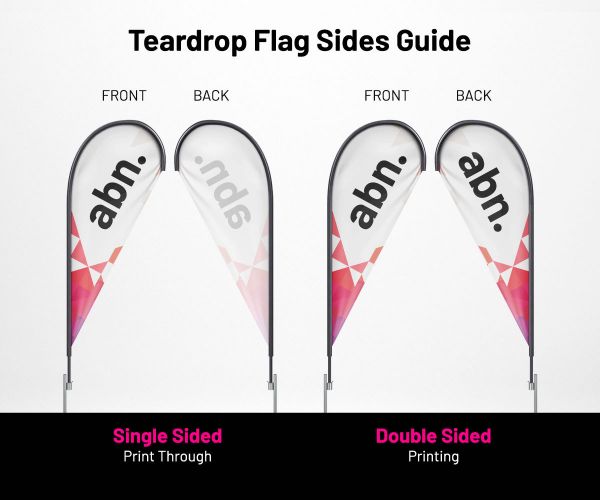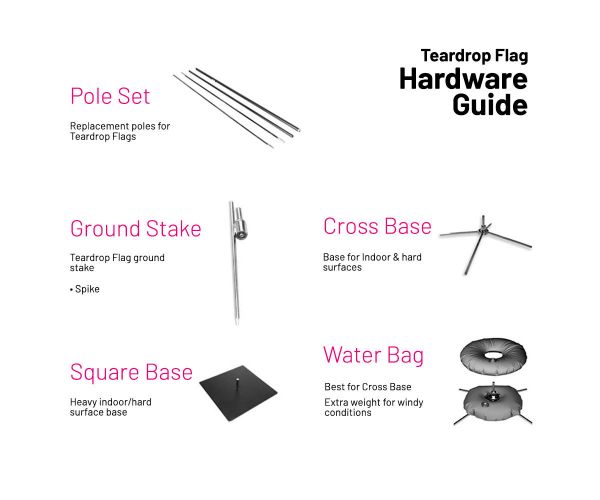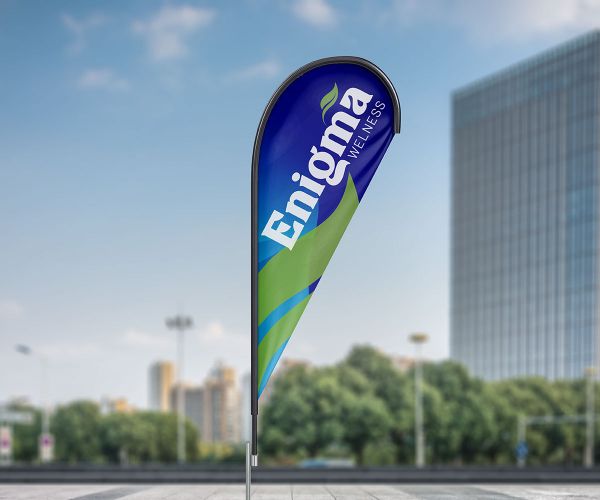 View Video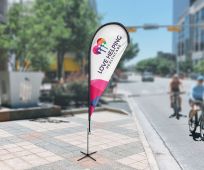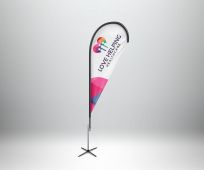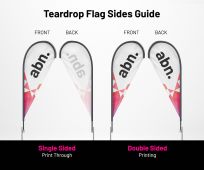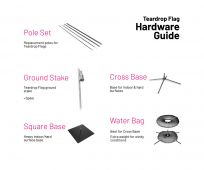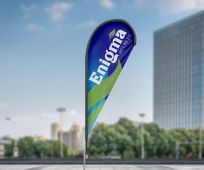 Get High-Quality Teardrop Flag Printing With AxiomPrint
Custom teardrop flag is known as a teardrop banner or teardrop sail flag. Teardrop flag printing is used for advertising, branding, and promotional purposes. As the name suggests, a teardrop flag has a unique teardrop shape. It features a rounded top that gradually tapers down to a point at the bottom, resembling a teardrop.
The custom teardrop flag provides a dynamic way to promote businesses, products, or events. Promoting a Sale? Our Sale Teardrop Flag is designed to captivate customers and drive foot traffic to your venue. Whatever your promotional needs, our selection of teardrop flags will elevate your brand and make a lasting impact on your customers! Advertising Teardrop Flag is not only visually stunning but also serves as a great marketing tool, effectively broadcasting your message to a broader audience. You may want to celebrate your grand opening with a festive Grand Opening Teardrop Flag, or declare your business as "Now Open" to the world with our Now Open Teardrop Flag printed by our creative team.
The shape of the flag allows it to maintain its form and display the printed content clearly. Custom teardrop flag is constructed with durable and weather-resistant materials such as polyester to withstand outdoor conditions. Get your Custom teardrop flag today, cause it is lightweight and can be assembled or disassembled quickly. What's more, they are very easy to set up.
Characteristics of Custom Teardrop Flag Printing
Customization
For maximum appeal our team of professionals will help you get a bold design and add custom specialities to target your audience. AxiomPrint offers easy-to-choose options to create uniquely customizable teardrop flag to promote your brands. With our customer-friendly online ordering system, you can choose sizes, colors, hardware options and the quantity that meets your needs. No matter what standards appear in our website, we are flexible and open to all special requests, notes and customization requirements.
Sizes
Custom teardrop flag comes in 4 standard sizes:
Small (7ft)

Medium (9ft)

Large (11.2ft)

X-Large (13.5ft)
Print sides
For custom teardrop flag printing we offer two options of sides' printing: Front Only and Front and Back.
If you want your graphics to be printed on the front side of the teardrop flag, then you may choose our "Front Only" option. This option is ideal when the flag will be placed against a wall or backdrop, or when you want to display a specific message to your audience from a particular direction.
And if you want to maximize your promotional impact then choose the "Front and Back" option. With graphics printed on both sides of the teardrop flag, your message will be visible from all angles. Your custom advertising teardrop flag will be viewed from various perspectives.
Hardware and Accessory
When it comes to hardware options for custom teardrop flag printing, there are several choices available based on your specific needs and the intended use of the flag. Here are some common hardware options for teardrop flag printing:
Pole + Ground Stake

: Ideal for outdoor use, the pole is inserted into a ground stake, providing stability by anchoring the flag directly into the ground.
Pole + Cross Base

: Designed for indoor events or on flat surfaces, the pole is inserted into a metal stand with arms that create a stable base.
Pole + Cross Base + Ground Stake

: Combining the cross base and ground stake, this option offers enhanced stability, making it suitable for outdoor settings with potential wind or movement.
Pole + Cross Base + Water Bag

: When staking is not possible, a water bag can be used in conjunction with the cross base to provide weight and stability, making it suitable for indoor environments or places where drilling or staking is not allowed.
Pole + Square Base

: Similar to the cross base, the square base offers a stable metal stand for indoor or outdoor use.
In addition to the hardware options mentioned above, AxiomPrint also offers a convenient carry bag as an accessory. It helps protect the flag components during transportation, ensuring that they remain undamaged. It also allows for easy portability to different locations or events.
FAQ
Q: What is a teardrop flag?
A: Teardrop flag is a style of flag that features a unique teardrop shape. These flags are often used for advertising, branding, and promotional purposes in various settings such as trade shows, storefronts, outdoor events, and exhibitions.
Q: What is a teardrop flag made of?
A: Teardrop flag is typically made of durable and weather-resistant materials such as polyester. These materials ensure that the flags can withstand outdoor conditions and maintain their vibrant colors and graphics.
Q: How is teardrop flag displayed?
A: Teardrop flag can be mounted on poles or flagpoles. Flags can be easily assembled and set up both indoors and outdoors. Different base options, such as ground stakes, cross bases, water bags, or square bases, are available to provide stability and support.
Q: Is teardrop flag portable?
A: Yes, the teardrop flag is portable and easy to transport. They are lightweight and can be disassembled into compact sizes, making them convenient to carry and set up at different locations.
Q: Can my teardrop flag order be customized?
A: Yes, a teardrop flag can be fully customized. They can be printed with customized graphics, logos, messages, or artwork to suit specific branding or promotional needs. The customization allows businesses to effectively convey their messages and capture attention.
Q: How long do teardrop flags last?
A: The lifespan of teardrop flags can vary depending on factors such as usage, weather conditions, and the quality of materials used. With proper care and maintenance, a teardrop flag can last for an extended period.
Q: What if I don't have design options, do you provide design services?
A: We have a design service. Our team of creative designers have years of experience and are happy to help you perfect your preferred design. Before printing, we share with you the initial design of what it looks like and make changes if needed.
Q: Is there a minimum order quantity?
A: No. There is no minimum order quantity for teardrop flag printing.
Q: What is the turnaround time?
A: Our regular turnaround time is 3 business days for teardrop flag printing. But for last minute events we may be able to work with your tight deadline, next day or same day turnaround.
Q: How much does delivery and shipping cost?
A: Click on the "Shipping Estimate" button, which is right under the "Continue" button. Enter your zip code and it will automatically calculate the price.