View Video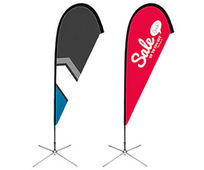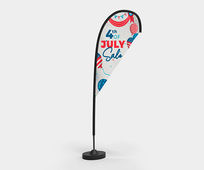 How To Get Custom Teardrop Flags with AxiomPrint
Teardrop flags along with feather flags, otherwise known as teardrop flag banners are large flags designed in the form of a teardrop and can have any design printed on them by means of a dye sublimation process. Fixed to aluminium and fibreglass flagpole, these flags can be placed in the ground or positioned on a flag stand. Due to the flagpole being bendable, the teardrop flag is resistant against winds.
Teardrop flags are great for being used on storefronts or in front of any other business as they will immediately catch the attention of pedestrians thanks to the vibrant coloring, the unique design and the overall attractive looks.
AxiomPrint offers some of the best and highest quality teardrop flags that will surely promote your business successfully bringing you more customers. We offer either single or double-sided teardrop banners. Double sided flags enable you to have your design printed on both sides of the banner which is not the case with one-sided ones. You can even have different messages and design on each of the sides. You should make the choice between these two options based on your business' needs and demands.
AxiomPrint's custom teardrop flags can be used for outdoor and indoor purposes. As already mentioned, they are durable, weather resistant and large enough to get the attention of people. For indoor use, they are very effective to be displayed at different events, expos and conferences.
Our teardrop banners require very little maintenance, just keep them clean and they will serve you for years.
The best and most eye-catching teardrop flags are waiting for you at AxiomPrint!