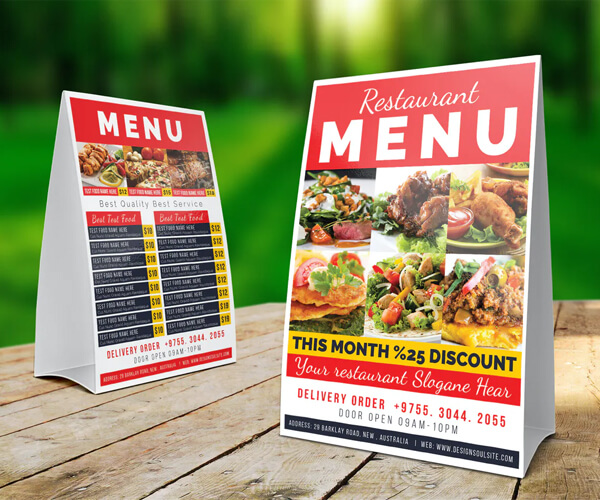 View Video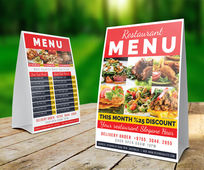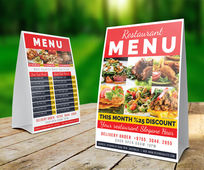 Stand Out With Custom Table Tent Cards Printing
Table Tent Cards, or for short table tents, are generally designed with a small base panel and two larger vertical panels, shaping something like a three-cornered wedge. Tent cards of AxiomPrint tightly stand on any kind of table surfaces or plates without falling, tipping or twisting for long periods of time. It is that perfect opportunity for your brand to place the message or needed information in a more simple way.
Table tent card printing is very popular in the spheres of retail, hotels and hospitality, celebrations, expo events and most commonly is used in restaurants, cafes or bars, for displaying new menu offerings and family specials, discount offers, information on new items, special deals or just showing table numbers.
No matter where you prefer to dine, you have definitely noticed dozens of tent cards on the tables. Table tent cards are one of the most popular tools of table talker marketing and overall are beneficial for all kinds of business promotions. These triangular table displays will become one of the most visible and easy-readable advertising tricks of your marketing materials.
Characteristics of Table Tent Cards Printing
Customization
AxiomPrint offers easy-to-choose options to create uniquely customizable custom printed table tents to yield only the best sides of your brand. Our team of talented professionals is ready to meet and exceed your expectations! And with our customer-friendly online ordering system, you may choose the sizes, paper types, finishing and the quantity that meets your needs. Be assured that all of your special requirements are covered. We are open to all special requests and customization requirements.
Material
We offer several cardstock options for table tent cards printing so you can have the feel and look you want:
14PT Cover (Coated font and uncoated back)
sturdy and thick with a weight of 14 points (0.014 inches)
resistant to bending, tearing, and creasing
used for covers of high-end brochures, booklets, and catalogs
gives a sense of premium quality, durability and professional look
has no glossy or shiny coating
smooth, with a slightly rough feel
best for projects that require a more natural, organic look and feel
Size
There are two options for sizing table tent cards:
4'' x 6'' (Flat Size: 4" X 16.25")

5'' x 7'' (Flat Size: 5" X 18.5")
Finishing
Finishing refers to the final treatment applied to the table tent cards after printing to enhance their durability, appearance, and functionality. Finishing is only available for the 14PT Cover (Coated font and uncoated back) option. Based on your preferences common finishing options include:
Glossy, Front Only

UV High-Gloss, Front Only

Soft Touch Lamination, Front Only

Gloss Lamination, Front Only
FAQ
Q: What are table tent cards?
A: Table tent cards, also known as table tents or tent cards, are folded cards designed to stand upright on tables or countertops. They are commonly used for displaying information, branding, or advertisements in various settings.
Q: Where are table tent cards typically used?
A: Table tent cards are used in restaurants, hotels, conferences, trade shows, weddings, and various events to display menus, promotions, table numbers, guest names, and other information.
Q: Can I customize the design and content of table tent cards?
A: Yes, table tent cards are highly customizable. You can personalize the design, add text, logos, images, and choose from different paper finishes to suit your branding or event theme.
Q: Are table tent cards suitable for single or double-sided printing?
A: Table tent cards can be printed on one side or both sides, depending on your needs. Double-sided printing allows for more information or a different design on each side.
Q: Can I order table tent cards in bulk for my business or event?
A: Yes, AxiomPrint gives the chance for bulk ordering of table tent cards, making them cost-effective for businesses and large events.
Q: Can table tent cards be used for advertising and promotions?
A: Yes! Table tent cards are a popular choice for advertising specials, promotions, and new products in restaurants, cafes, and retail settings.
Q: What if I don't have design options, do you provide design services?
A: We have a design service. Our team of creative designers have years of experience and are happy to help you perfect your preferred design. Before printing, we share with you the initial design of what it looks like and make changes if needed.
Q: Is there a minimum order quantity?
A: Yes. Minimum order quantity for table tent cards printing is 25pcs..
Q: What is the turnaround time?
A: Our regular turnaround time is 4-5 business days for table tent cards printing. But for last minute events we may be able to work with your tight deadline, next day or same day turnaround.
Q: How much does delivery and shipping cost?
A: Click on the "Shipping Estimate" button, which is right under the "Continue" button. Enter your zip code and it will automatically calculate the price.