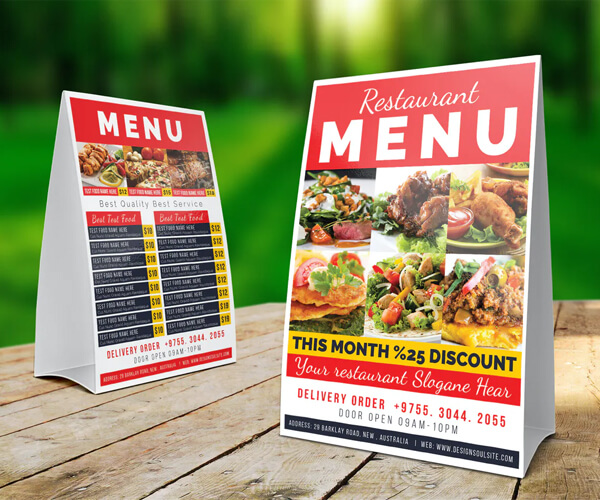 View Video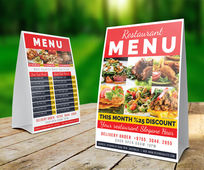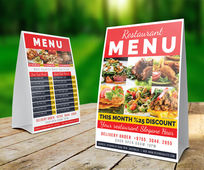 Stand Out With Custom Table Tent Cards Printing
Table Tent Cards, or for short table tents, are generally designed with a small base panel and two larger vertical panels, shaping something like a three-cornered wedge. Tent cards of Axiom Print tightly stand on any kind of table surfaces or plates without falling, tipping or twisting for long periods of time. It is that perfect opportunity for your brand to place the message or needed information in a more simple way.
Table tent card printing is very popular in the spheres of retail, hotels and hospitality, celebrations, expo events and most commonly is used in restaurants, cafes or bars, for displaying new menu offerings and family specials, discount offers, information on new items, special deals or just showing table numbers.
No matter where you prefer to dine, you have definitely noticed dozens of tent cards on the tables. Table tent cards are one of the most important tools of table talker marketing and overall are beneficial for all kinds of business promotions. These triangular table displays may become one of the most visible and easy-readable advertising tricks of your marketing materials.
Effective Uses of Table Tent Cards Printing
Custom table tent cards boost revenues. The power of table tent cards printing lies within the fact that it highly increases the chance that your customers will definitely order what is displayed on the tent cards. No one can resist the temptation of the pictures of tasty snacks, enticing appetizers and desserts. And so, these miniature displays are considered to be strong attraction grabbers. You just need a simple guide assistance where to put table tents. We suggest putting them in places where people can easily notice them and your offer can never be refused by your clients.
With their professional appearance custom table tent cards

and

custom flyers

are versatile and ideal for restaurant, personal, commercial and promotional use. Table tents are cost effective and affordable. With the flexibility of being put anywhere to drive customer traffic, a uniquely-designed tent card is suited for business such as bars, cafes, canteens, spa, beauty salons, commercial and shopping centers, boutiques, gym and health clubs. Wedding table tent cards are not an exception. With an aim to endorse your services, products, special offers, giveaways or just simple information, you have a chance to directly reach your customers and enhance the sales.
Custom table tent card printing allows you to include all needed information for targeting your customers. This may include the logo of your company, contact details, your company's profiles at social media platforms, QR codes for scanning and getting to know daily menu offers or special deals. In order to provide excellent service for your customers, it is equally essential to have permanent tent cards to let them know about reserved seatings. Double sided table tent cards are perfect for guidelines, especially in these days of Covid19. Super helpful for including reminders to wear a mask, or wash hands and keep social distancing. No need to mention the importance of placing table number tent cards at celebrations, trade shows, expos or events to avoid unnecessary inconvenience.
High-Quality Materials for Custom Table Tent Card Printing
Axiom Print ensures that your preferences are met with superior quality printing. We are always there to help your company stand out and engage prospective customers.
Here tent cards are made of high-quality 14 PT Cover Gloss Paper with your preferred sizes, either 4" x 6" or 5" x 7". The interlocking card tabs make it easier to assemble the 'triangle' and ensure that the table tent card stands secure.
Table tent cards may be both one-sided and two-sided. We offer a wide range of finishing options. We put finishing in the first place, because it increases the vibrancy and richness of the design. For the tent card to have a glass-like and rich glossy finish we offer Gloss Lamination, Semi-Gloss and UV High-Gloss Lamination. If you want the card to look smoother and have that velvet feel, we suggest choosing Soft Touch Lamination.
Building a company reputation is hard work, but Axiom Print is ready to go the extra mile and help your brand stand steady in this fast changing business world.
Our experts will provide the printing of Table Tent Cards within 5 business days. But thanks to our printing gurus, high-speed machines and brand new facilities, we offer rush printing, and even same-day printing services. We can fulfill the order with next day or even same day turnaround.