View Video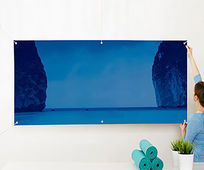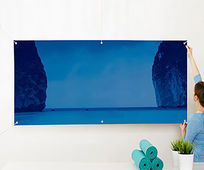 How to Get Smooth Banners with AxiomPrint
If you are looking for the best solution for the indoor promotion and advertisement of your business then smooth banners made by the masters of AxiomPrint are the best choice. Our smooth banners are created and designed mainly for an interior, close viewing printed graphics that will catch the eye of your potential customers with the correctly chosen colors and text.
AxiomPrint's smooth banners can be used for a variety of purposes some of which include the following:
You might think in this era of online advertising, smooth banners are not a wise investment but giving it a try will prove you the opposite. Banners are still a great way of making people aware of your business and letting them learn about your goals and services. A message printed on a smooth banner with the right design and colors put in a visible place is exactly what will catch the attention of your customers during any corresponding indoor event or occasion.
People tend to take a moment and read the texts written on smooth banners if they are made with quality and designed appropriately. With AxiomPrint, the chances that more people will stop by to learn more about your business and its services increase highly. Ordering a smooth banner from AxiomPrint is very simple - just give us the specifications (colors, design, size, etc.) and let our qualified specialists do the hard work for you. Boost your business with AxiomPrint's high-standard smooth banners.
Smooth Banner Printing is Excellent Solution for Quality Displays in Los Angeles
Smooth Banners from AxiomPrint are great for displaying graphics indoors. Our smooth banner is designed specifically for an interior, close viewing printed graphics and ideal for creating eye-catching graph­ics, indoor banner displays, and retractable banner stands. Designed for indoor use, this uniquely designed banner display provides full-color photo quality graphics. Smooth banners provide a long-lasting impact and are an ultra-rich way to get your message seen. Our smooth banner has a smooth face creating a uniform print surface ideal for creating eye-catching graph­ics.
Although the marketing landscape has evolved, banners have remained a staple of advertising. Whether you're aiming to attract new customers, or in need of an affordable way to market your brand; printed banners are an easy option with many practical benefits you can utilize. The effectiveness of custom banners is no secret, but it doesn't have to be expensive. If you're on a tight budget, the 'budget material' will come in handy when you print a banner. Especially smooth banners from AxiomPrint will leave you satisfied.