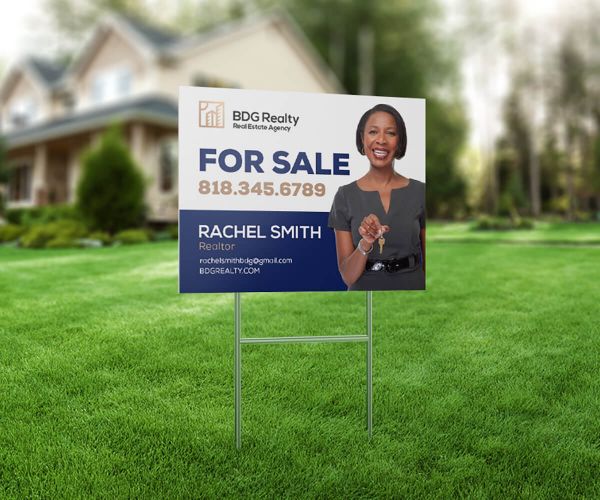 View Video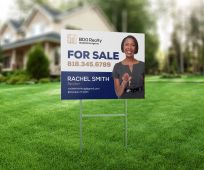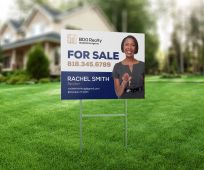 Get High-Quality Real Estate Yard Sign Printing With AxiomPrint
Whether you're advertising an open house, promoting your real estate services, or simply advertising your property, real estate yard signs are an essential marketing tool for any real estate professional. Made from high-quality and durable materials, real estate yard sign printing is that perfect budget-friendly option to feature bold, eye-catching graphics and to address your potential buyers.
Real estate yard signs, often referred to as yard sale signs, are one-sided or two-sided waterproof and stain-resistant plastic corrugated boards with wire stakes, which are inserted into the ground and ensure permanence through all weather conditions. Real estate yard sign installation is very easy and time-saving. Once you've found the right spot, you can insert the stakes into the ground and slide the sign over the stakes.
Include a website address, phone number, or email address so buyers can easily reach out to you and find out more about the properties you have listed. Show off your properties in style with durable, attractive real estate yard signs from our wide selection.
Characteristics of Real Estate Yard Sign Printing
Customization
AxiomPrint offers an array of customization options for Real Estate Yard Signs. With a dynamic design, vibrant colors, and a clear message, yard signs can draw attention to your property and make a deal. With our easy-to-choose options you can create custom real estate yard signs in the best way. In our customer-friendly online ordering system, you may choose the sizes, material and the quantity that meets your needs. Be assured that all of your special requirements are covered. We are very flexible and open to all special requests, notes and customization requirements.
Material
4mm white coroplast is the main material for real estate yard signs printing. A popular material used for a wide range of applications, including signs, displays, and packaging. It is lightweight and also quite durable. It can withstand exposure to the elements, including rain, wind, and sunlight, without deteriorating or losing its color.
Sizes
Real estate yard signs generally come in several sizes:
12'' x 12''

18'' x 12''

24'' x 18''

24'' x 24''

or custom sizes
Grommets and Custom Cut
When it comes to promoting your real estate business, you definitely want t0 make a professional impression. For which we offer the highest quality grommets and riders for your yard signs. For cutting we offer circle/oval, as well as:
We offer rectangular shaping, as well as:
"Custom Shape Cut (Simple)"

which

typically involves cutting the yard sign print into basic, straightforward shapes such as squares, rectangles, or circles.
"Custom Shape Cut (Advance)"

involves cutting the yard sign print into more complex shapes that may have intricate details and curves. This type of cut often requires more precision and specialized equipment compared to simple cuts.
FAQ
Q: Can I print custom designs and logos on real estate yard signs?
A: Yes, real estate yard signs can be fully customized with custom designs, logos, and text.
Q: What is the typical size of a real estate yard sign?
A: The typical size of a real estate yard sign is 18" x 24", although sizes can vary depending on the specific requirements and printing options.
Q: Are real estate yard signs weather-resistant?
A: Yes, our real estate yard signs are weather-resistant and can withstand exposure to rain, wind, and sunlight.
Q: How are real estate yard signs installed?
A: Real estate yard signs are typically installed by placing them on metal stakes or frames that are driven into the ground. The signs can also be hung from fences, walls, or other structures using cords or zip ties threaded through grommets in the corners of the sign.
Q: What if I don't have design options, do you provide design services?
A: We have a design service. Our team of creative designers have years of experience and are happy to help you perfect your preferred design. Before printing, we share with you the initial design of what it looks like and make changes if needed.
Q: Is there a minimum order quantity?
A: No. There is no minimum order quantity for real estate yard signs.
Q: What is the turnaround time?
A: Our regular turnaround time is 3 business days for real estate yard signs printing. But for last minute events we may be able to work with your tight deadline, next day or same day turnaround.
Q: How much does delivery and shipping cost?
A: Click on the "Shipping Estimate" button, which is right under the "Continue" button. Enter your zip code and it will automatically calculate the price.