View Video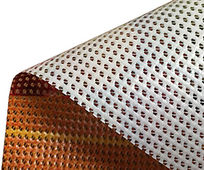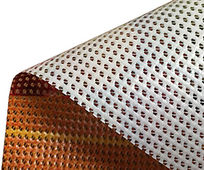 Printed on polyester, mesh banners are a great solution for having your business advertised in bad weather conditions. The wind blows through the polyester which doesn't let it tear the banner out unlike the other types of traditional banners for outdoor advertising which can either twist or fall over and be torn when hit by a strong wind. At AxiomPrint, you can order mesh banners and be sure about getting the highest quality, weather-resistant and really affordable mesh banners. Our mesh banners are great for being used in different purposes such as advertising your business, school club or even making a great display at a family gathering.
How to Order Mesh Banner Printing from AxiomPrint
Mesh banner printing has never been so affordable and at the same time, of such a high quality that meets all the best banner printing standards. Don't lose your chance to have the most eye-catching, long-lasting and durable mesh banner for promoting your business and attracting your target audience. At AxiomPrint we make sure that the mesh banner is created according to all your specifications: you can add unlimited background colors, text, clipart and photographs with such finishing as heat welded hems and grommets.
Order your mesh banner now and our team of highly qualified specialists will deliver it to you within the shortest possible time in the design and size that you want. AxiomPrint cares about its customers and about the quality of the products it provides. That's why you won't have to worry about your outdoor mesh banner advertising even in bad weather conditions.
You are looking for weather-resistant mesh banners you can hang almost anywhere? Then you've come to the right place. Here at AxiomPrint, you can find mesh banners that are high quality and with affordable prices. With our versatile mesh banners, you will be able to create the perfect display for your business, school club, or family gathering. Our mesh banners are resistant to tearing. The mesh pattern of the banner reduces the overall weight of the banner and allows wind to pass through the banner, making it perfect for outdoor advertising and display purposes. Using outdoor mesh banners is a good alternative to other custom banners if you are going to be using your advertising piece outdoors. This is because they can withstand strong winds outside without fraying, ripping or blowing away. We, at AxiomPrint, offer affordable mesh banner printing that works in a variety of environments.
What makes our mesh banners useful to a business' marketing plan is that the light yet durable material can withstand many weather conditions. The mesh fabric is a durable and strong material that's made to last through all types of weather. Traditional banners can twist or fall over if they are consistently hit by a strong blow. Similar to a screen window, printed fence screens and custom mesh banners are made to allow airflow to weave in and out. Our mesh banner printing creates lightweight mesh banners that allow wind to blow through the display. This capability allows the signage to stay in place, allowing people passing by to see your business' message. Despite inclement weather, these items are meant to last outdoors for an extended period of time. The product is printed in high-quality Briteline Mesh Banner material. You'll never have to worry about ruined advertising signage when you go with mesh banner printing from AxiomPrint.