View Video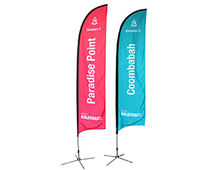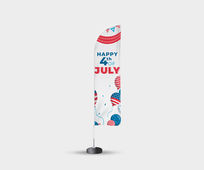 How To Get Custom Feather Flags with AxiomPrint
What can be a more attractive, ethereal and engaging way of advertising your business if not the use of custom feather flags? Take your business off the beaten track and apply a non-traditional and interesting marketing strategy that will catch the attention of more customers and increase your sales.
Feather flags are designed in the shape of feathers and are great for promoting your business, new products and special offers at different events or exhibitions. These feather banners along with teardrop flags are especially effective for branding. If you are an owner of a big brand then you will surely draw attention to your business with the help of feather flags. Custom feather flags will be especially effective if you make the right choices about the flag's location, color and the message you want it to communicate.
AxiomPrint also specializes in the production of decorative flags and banners. Our feather flags come with high quality, durability and longevity. The features of the flags are customizable - you choose the design, the colors and other relevant details and our team of experienced specialists and graphic designers will do the rest of the work for you. Keep in mind that feather flags are mainly used for showcasing your company logo and won't be very effective for sending out long messages.
Besides the high quality, you will also get affordable prices for the feather flags offered by AxiomPrint. Boost your business and make your brand name known by trusting the creation of your custom feather flags to the professional team of AxiomPrint.