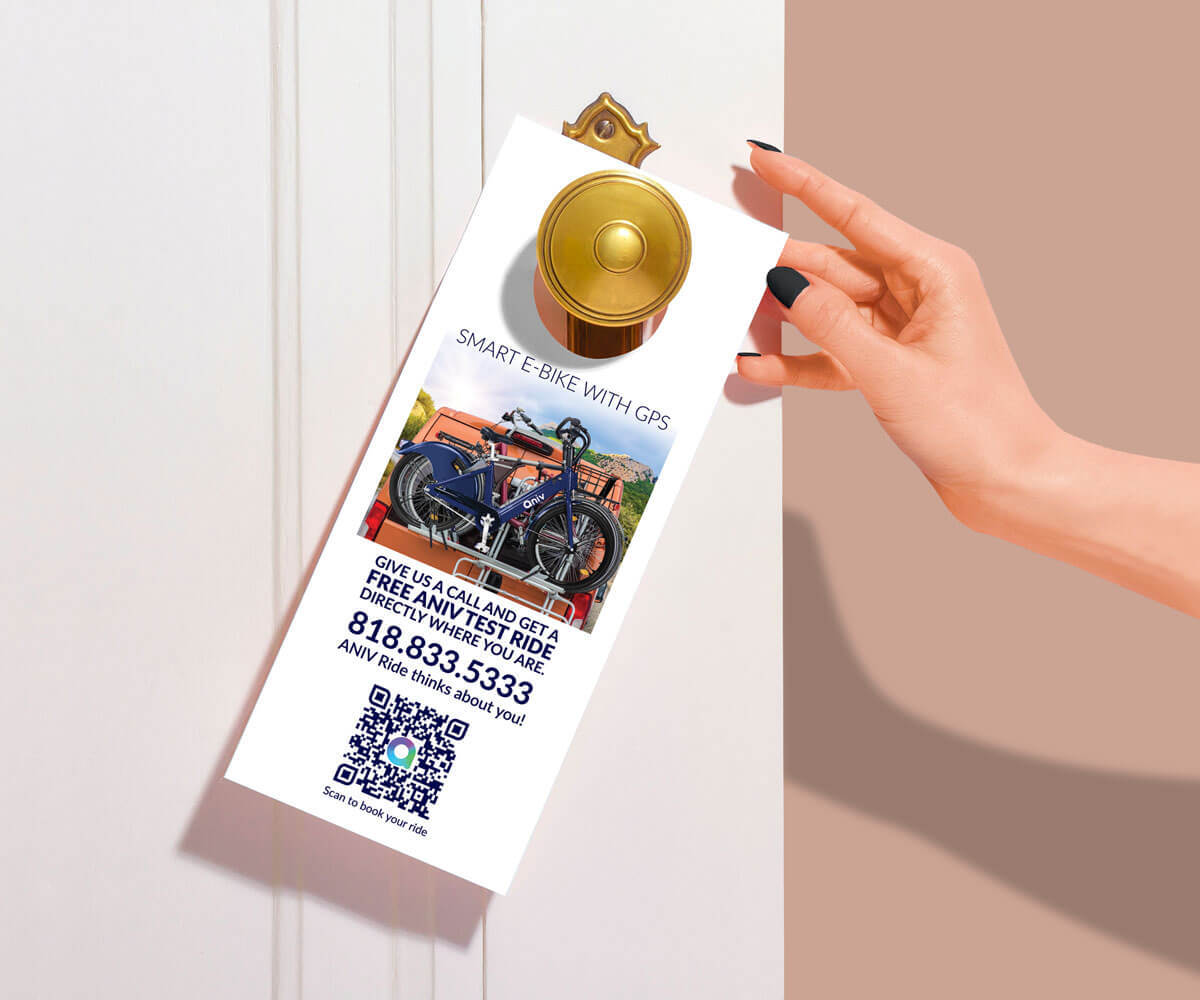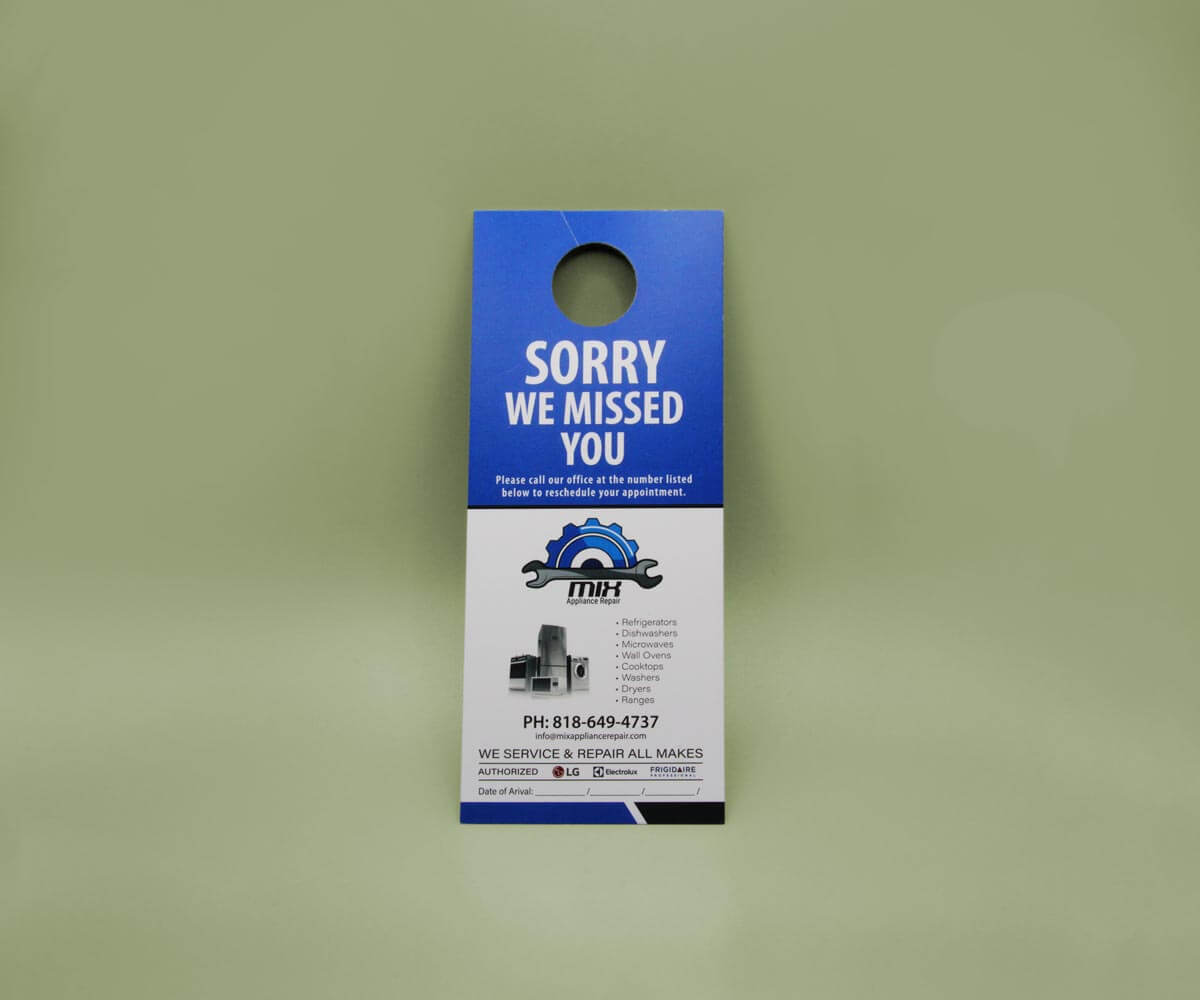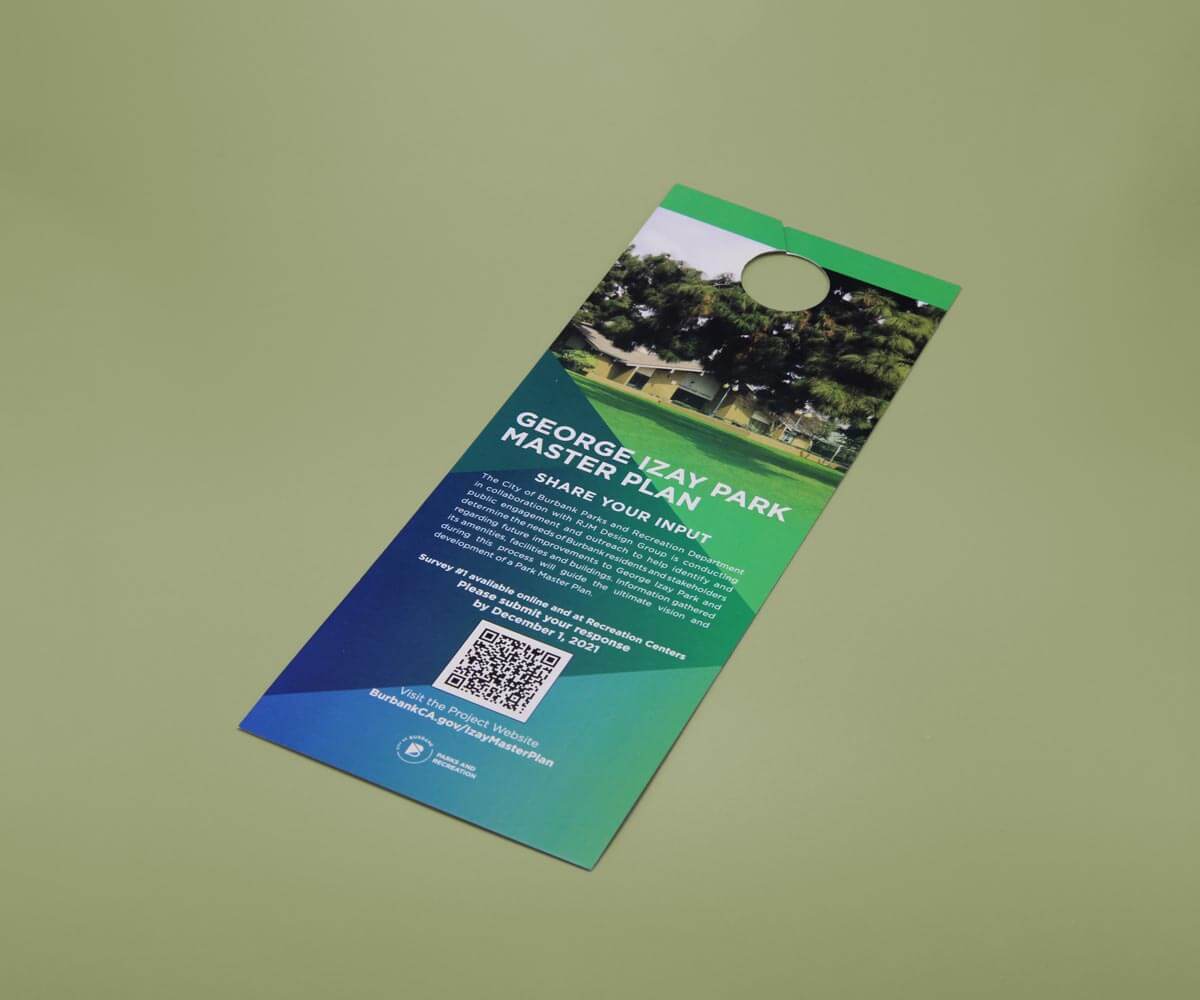 View Video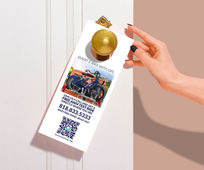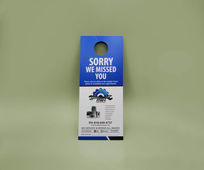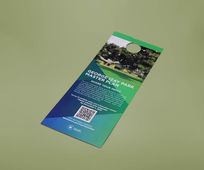 Get Custom Door Hangers by AxiomPrint for Your Effective Promotions
Say goodbye to generic marketing and hello to an effective, personalized approach. Customize your door hangers with your brand's unique design, colors, and messaging to create a compelling marketing piece that reflects your brand identity.
Door hangers are promotional materials printed to be hung on the handles of doors, typically residential or commercial, to deliver a targeted message directly to residents. They are commonly used for marketing and advertising purposes, as well as for conveying important information.
The advantage of door hangers is their ability to capture the recipient's attention by being placed directly on their door knob or handle, ensuring that the message is seen when the door is opened. Hence, whether you're promoting a local business, announcing a special offer, or spreading the word about an event, our door hangers are the perfect choice.
Characteristics of Custom Door Hangers Printing
Customization
AxiomPrint offers easy-to-choose options to create uniquely customizable custom printed door hangers to show off only the best sides of your brand. Our team of creative professionals is ready to meet and exceed your expectations! And with our customer-friendly online ordering system, you may choose the sizes, paper types, finishing types, perforation options and the quantity that meets your needs. Be assured that all of your special requirements are covered. We are open to all special notes.
Paper Material
AxiomPrint offers several cardstock options for door hangers printing that range from simple to sophisticated so you can have the feel and look you want:
very often used for printing brochures, flyers
has a glossy finish
a shiny and professional appearance
gloss finish helps to make colors more vibrant
thicker and more durable than 100# gloss text
used for covers of different printed materials
has a shiny and professional appearance
has no glossy or shiny coating
smooth, with a slightly rough feel
best for projects that require a more natural, organic look and feel
extra thick paper with smooth surface
tough enough to withstand printing on both sides
writable surface
Finishing
Finishing refers to the final treatment applied to the door hangers after printing to double their durability, appearance, and functionality. Based on standards, we offer two common finishing options for custom door hangers printing:
Glossy, 2 Sides

UV High-Gloss, 2 Sides
Perforation
Perforation is one of the best features we can offer for your personalized door hangers printing. With the option of perforation 2" from bottom of door hangers we can add a functional element to your promotional materials. This feature allows recipients to easily tear off a portion of the door hanger, such as a coupon, contact information, or a response card, while retaining the main message intact. This can be particularly effective for promotions that require customers to redeem offers or provide feedback.
FAQ
Q: What is the standard size for door hangers?
A: The standard and most popular size for door hangers is
4.25 x 11, but AxiomPrint also offers two more sizes 3.5'' x 8.5'' and 5.5'' x 17'' (Jumbo Size).
Q: Can I use my own design for the door hangers?
A: Yes, you can upload your own design files, or you can work with our design team to create a custom design that aligns with your branding and objectives.
Q: What information should I include on my business's door hangers?
A: Include essential information such as your business name, logo, contact details (phone number, email, website), a brief description of your products or services, and a compelling call to action (e.g., a special offer, discount code, or invitation).
Q: Is it necessary to have a headline on the door hanger?
A: A clear and attention-grabbing headline can help convey your message quickly. It's often recommended to include one that summarizes the main benefit or offer.
Q: How should I design the back of the door hanger?
A: The back can be used for additional information, such as customer testimonials, more details about your products or services, or a continuation of your branding and messaging.
Q: Are there any special considerations for door hanger distribution?
A: It's essential to check local regulations and obtain any necessary permits if you plan to distribute door hangers in certain areas. Additionally, consider the timing and strategy of your distribution to reach your target audience effectively.
Q: What if I don't have design options, do you provide design services?
A: We have a design service. Our team of creative designers have years of experience and are happy to help you perfect your preferred design. Before printing, we share with you the initial design of what it looks like and make changes if needed.
Q: Is there a minimum order quantity?
A: Yes. Minimum order quantity for door hangers printing is 100pcs..
Q: What is the turnaround time?
A: Our regular turnaround time is 4 business days for door hangers printing. But for last minute events we may be able to work with your tight deadline, next day or same day turnaround.
Q: How much does delivery and shipping cost?
A: Click on the "Shipping Estimate" button, which is right under the "Continue" button. Enter your zip code and it will automatically calculate the price.