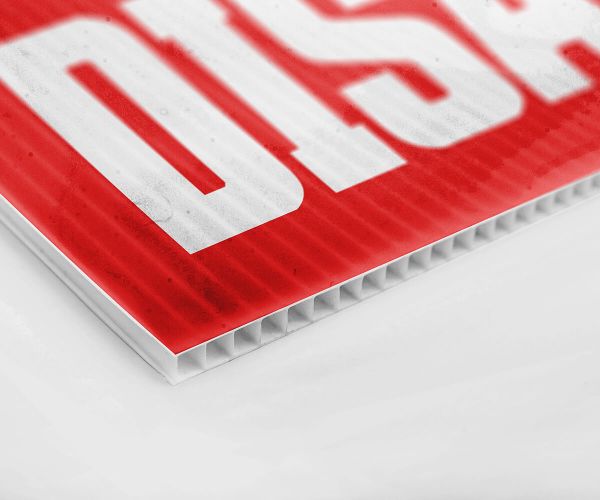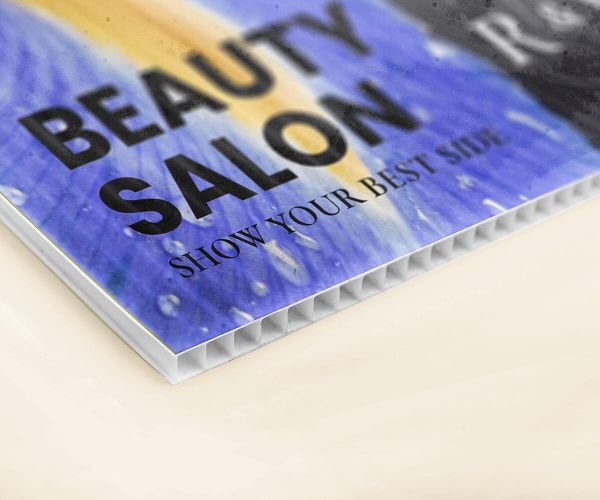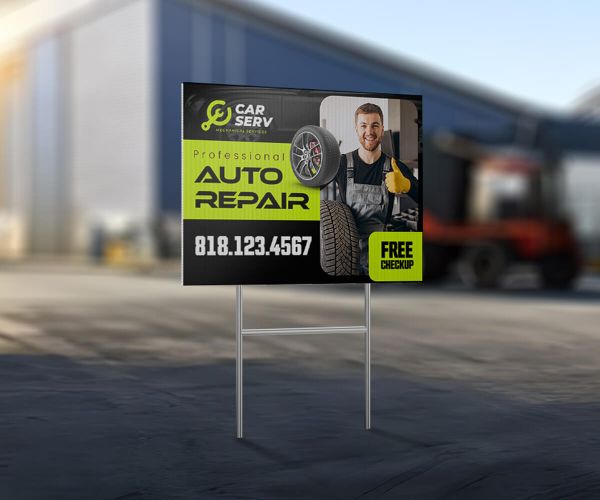 View Video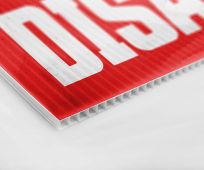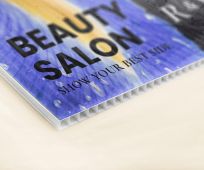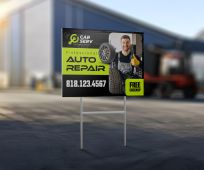 Get High-quality Custom Printed Coroplast Signs For All Cases
A Coroplast sign, also known as a corrugated plastic sign, is a lightweight and versatile signage made from corrugated plastic material. Corrugated plastic consists of two flat plastic sheets connected by a series of parallel ridges, creating a durable and sturdy structure.
Custom printed coroplast sign is commonly used for various purposes due to its durability and cost-effectiveness. These signs are perfect for outdoor applications such as yard signs, real estate signs, political campaign signs, event promotions, and more. The material is weather-resistant, which means it can withstand rain, wind, and sunlight without fading or deteriorating.
The lightweight nature of coroplast signs makes them easy to install, move, and transport. They can be printed with vibrant graphics, text, and images, making them an effective means of conveying messages and capturing attention. Coroplast sign printing is a popular choice for temporary signage needs, offering a balance between visual impact and affordability.
Characteristics of Coroplast Sign Printing
Customization
For maximum appeal our team of professionals will help you get a bold design and add custom specialities to target your audience. AxiomPrint offers easy-to-choose options to create uniquely customizable coroplast signs to promote your brands. With our customer-friendly online ordering system, you can choose materials, sizes, shapes, print sides, additional enhancements and the quantity that meets your needs. No matter what standards appear in our website, we are flexible and open to all special requests, notes and customization requirements.
Material
For custom coroplast sign printing we offer three versatile options:
4mm White Coroplast:

lightweight and durable choice, perfect for various outdoor and indoor applications. With a thickness of 4mm, it strikes the right balance between flexibility and sturdiness, making it a popular choice for a wide range of signage needs.

8mm White Coroplast:

added durability and visibility, thicker option which provides enhanced rigidity and strength, making it ideal for larger signs or situations that demand extra stability.

4mm Black Coroplast:

a distinctive look that stands out. It not only offers the durability and flexibility characteristic of Coroplast but also adds a sleek and modern touch to your signage.
Shape and Print Side
With the possibility of both Front side and Back and Front Side printing, we also offer custom cuts to your coroplast signs: rectangular form and custom shaping. Custom cutting involves cutting the coroplast sign into more complex shapes that may have intricate details and curves. This type of cut often requires more precision and specialized equipment compared to simple cuts.
Enhancements
Additional enhancements are available for custom coroplast sign printing. We offer H stake, which ensures easy and sturdy installation of your Coroplast signs on soft surfaces like lawns, gardens, or event venues. It provides stability and visibility, making your signs stand out. And if you are going to hang the sign from a fence or from point A to point B we recommend taking the option of Grommets. For larger signs we normally recommend grommets every two feet but for smaller banners adding grommets on the corners is more than enough to hang the sign.
FAQ
Q: What is Coroplast?
A: Coroplast, also known as corrugated plastic, is a lightweight and durable material consisting of two plastic sheets connected by parallel ridges. It's commonly used for creating signs due to its versatility and weather-resistant properties.
Q: What are Coroplast signs used for?
A: Coroplast signs are used for various purposes, including outdoor advertising, event promotions, real estate signage, directional signs, trade shows, and more.
Q: What thickness options are available for Coroplast signs?
A: We offer two thickness options: 4mm and 8mm. The 4mm option provides flexibility and is ideal for general signage needs. The 8mm option offers increased rigidity and strength.
Q: Can Coroplast signs be used outdoors?
A: Yes, Coroplast signs are designed to withstand outdoor conditions.
Q: Can Coroplast signs be reused?
A: Coroplast signs can be reused for different events or campaigns if they are well-maintained.
Q: What if I don't have design options, do you provide design services?
A: We have a design service. Our team of creative designers have years of experience and are happy to help you perfect your preferred design. Before printing, we share with you the initial design of what it looks like and make changes if needed.
Q: Is there a minimum order quantity?
A: No. There is no minimum order quantity for coroplast signs.
Q: What is the turnaround time?
A: Our regular turnaround time is 2 business days for coroplast signs printing. But for last minute events we may be able to work with your tight deadline, next day or same day turnaround.
Q: How much does delivery and shipping cost?
A: Click on the "Shipping Estimate" button, which is right under the "Continue" button. Enter your zip code and it will automatically calculate the price.