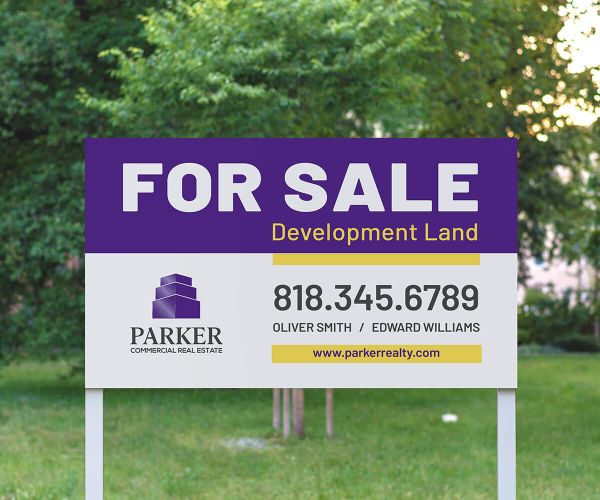 View Video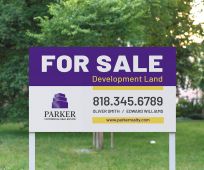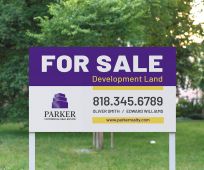 Create High-Quality Custom Commercial Real Estate Signs with AxiomPrint
Commercial Real Estate Sign is a perfect solution for those looking to promote their real estate business and attract customers. This versatile product will help you to promote your commercial real estate listings and create maximum visibility. With its sleek and modern design, large commercial real estate signs will draw in potential customers and help them recognize your brand.
AxiomPrint offers commercial property signs that are fully customizable, allowing you to include information about your property, such as the asking price, number of bedrooms and bathrooms, and contact information for the real estate agent or property owner. Installation is quick with our help. With its bold, eye-catching design your property will surely stand out in any location, from bustling city streets to quiet suburban neighborhoods.
If you are a real estate agent, property owner, or property management company, our commercial real estate signs are the perfect way to generate interest in your properties. A well-crafted sign made with high-quality materials will last longer and look more professional than a cheap, flimsy sign. Invest in a sign that is built to last and can withstand the elements.
Characteristics of Real Estate Post Sign Printing
Customization
AxiomPrint offers an array of customization options for Commercial Real Estate Signs. With a dynamic design, vibrant colors, and a clear message, these commercial property signs can draw attention to your property and make a deal. With our easy-to-choose options you can create custom commercial real estate signs in the best way. In our customer-friendly online ordering system, you may choose the sizes, material and the quantity that meets your needs. Be assured that all of your special requirements are covered. We are very flexible and open to all special requests, notes and customization requirements.
Material
For commercial real estate signs we offer three rigid materials which are ideal due to their excellent strength, weather resistance, and versatility:
has wood grain texture
sturdy composition and ability to withstand harsh weather conditions
a reliable choice for complex and outdoor signs
MDO, or Medium-Density Overlay
durable and smooth material
easy to cut and shape
perfect for printing high-quality graphics and text
1/8" White Aluminum Dibond
can withstand the test of time
aluminum composite construction
durable and excellent for weather resistance
Size
We offer three sizes for commercial real estate sign printing:
96'' x 48''

48'' x 48''

120'' x 60''
Post Stand and Installation
If you are looking to install a commercial real estate sign with a height of 6 feet, you can use two wooden posts or two white-painted posts to support the sign. And if you need help installing a commercial real estate sign, we are here to assist you. Our team of professionals has experience in installing various types of signage, including those for commercial real estate.
FAQ
Q: What are commercial real estate signs?
A: Commercial real estate signs are signs that are used to promote commercial properties for sale, lease, or rent. They are typically installed on the property itself or near it, and can include information such as the property's size, location, and price.
Q: Can commercial real estate signs be customized?
A: Yes, commercial real estate signs can be customized to include specific information about the property, such as the property's name, the name of the real estate company, and contact information. They can also be designed to match the branding and style of the real estate company.
Q: How long do commercial real estate signs last?
A: The lifespan of a commercial real estate sign will depend on the material and weather conditions. Signs made of durable materials such as metal or vinyl can last for several years, while wooden signs may require more frequent maintenance or replacement.
Q: Who can help me install a commercial real estate sign?
A: The installation of commercial real estate signs is not an easy task. AxiomPrint printing company is always there to help you with all the issues. We do offer installation service and guarantee a quick, not stressful and time-saving installation process.
Q: What if I don't have design options, do you provide design services?
A: We have a design service. Our team of creative designers have years of experience and are happy to help you perfect your preferred design. Before printing, we share with you the initial design of what it looks like and make changes if needed.
Q: Is there a minimum order quantity?
A: No. There is no minimum quantity required.
Q: What is the turnaround time?
A: Our regular turnaround time is 3 business days for commercial real estate signs printing. But for last minute events we may be able to work with your tight deadline, next day or same day turnaround.
Q: How much does delivery and shipping cost?
A: Click on the "Shipping Estimate" button, which is right under the "Continue" button. Enter your zip code and it will automatically calculate the price.