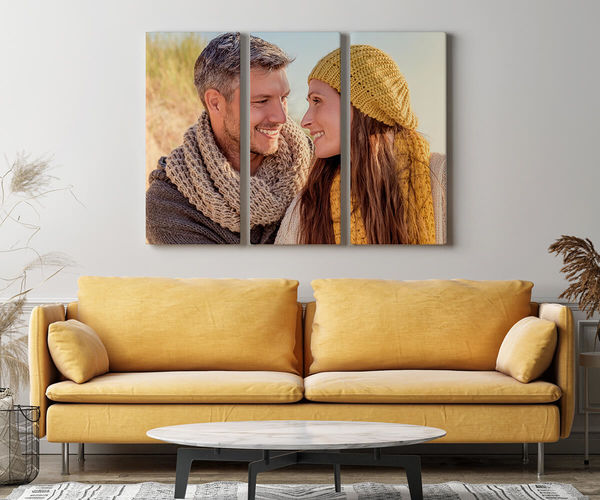 View Video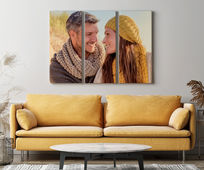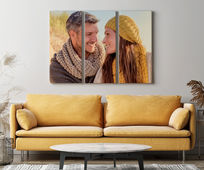 Get Personalized Canvas Wrap Printing by AxiomPrint
Canvas Wrap, also known as a Gallery Wrap, is a popular method for displaying photos or artwork. It involves printing an image onto a canvas material, which is then stretched or wrapped around a wooden frame, securing it at the back. This creates a borderless, frameless presentation that gives the artwork a three-dimensional appearance. Custom canvas wraps are an elegant and modern way to showcase your favorite visuals, whether they're family photos, landscapes, or original artwork, and they offer a timeless and polished look for your wall decor.
Choose from a range of sizes and enjoy the beautiful appeal of canvas as it breathes life into your memories and creations. Make your space truly your own with the Canvas Wrap by AxiomPrint – where art meets heart!
Characteristics of Canvas Wrap Printing
Customization
AxiomPrint offers an array of customization options for canvas wrap printing. With our easy-to-choose options you can create personalized canvas wraps that reflect your wonderful pictures or messages in the best way. In our customer-friendly online ordering system, you may choose the sizes, edge option and the quantity that meets your needs. Be assured that all of your special requirements are covered. We are very flexible and open to all special requests.
Material
White artist canvas is a popular and versatile material for canvas wraps. It provides a clean and neutral background that allows your images or artwork to shine. The texture of white artist canvas also adds depth and character to the final presentation. It's an excellent choice for creating stunning and durable canvas wrap displays.
Size
For canvas wrap we printing offer a wide range of option:
8'' x 10''

12'' x 18''

16'' x 20''

18'' x 24''

24'' x 36''

36'' x 48''

Custom Size
Enhancements
With a selection of edge options like Mirror Edge, White Edge, Black Edge, and Fold Edge, you have the flexibility to customize your canvas wrap to suit your style and decor preferences:
Mirror Edge:

provides a mirrored reflection of the image's outer edge, creating a seamless and visually striking effect that makes your canvas wrap appear frameless.
White Edge

: creates a clean and contemporary border that complements a wide range of artworks and interiors. It gives your canvas wrap a polished and timeless look.
Black Edge

: adds contrast and drama to your canvas wrap, making the artwork stand out boldly and creating a captivating visual impact.
Fold Edge

: the image wraps around the sides of the canvas frame, providing a continuous and immersive viewing experience. It's a particularly excellent choice for images that have details extending to the edges.
FAQ
Q: What is a Canvas Wrap?
A: A Canvas Wrap, also known as a Gallery Wrap, is a method of displaying photos or artwork. The image is printed on canvas, stretched over a wooden frame, and secured at the back.
Q: What are the available edge options for Canvas Wraps?
A: Common edge options include Mirror Edge, White Edge, Black Edge, and Fold Edge. These options allow you to customize the look of your Canvas Wrap, from frameless to bold contrasts.
Q: Can I choose custom sizes for Canvas Wraps?
A: You can select the dimensions that best suit your artwork and available wall space.
Q: Can I use my own photos or artwork for Canvas Wraps?
A: Yes, you can customize Canvas Wraps with your own photos, artwork, or designs. This personalization allows you to create a unique piece of wall decor.
Q: Is Canvas Wrap artwork durable and easy to clean?
A: Canvas Wraps are designed to be durable and long-lasting. They can be cleaned with a soft, lint-free cloth and a gentle cleaner.
Q: What if I don't have design options, do you provide design services?
A: We have a design service. Our team of creative designers have years of experience and are happy to help you perfect your preferred design. Before printing, we share with you the initial design of what it looks like and make changes if needed.
Q: Is there a minimum order quantity?
A: No, there's no minimum order quantity for canvas wrap printing.
Q: What is the turnaround time?
A: Our regular turnaround time is 4 business days for canvas wrap printing. But for last minute events we may be able to work with your tight deadline, next day or same day turnaround.
Q: How much does delivery and shipping cost?
A: Click on the "Shipping Estimate" button, which is right under the "Continue" button. Enter your zip code and it will automatically calculate the price.