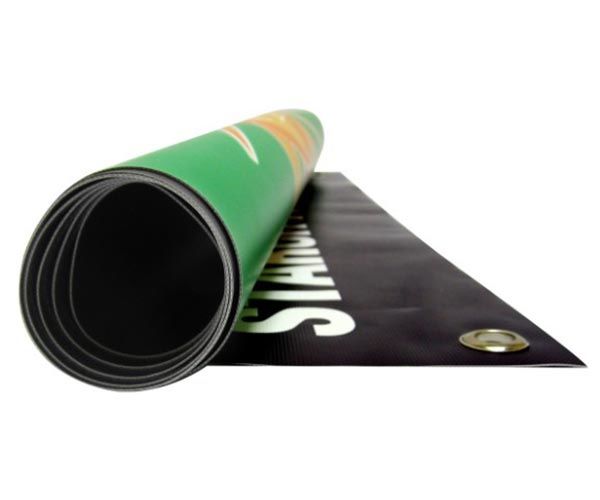 View Video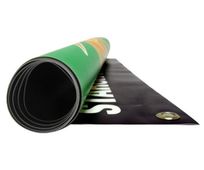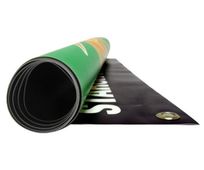 Indoor and Outdoor Double-Sided Blockout Banner Printing With Axiom Print
Blockout vinyl banners are heavy-duty banners commonly used for outdoor advertisement. Blockout banners are heavier than the standard 13oz vinyl banner. This 2-sided blackout banner is commonly used during festivals, parades, and outdoor advertisements. Contrary to backlit vinyl, blockout vinyl blocks any light source to penetrate through it.
Display your message on blockout banners which guarantee high visibility in populated areas. Axiom Print's blockout banner vinyl is incredibly economical to install and easy to install with grommets, wind slits, ropes, and velcro. If you want to advertise your business outdoors in your local community, blockout banners are easy to order, and install and they have longevity.
Characteristics of Blockout Vinyl Banners
Customization
Design and print a sturdy blockout banner with our online ordering tool. Axiom Print offers an array of customization options for blockout vinyl banner printing. Before placing an order, you can choose the size, hemming, grommets, pole pockets, and how many you want to print. You may upload your own design before checkout or request for one of our designers to help you with the creative portion of the job by leaving notes in the comment section. We also offer Double Pass Print and Single Pass Print. The difference between these two print methods is, that we can print a two-sided vinyl banner with one run or we can print on one side and then print on the backside (double pass print).
Durability
We offer high-quality and sturdy blockout vinyl banner printing. When printed on blockout vinyl, your image will be crisp, clear, and vibrant in color. When the banner is used outdoors and it remains under the sun for months there will be some color fading but the banner will withstand weather conditions. At Axiom Print blockout vinyl banners are weather-resistant, waterproof, and resistant to temperature, UV rays, fingerprints, and scratches. No additional maintenance is required because the vinyl banner is heavy-duty.
Enhancements
Additional enhancements are available for blockout vinyl banners. To reinforce the edges we recommend hemming the 4 sides of the banner and if you are going to hang the banner from a fence or from point A to point B we recommend Grommets. For larger banners, we normally recommend grommets every two feet but for smaller banners adding grommets on the corners is more than enough to hang the banner.
If you are going to hang the banner with rods we offer Pole Pockets. Simply choose where you want the addition of the pole pocket and production will fulfill the banner accordingly.
3" Pole Pockets Top & Bottom
3" Pole Pockets Left & Right
3" Pole Pockets 4 Sides
3" Pole Pockets Top Only
3" Pole Pockets Left Only
3" Pole Pockets Right Only
Material
18oz Blockout Banner is the main heavy and sturdy material we use for blockout banner printing. It features matte finish, excellent sharpness and clarity. Perfect for indoor and outdoor use.
Size
Axiom Print offers various sizes! With the 'Size' option simply choose which size is suitable for your display. Can't find the needed size, feel free to click the 'custom size' button and type the required width and height of your blockout vinyl banner.
FAQ
Q: What is the difference between blockout vinyl banner and backlit vinyl banner?
A: The printing material for blockout banners is highly opaque, which means the light doesn't pass through it. Whereas, backlit banners are printed on translucent vinyl that allows light to pass through the material, which in turn creates an eye-catching backlit effect. Both of them are perfect for indoor and outdoor use.
Q: Can I order 2-sided blockout banner printing?
A: Yes. we have the ability to print on both sides either with double pass print or single-pass print.
Q: Do blockout vinyl banners fade in the sunlight?
A: After years of exposure to sunlight there will be some color fading.
Q: What are blockout banners used for?
A: Blockout vinyl banners are commonly used for outdoor advertising. They are also great for indoors, but because blockout vinyl banner withstands different weather conditions it is highly recommended for outdoor use.
Q: What is the lifespan of blockout banners?
A: On average our blockout banners last up to 4-6 years.
Q: How can I order blockout banner printing?
A: To make an order online, select the banner and signs category, and from the dropdown select blockout vinyl banner. Before checking out, select your customization and upload your design. If you need our graphic team to work with you select the design needed before checkout and one of our team members will contact you.
Q: What is the turnaround time?
A: Axiom Print is known for offering clients express services. Our regular turnaround time is 2 business days for blockout vinyl banner printing. If you need it sooner, select next day or express options during checkout.