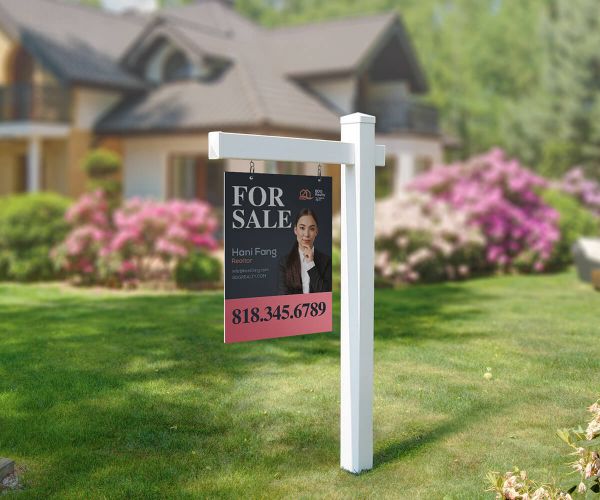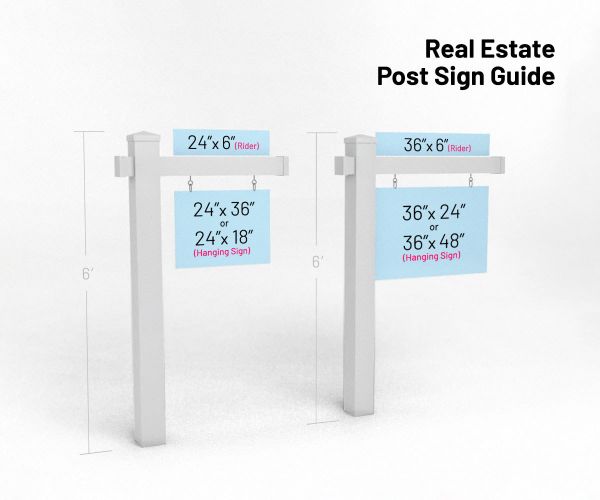 View Video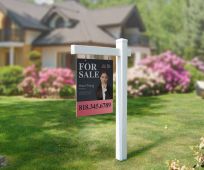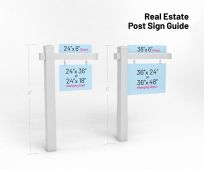 Get Stunning Real Estate Sign Post Printing by AxiomPrint
Looking for a durable and professional way to promote your properties for sale or rent? Look no further than our real estate post signs.
Constructed with heavy-duty materials, our real estate signposts are produced to withstand the elements and last for years. The sturdy metal frame ensures that your sign will remain securely in place, even in windy or rainy conditions.
Our real estate sign posts are fully customizable, allowing you to include information about your property, such as the asking price, number of bedrooms and bathrooms, and contact information for the real estate agent or property owner. Installation is quick and easy, with no special tools or equipment required. Simply slide the sign into the metal frame, secure it with the included hardware, and place it in the desired location.
Whether you're a real estate agent, property owner, or property management company, our real estate post signs are the perfect way to attract attention and generate interest in your properties.


Characteristics of Real Estate Sign Post Printing
Customization
AxiomPrint offers an array of customization options for Real Estate Hanging Sign Post. With a dynamic design, vibrant colors, and a clear message, post signs can draw attention to your property and make a deal. With our easy-to-choose options, you can create custom real estate hanging sign posts in the best way. In our customer-friendly online ordering system, you may choose the sizes, material and the quantity that meets your needs. Be assured that all of your special requirements are covered. We are very flexible and open to all special requests, notes and customization requirements.
Material
We offer two types of materials for real estate post sign printing:
1/8" White PVC

- a versatile and durable option for indoor and outdoor signage applications. Lightweight and flexible plastic material, which provides an ideal surface for vibrant, full-color printing. It has a UV resistance, which means your graphics will stay looking great for years.
1/8" White Aluminum Dibond

- featuring a smooth, white finish, this material provides a stunning surface for high-quality printing. This rigid material is UV resistant and is made from two thin layers of aluminum sandwiching a solid polyethylene core.
Post stand and sizes
We offer two types of post stands:
Small Post (36")

Large Post (48")
And accordingly two sizes for the sign printing:
Grommets and Rider
When it comes to promoting your real estate business, you definitely want to make a professional impression. For which we offer the highest quality grommets and riders for your post signs.
FAQ
Q: What is a real estate sign post?
A: A real estate post sign is used to advertise the sale or rental of a property. It typically consists of a post, which is inserted into the ground, and a sign panel that displays information about the property, such as the price, contact information for the real estate agent or owner, and other relevant details.
Q: Where can I place a real estate sign post?
A: In general, you may be able to place a signpost on your property or on public land with permission from the relevant authorities. It's important to check local regulations before placing a post sign to avoid fines or legal issues.
Q: How much does a real estate sign post cost?
A: The cost of a real estate sign post will depend on a number of factors, including the size, material, and design of the sign. In general, you can expect to pay anywhere from $100 to $300 or more for a custom post sign.
Q: Can I use a real estate sign post to advertise a commercial property?
A: Yes, you can install them to advertise the sale or lease of both residential and commercial properties. However, the design and messaging of the sign may need to be adjusted to appeal to commercial buyers or renters. It's important to work with a real estate agency that has experience in marketing commercial properties to ensure the sign is effective.
Q: What if I don't have design options, do you provide design services?
A: We have a design service. Our team of creative designers have years of experience and are happy to help you perfect your preferred design. Before printing, we share with you the initial design of what it looks like and make changes if needed.
Q: Is there a minimum order quantity?
A: No. There is no minimum order quantity for real estate post signs.
Q: What is the turnaround time?
A: Our regular turnaround time is 3 business days for real estate post signs printing. But for last minute events we may be able to work with your tight deadline, next day or same day turnaround.
Q: How much does delivery and shipping cost?
A: Click on the "Shipping Estimate" button, which is right under the "Continue" button. Enter your zip code and it will automatically calculate the price.