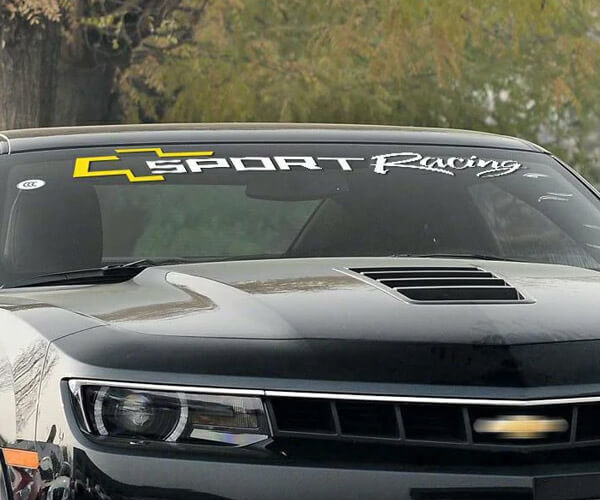 View Video
Get Creative Car Windshield Stickers at Axiom Print
Windshield vinyl stickers are adhesive sheets or just vehicle decals which are cut with a vinyl cutting plotter and are usually stuck on any sized clean surface. These car vinyl stickers are also known as car tattoos or windshield decals. Car windshield banners are two-layered with the paper you remove off and the designed part with an adhesive on the back. The front part includes all the information, details or custom design that you want to have on your car.
Usually stickers or decals are employed for commercial purposes, promoting business or raising brand awareness, decorating walls or shop windows. But, car windshield stickers along with other car advertising tools such as car magnets and bumper stickers are especially useful and effective for business and work vehicles to add a company logo, website address or phone numbers with an aim to advertise product, service and foster company's brand awareness.
Windshield Vinyl Stickers have been in use for a long while. From simple stickers to more professionally-designed vehicle stickers, this advertising tool has developed in years. Nowadays, it is one of the most popular outdoor marketing tricks, which is highly appreciated among various businesses.
The Main Uses and Benefits of Custom Car Windshield Stickers
Visible for your target audience and not only: When a branded car passes everyone notices it. Of course this hints the branding experts that this kind of advertisement is targeted not only at your target customers, but also not restricted to attract common passers by. Windshield vinyl stickers can catch the attention of any type of person, no matter what their profession, religion, age, gender, ethnicity is. This means that car stickers are considered to be one of the targeting tools of advertisement. You may not only show what new products or services your company offers, but also share the message of your business.
Long-lasting attributes: Windshield Vinyl Stickers by Axiom Print have a very long life. They are waterproof and durable in all weather conditions and can survive for years. Make sure that your car stickers can serve its purpose for a very long time. It's a very cost-effective and productive investment. And so, custom car stickers are very affordable.
Car windshield stickers are never out of fashion: If the design of stickers is engaging and shares a fun message, people will absolutely take photos of it or somehow will share it with their friends. If the design of stickers is on the same line of todays' tendencies, that sticker has a great potential to go viral. Not a secret, nowadays going viral on social media platforms provides much visibility and call-to-action aspects. So, one more promotional step for your business or brand.
Best Quality for Your Car Windshield Stickers
Custom car stickers come in various sizes and designs. Here, at Axiom Print we offer printing car stickers in custom sizes. Graph Tech cutting machines help us get your preferred sizes: width and height.
We know how much you prioritize the quality of printed marketing materials that are used for brand or business promotion. And so, out of a variety of materials, our experts put forward the most popular and durable ones.
Color choices is another essential part to decide for your car stickers. Not a secret, that every brand has a different associating color on the color spectrum. And here is what we suggest White Matte, White Gloss, Black Matte, Black Gloss, Frosted, Silver Matte, Silver, Gloss, Gold Matte, Gold Gloss, Red, Blue or you are free to suggest your own colors.
Before ordering the custom printed car stickers , make sure you choose the right quantity which can be sufficient to meet your daily demands and other designing usages. Our experts will provide the stickers within 2 business days. We also offer rush printing services, and in some cases we are able to fulfill the order with next day or even same day turnaround.