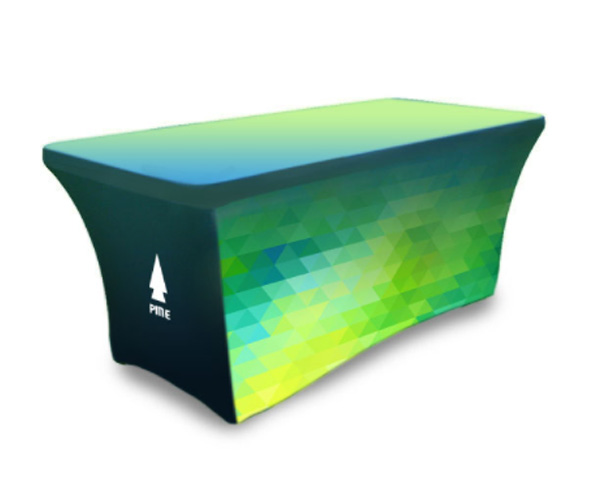 View Video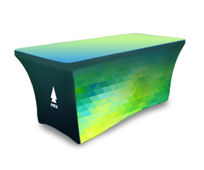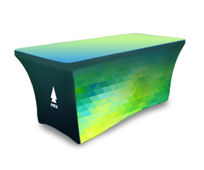 Dress Your Event Tables With Stretch Table Cover Printing for All Events and Trade Shows
Traditional table throws have been replaced by the brand new stretch fabric table covers. The branded stretch table cover will definitely turn your table into a professional-looking and eye-catching brand representative in all trade shows and events.
Produced from polyester stretch fabric, the stretch table cover is one of the eye-catching covers for trade shows and event tables. These outstanding and very stretchable table covers are designed specifically to add a professional and sleek touch to any event table. The stretch fabric table cover is adapted in the form of a frame of the table. The tightness of the throw is achieved with the support of backed pockets at the down side of each table leg.
The uniqueness of this stretch table throw lies within the fact that it gives a fancy appearance to any type of table. No matter if you are an event exhibitor or brand manager you can make the exhibition table display stand out from the rest at any gatherings with these special branded stretch table covers. Consider stretch table cover as an effective marketing tool which will enhance your further business promotions.
Basic Uses and Advantages of Stretch Table Cover Printing
Stretch Table Cover is one of the best marketing materials and it boosts brand awareness.

Stretch table throws

provide the easiest way for the target audience to know your brand and company. People directly get to know your company logo, name, and other relevant graphics. This is a very essential point to consider before promoting your brand at local events and when heading to outside events or trade shows.
Before approaching your booth, the passersby can find brief information about who you are and what you offer them. This means that with well-designed stretch table covers you can establish credibility and give your business a lasting impression. Make sure that with Axiom Print you will have the chance to effectively display your brand and attract many new customers at every event.
Stretch Table Covers are reusable.

One should not rush in hiring and paying for a special marketing team who will have to suggest new branding solutions for the company's every event participation.

Custom stretch table

cover is a one-and-done type of payment. Once printed, one should not endure any concealed or recurring costs.
The stretch fabric table cover gets a lot of use. You can always easily bring it to each trade show or exhibition. It is because stretch table covers are portable and quite lightweight. Believe us, whether you ordered the stretch fitted table cover for a one-time event, you will find other ways to use your branded stretch table cover.
High Quality Materials for Stretch Table Cover Printing
People are used to seeing graphics, because it's not a secret that a picture says a lot more than well-thought text. Hence, every marketing enthusiast must advertise the business with graphics or special signs. Not all people can afford high-priced banners or digital billboards. But you can easily use custom stretch table covers which guarantee a strong first impression about the brand you are representing at certain events or trade shows. With much creativity, people will get addicted to your brand booth. For which, the creative printing experts and designers of Axiom Print will take over the responsibility and suggest additional designs to help customers recognize your company image.
The stretch table covers come in two basic sizes: 6ft and 8ft. The sturdy material for our unique stretch table covers is stretch fabric. Mostly, stretch fabrics stretch the fibers to a certain degree and then return those fibers back to their premier size without any additional troubles.
Before ordering the stretch table covers, make sure you choose the right quantity which can be sufficient to meet your demands and other holiday designing usages.
Axiom Print is here for a stress-free printing journey! Our experts will fulfill the order of stretch table cover printing within 3 business days. But thanks to our printing gurus, high-speed machines and brand new facilities, we offer rush printing, and even same-day printing services. We can fulfill the order with the next day or same day turnaround.
Apart from our stretch table cover printing, feel free to explore what holiday essentials we offer for the most wonderful time of the year, magical Christmas: Holiday Greeting Cards, Christmas Gift Tags, Acrylic Wall Art, Personalized Table Calendars, Holiday Window Cling and many more.