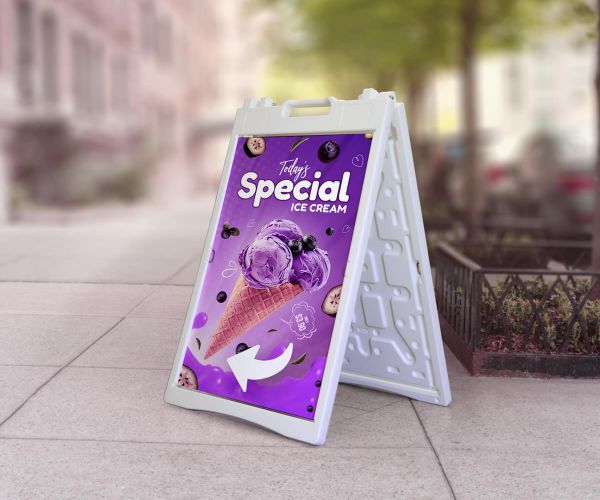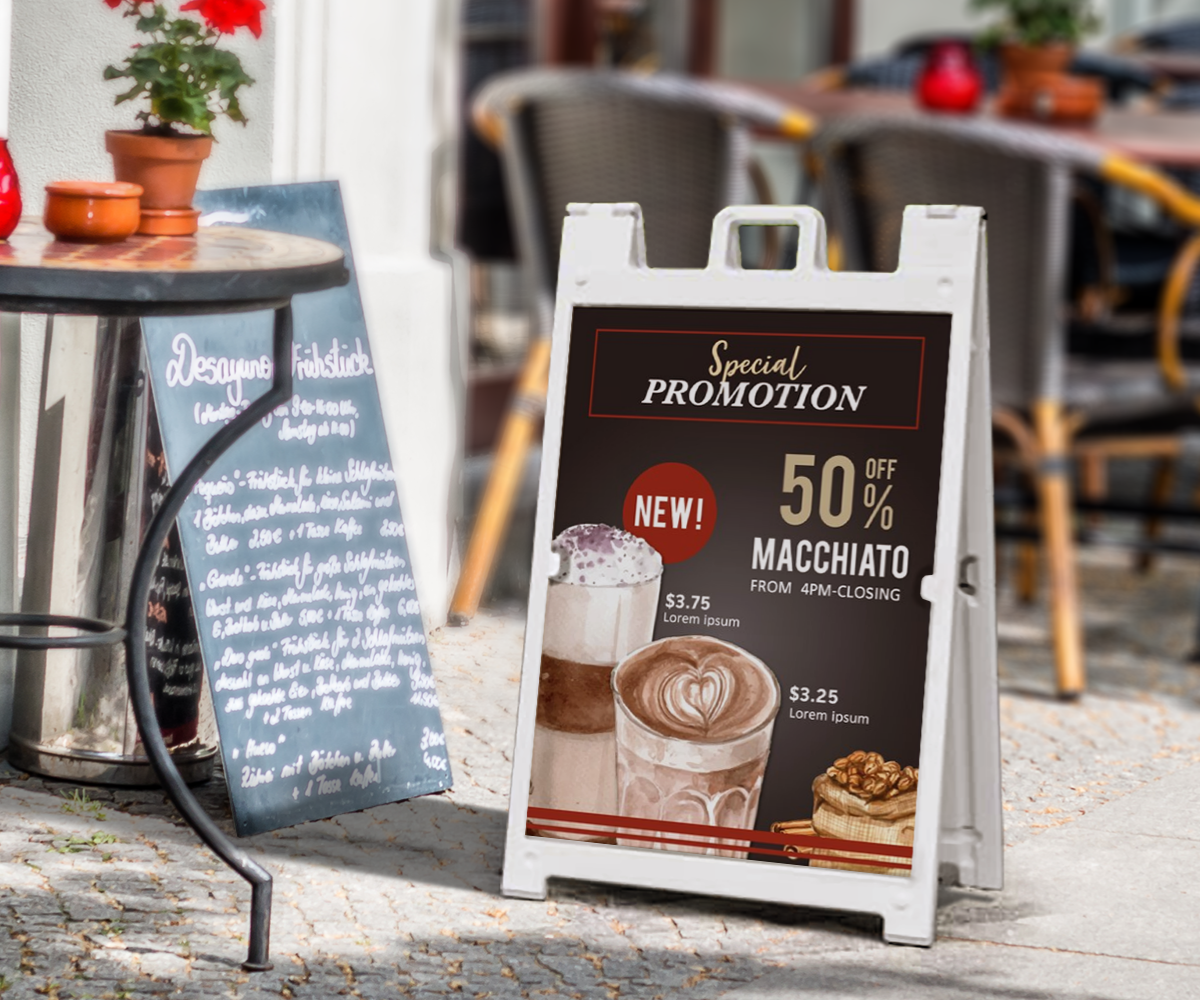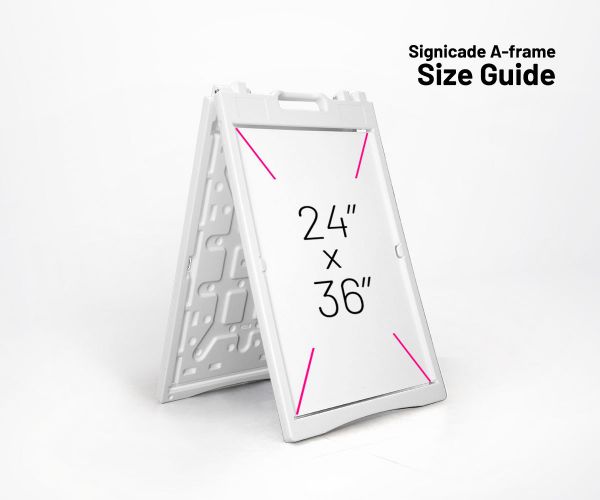 View Video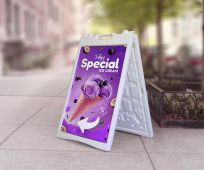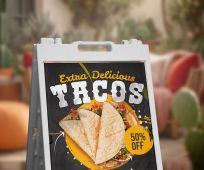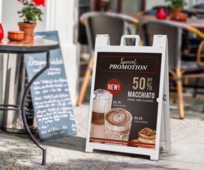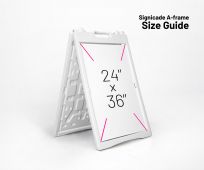 Get High-quality Foldable A-frame Signicades With Axiom Print
Signicade or a sandwich board is a foldable and durable all plastic A-frame sign stand, which will not splinter or rust and has a custom printed vinyl adhesive/PVC direct print on both sides. A-frame signicade may be set out everywhere from streets to inside buildings. These sidewalk boards are a tried-and-tested promotional tool used by almost all restaurants, cafes, bars and coffee shops to feature their special offers and menus.
Business owners one should never overlook the importance of sidewalk signicades. Considered to be one of the oldest forms of effective advertising, strong and most durable A-Frame signicade are the first things we notice when entering cafes, restaurants, grocery stores, parking lots or large retailers. Out of a bunch of benefits, the most vital is that it draws the attention of customers and provides higher foot traffic.
Characteristics of the Axiom Print A-frame Signicade
Durability
At Axiom Print A-frame signicade is produced to withstand all weather conditions and to work best in every specific climate. Made of durable plastic and printed on high-quality materials that can't be deformed or cracked, these sandwich boards can last up to several years. We equip sign stands with special features: sign frames can be filled with sand or water, ensuring extra stability to stand up and remain upright even in intense and crucial winds.
Customization
Available in white and black plastics, A-frame signs are easily customizable. We offer two options for transferring your design on frame: high quality adhesive vinyl or application of PVC directly on the board. A-frame signicade can be customized in various ways, allowing you to have your desired option of different signicades for special offers or promotions. This is a perfect opportunity for those businesses that frequently change their sales and offers.
Portability
This type of A-frame signs are highly portable and convenient for a variety of uses. They can be folded up and stored flat. They are lightweight and can simply be moved indoors and outdoors. With a handle at the top it is easier to carry and transport the signicades. Moreover, the handle allows you to hang them in various places.
Material
White Plastic Signicade
Black Plastic Signicade
Size
24x36
FAQ
Q: Are these signicades weatherproof?
A: The combination of high-quality plastic and printing makes our A-frame signs perfect for outdoor and indoor uses.
Q: Can I order printing on both sides of A-frame signs?
A: Of course you can! We provide both one-sided and two-sided printing for A-frame signs. If you already have the frame, you are welcome to order only the printing of the graphics.
Q: Can I insert the printings on the frame on my own?
A: It is a pretty simple process and you can definitely do it yourself.
Q: How do I clean these signicades?
A: To clean an A-frame sign, we suggest using a mild soap and water. Be gentle and do not scrub the graphics. Before storing, make sure it is fully dry.
Q: Are these signicades reusable? Can I later insert other graphics?
A: A-frame signicade is reusable as often as you'd like. Your artwork may be updated anytime. These signs can be used for years, if properly cleaned and stored.
Q: Do you provide design services?
A: Yes, we have a FREE design service. Our team of creative designers have years of experience and are happy to help you perfect your preferred design. Before printing, we share with you the initial design of what it looks like and make changes if needed.
Q: Can I upload my own design?
A: Yes, sure. You have two options for doing so. Either you upload the design online via our website, or email us at order@axiomprint.com.
Q: What is your turnaround time?
A: Here are the current expected production times for A-frame sign printing:
standard 2 business day
express printing, for last minute events. The printing may be done in same day or the next day turnaround
Q: How much does delivery and shipping cost?
A: Click on the "Shipping Estimate" button, which is right under the "Continue" button. Enter your zip code and it will automatically calculate the price.