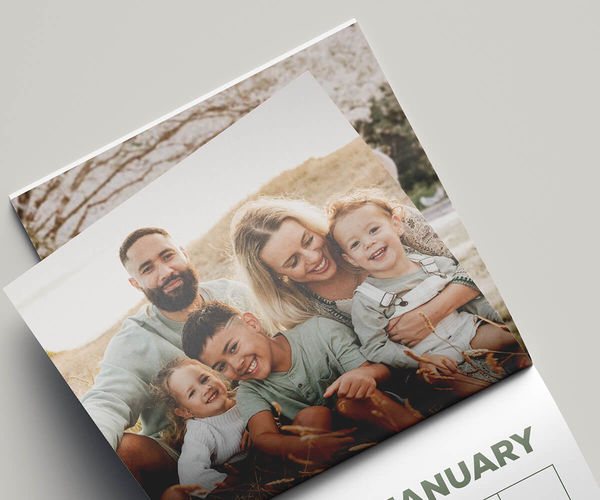 View Video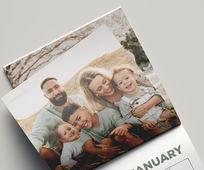 Get Personalized Photo Calendars Printing with AxiomPrint
Photo Calendars printing is a delightful way to relive cherished memories throughout the year. These personalized calendars are more than just date trackers; they're a heartfelt journey through your favorite moments captured in photos. Highlight birthdays, anniversaries, and other important dates directly on your calendar, ensuring you never miss a celebration.
Custom photo calendar is a personalized calendar that features your own photographs as the main visual elements for each month. These calendars are designed to allow individuals to showcase their favorite pictures, memories, or artworks while also serving as a practical tool for organizing their schedule, appointments, and important dates throughout the year. Each page of a photo calendar may represent one month, displaying a different photo for each month. This allows you to personalize and theme each page based on the season, occasion, or your own preferences.
Photo calendars serve both as functional planning tools and as visual showcases of your personal creativity.
Characteristics of Personalized Photo Calendar Printing
Customization
AxiomPrint provides a wide range of customization options to ensure the photo calendars reflect your desired message and graphics. With our easy-to-choose options you can create personalized photo calendars that reflect your photo essentials in the best way. In our customer-friendly online ordering system, you may choose stock options and the quantity that meets your needs. Be assured that all of your special requirements are covered. We are very flexible and open to all special requests.
Paper Material
For both inside and cover prints, we have prepared several options:
Cover Stock
thicker and more durable than 100# gloss text
used for covers of brochures, booklets, and catalogs
has a shiny and professional appearance
Inside Stock
premium paper stock
substantial weight and glossy finish
provides total durability
high-quality paper with a glossy finish for vibrant colors and images.
adds a touch of professionalism to marketing materials
heavier weight enhances durability and perceived value.
Size
We offer the 8.5" x 11" (Landscape) format with a wide canvas for your designs and content. With its landscape orientation, this size is perfect for showcasing panoramic images, charts, or detailed spreads. The 8.5" x 11" landscape layout provides both space and visual impact to make your photo shine.
Enhancements
The combination of the hole punch at the top center and saddle stitch binding offers ease of organization and durability, making it the perfect choice for the photo calendar printing.
FAQ
Q: Can I use any type of photos in my calendar?
A: Yes, you can use any photos you like. You can upload quality personal photos, whether they are from your smartphone, digital camera, or scanned prints.
Q: How many photos can I include in a photo calendar?
A: The number of photos you can include depends on the design and layout of your chosen template.
Q: Can I customize important dates on my photo calendar, like birthdays and holidays?
A: Yes, you can usually customize important dates on your photo calendar by adding text or icons to specific dates.
Q: Are photo calendars suitable as gifts?
A: Yes, photo calendars make thoughtful and personalized gifts for friends and family. You can create a calendar with meaningful photos and give it as a gift for birthdays, holidays, or other special occasions.
Q: What if I don't have design options, do you provide design services?
A: We have a design service. Our team of creative designers have years of experience and are happy to help you perfect your preferred design. Before printing, we share with you the initial design of what it looks like and make changes if needed.
Q: Is there a minimum order quantity?
A: No, there is no minimum order quantity for photo calendar printing.
Q: What is the turnaround time?
A: Our regular turnaround time is 2 business days for photo calendar printing. But for last minute events we may be able to work with your tight deadline, next day or same day turnaround.
Q: How much does delivery and shipping cost?
A: Click on the "Shipping Estimate" button, which is right under the "Continue" button. Enter your zip code and it will automatically calculate the price.