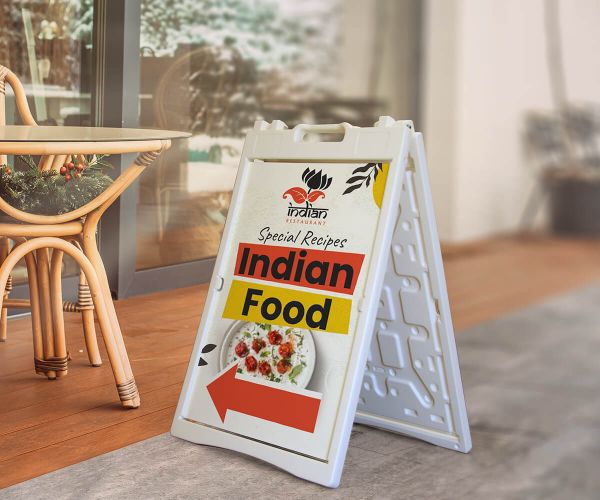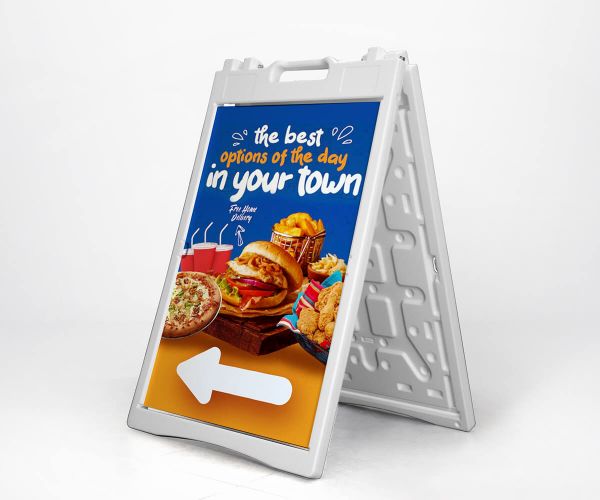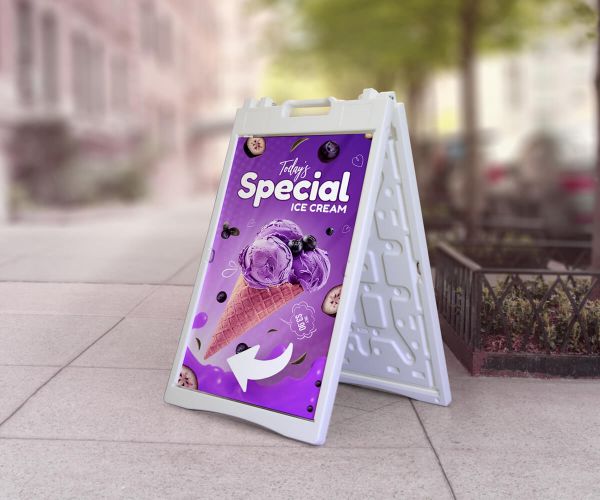 View Video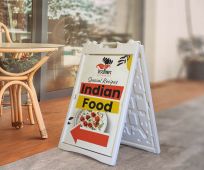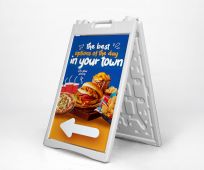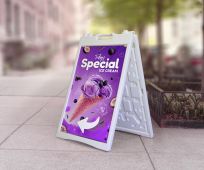 Get Durable A-Frame Sidewalk Sign Printing with AxiomPrint
Whether it's daily specials, upcoming events, or important announcements, make a bold statement with our A-Frame Sidewalk Sign.
A-Frame sidewalk sign, also known as a sandwich board sign, is a portable signage, which is often used for advertising or conveying information outdoors. The name comes from its shape, which resembles the letter "A" when opened up. A-Frame sidewalk signs are commonly used by businesses, restaurants, cafes, boutiques, and event organizers to capture the attention of pedestrians and passersby.
A-Frame sidewalk sign can be easily folded for storage or transport and then opened up on sidewalks, in front of entrances, or at outdoor events. These are an effective and flexible way to promote specials, deals, events, menus, or any other important information to attract foot traffic and engage potential customers.
Characteristics of A-Frame Sidewalk Sign Printing
Customization
For maximum appeal our team of professionals will help you get a perfect design and add custom specialities to target your audience. AxiomPrint offers easy-to-choose options to get your uniquely customizable A-Frame Sidewalk Sign and promote your brands. With our customer-friendly online ordering system, you can choose the main material, graphic, design and the quantity that meets your needs. No matter what standards appear in our website, we are flexible and open to all special requests.
Material
For A-frame sidewalk sign printing we suggest three options for you to choose:
White Plastic Signicade

Black Plastic Signicade

Replacement Print Only (No Sign)
Made from durable plastic, these plastics are designed to withstand outdoor conditions, providing long-lasting use. They are lightweight and easy to move, making it convenient to reposition as needed for optimal impact.
Graphic
When it comes to graphics, we offer two material adhesive vinyl and 1/8" White PVC. Adhesive vinyl is a thin, flexible material with an adhesive backing. It offers vibrant colors and sharp graphics. Compared to 1/8" White PVC, adhesive vinyl is commonly used for temporary or short-term signage.
1/8" White PVC is a thicker, rigid material known for its durability. PVC is more rigid and robust compared to adhesive vinyl, offering better resistance to impacts and weather conditions. Your choice should depend on factors such as the intended usage duration, the level of exposure to weather
FAQ
Q: Are A-Frame Sidewalk Signs suitable for outdoor use?
A: Yes, our A-Frame Sidewalk Signs are designed for both indoor and outdoor use. The choice of material can impact their durability against weather conditions.
Q: Can I update the graphics on my A-Frame Sidewalk Sign?
A: Yes, depending on the material, you can update the graphics. For adhesive vinyl, you can replace the vinyl graphics. For the 1/8" White PVC option, you can order replacement prints without changing the entire sign structure.
Q: Can I use these signs for special events or promotions?
A: Definitely! A-Frame Sidewalk Signs are perfect for promoting special events, offers, menus, sales, and more. Their portability and eye-catching design make them effective tools for drawing attention to your messages.
Q: Are these signs customizable to match my branding?
A: Yes, you can customize the graphics to align with your branding. Whether it's your logo, colors, fonts, or specific messaging, our printing options allow for personalized designs.
Q: What if I don't have design options, do you provide design services?
A: We have a design service. Our team of creative designers have years of experience and are happy to help you perfect your preferred design. Before printing, we share with you the initial design of what it looks like and make changes if needed.
Q: Is there a minimum order quantity?
A: No. There is no minimum order quantity for A-frame sidewalk signs.
Q: What is the turnaround time?
A: Our regular turnaround time is 2 business days for A-frame sidewalk sign printing. But for last minute events we may be able to work with your tight deadline, next day or same day turnaround.
Q: How much does delivery and shipping cost?
A: Click on the "Shipping Estimate" button, which is right under the "Continue" button. Enter your zip code and it will automatically calculate the price.