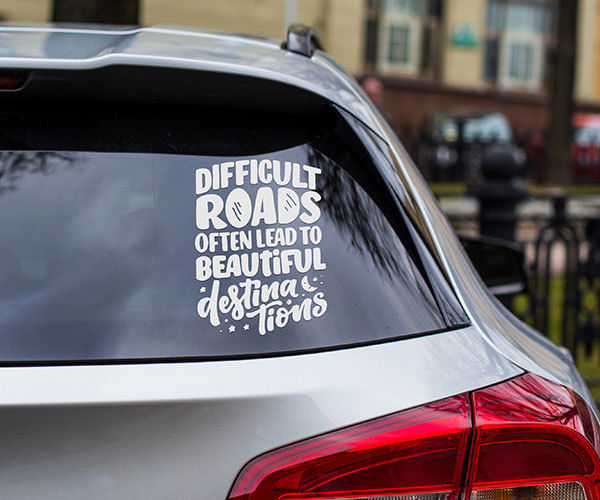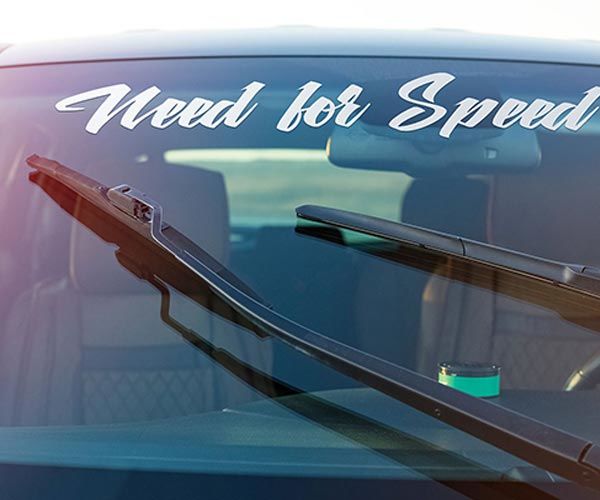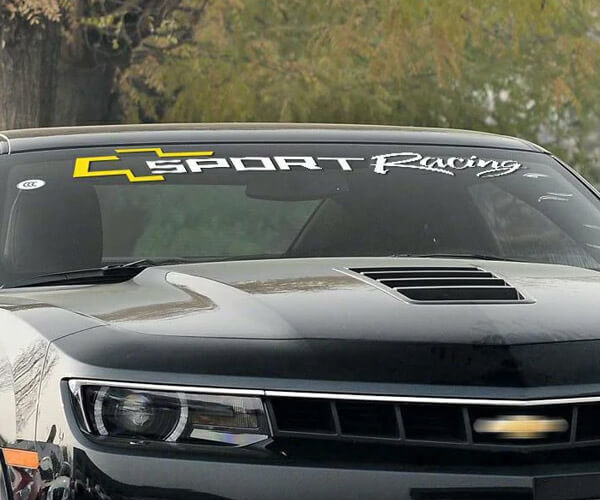 View Video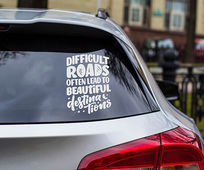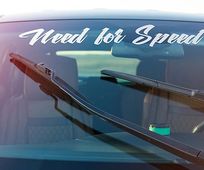 Get Creative Windshield Decals Printing at AxiomPrint
Windshield decals are adhesive sheets or simply vinyl stickers which are custom sized with a vinyl cutting plotter and are usually stuck on any sized clean surface of cars. These windshield decals are also known as car tattoos or car stickers. It is one of the most popular outdoor marketing tricks, which is highly appreciated among various businesses.
Windshield decals are two-layered and long-lasting attributes: the paper you remove off and the designed part with an adhesive on the back. The front part includes all the information, details or custom design that you want to have on your car. These decals are used to raise awareness of a brand. Windshield decals are effective for business and work vehicles to add a company logo, website address or phone numbers with an aim to advertise products and services. And make sure that due to its affordability windshield decals are great ROI when spreading a word about your advertising campaigns.
Characteristics of Windshield Decal Printing
AxiomPrint offers an array of customization options for windshield decals printing. With our easy-to-choose options you can create custom windshield decals that reflect your brand essentials in the best way. In our customer-friendly online ordering system, you may choose the sizes, paper material, colors and the quantity that meets your needs. Be assured that all of your special requirements are covered. We are very flexible and open to all special requests and customization requirements.
Paper Material
Custom vinyl windshield decals come in different colors, sizes and shapes. If you can't find the needed color, make sure you can leave a custom request. We offer three different options:
1 Color Cutout Letters
1 Color Reverse Die Cut
Full Color Printable
Sizes
Windshield decals come in a range of sizes thanks to Graph Tech cutting machines
36'' x 4''
48'' x 4''
24'' x 4''
36'' x 6''
Not sure which size will best suit your car? With a "custom size" option you can type your own option and coordinate the width and height of needed custom decals.


FAQ:
Q: Can I stick decals on my windshield?
A: Decals are permitted to be put on the car windshield, as long as it won't reduce the driver's clear view.
Q: How long does windshield decal last?
A: AxiomPrint offers decals made out of long-lasting vinyl and a quality adhesive. The lifespan of such decals may last up to several years.
Q: Should I worry that these decals will damage my car paint?
A: No. Up to now we did not have any cases of car damage. This may happen if only your car paint is of low quality.
Q: Do vinyl decals fade in because of sunlight?
A: Windshield decals are made of high quality vinyl, which means they have a long life. But still you should be careful and it is recommended that you avoid car parking right under the strong sun rays.
Q: What if I don't have design options, do you provide design services?
A: We have a design service. Our team of creative designers have years of experience and are happy to help you perfect your preferred design. Before printing, we share with you the initial design of what it looks like and make changes if needed.
Q: Is there a minimum order quantity?
A: No. There is no minimum order quantity for windshield decal printing.
Q: What is the turnaround time?
A: Our regular turnaround time is 2 business days for windshield decal printing. But for last minute events we may be able to work with your tight deadline, next day or same day turnaround.
Q: How much does delivery and shipping cost?
A: Click on the "Shipping Estimate" button, which is right under the "Continue" button. Enter your zip code and it will automatically calculate the price.