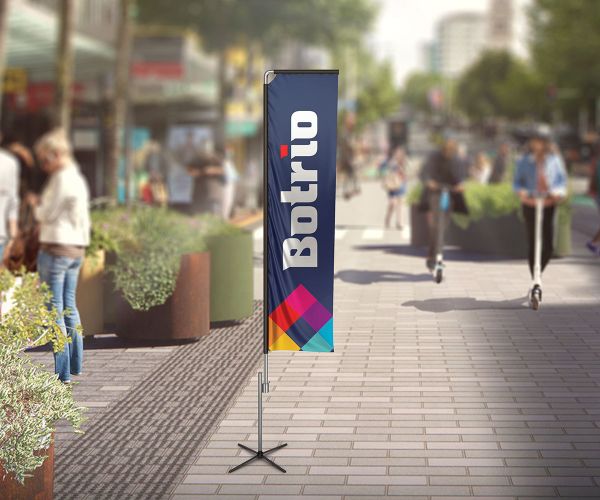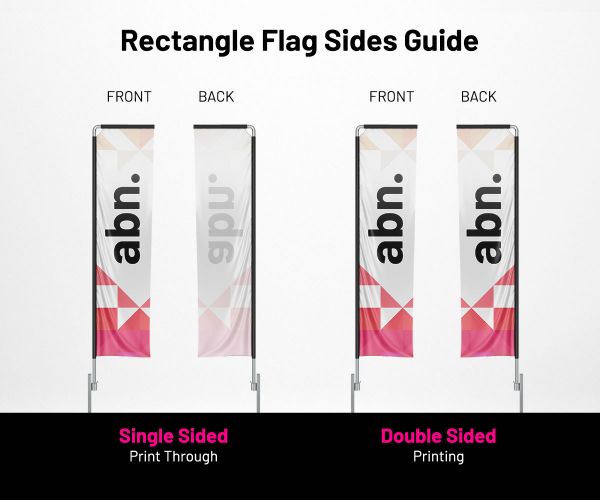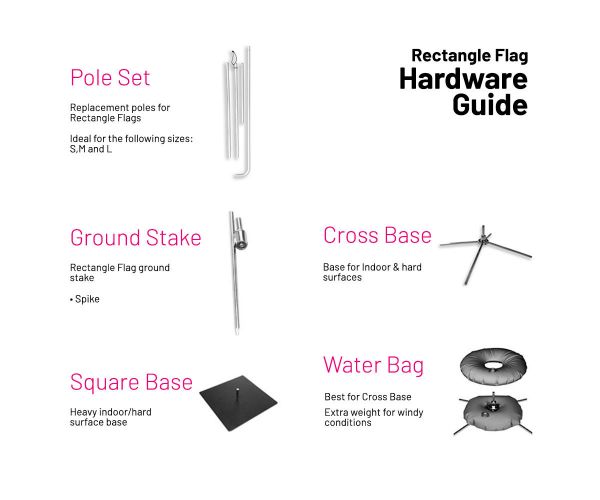 View Video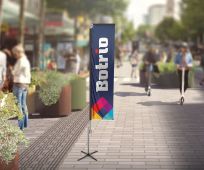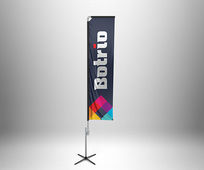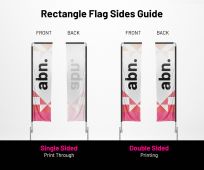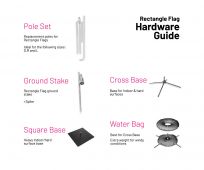 Get Long-lasting Rectangle Flag Printing With AxiomPrint
Custom rectangle flags are often referred to as outdoor advertising flags with higher visibility. Such feather flags are often installed during open-air concerts or outdoor crowded events with an aim to draw in more foot traffic. Fixed to aluminum and fiberglass flagpoles, rectangle flags can be placed in the ground or positioned on a flag stand. Due to the flagpole being bendable, the flag is resistant against winds.
Rectangle flags are hard to miss and are easy to carry and install. These are designed to promote new products, announcements and special offers at different events, exhibitions or conferences. Perfect for being installed on storefronts or in front of any other business. Flags will immediately catch the attention of pedestrians thanks to their vibrant coloring, the unique design and of course the overall quality. Feather flags by AxiomPrint can stand on sunny days, strokes, high winds, rain, and even heavy snow.
Characteristics of Rectangle Flag Printing
Customization
AxiomPrint offers an array of customization options for rectangle flag printing. With our easy-to-choose options you can create personalized feather flags that reflect your brand essentials in the best way. In our customer-friendly online ordering system, you may choose the sizes, print sides, hardware type and the quantity that meets your needs. Be assured that all of your special requirements are covered. We are very flexible and open to all special requests, notes and customization requirements.
Sizes
Our rectangle feather flags come in three sizes for you to perfectly match the needed information and graphics:
Small (8.5ft)

Medium (11.8ft)

Large (15ft)
Base Attachments and Carry Bag
AxiomPrint provides everything you might need to install the flags with no effort. We offer several hardware options
perfect for setting up on sand, grass, and even snow
perfect for both indoor and outdoor uses
Pole + Cross Base + Ground Stake
additional base option for installing in stormy weathers
Pole + Cross Base + Water Bag
adds more stability during windy weathers
best used indoors
While submitting your order you can also include a carry bag, which can later be used to store the flag and keep it clean.
FAQ
Q: Can I choose another shape?
A: We offer three different shapes of custom flag printing: feather flag, teardrop flag and rectangle feather flag. All of them can be customized according to your needs.
Q: Can I have one-sided printing for my rectangle flag?
A: Yes, you can. We do both one and two-sided printing.
Q: How can I decide which flag is for my event?
A: Rectangle flags are suitable to use indoors and outdoors. So if you plan to host an open-air event,make sure that rectangle flags are durable enough to stand every weather condition. Whereas if you want to host an indoor event, you might want to set up custom banners. These may have the same effect as feather flags.
Q: Can I reuse these feather flags?
A: The answer is yes. It can be reused if they are kept properly.
Q: Can I apply a different artwork for each flag?
A: Yes, you can upload different graphics, one for each order․
Q: What if I don't have design options, do you provide design services?
A: We have a design service. Our team of creative designers have years of experience and are happy to help you perfect your preferred design. Before printing, we share with you the initial design of what it looks like and make changes if needed.
Q: Is there a minimum order quantity?
A: No. There is no minimum order quantity for rectangle flag printing.
Q: What is the turnaround time?
A: Our regular turnaround time is 2 business days for rectangle flag printing. But for last minute events we may be able to work with your tight deadline, next day or same day turnaround.
Q: How much does delivery and shipping cost?
A: Click on the "Shipping Estimate" button, which is right under the "Continue" button. Enter your zip code and it will automatically calculate the price.