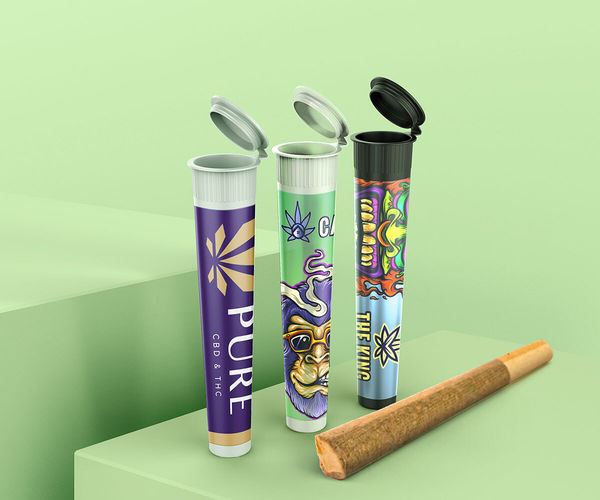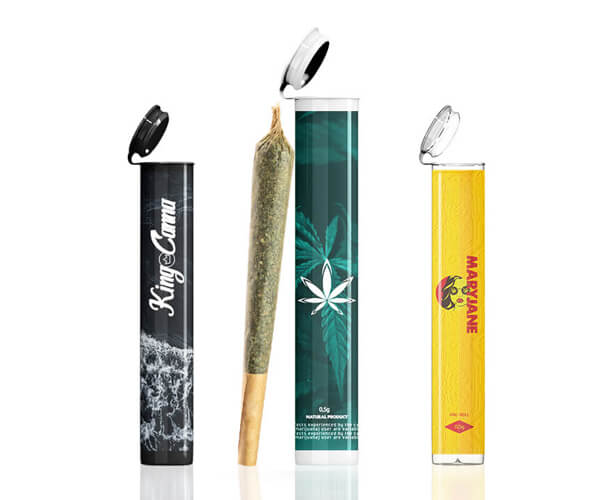 View Video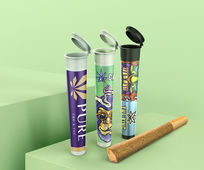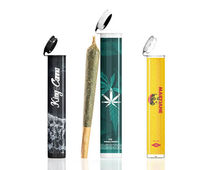 Roll Labels are a great asset for enhancing brand awareness. Having a great-looking label, will make your product stand out on the shelf. Pre rolls are not an exception to this. Since 2019 we have been offering pre roll tube labels, and now we have a huge selection of different options for pre-roll joints. The market has been getting bigger and bigger and our team has been working hard to be able to fulfill the needs of the new emerging industry of cannabis products.
Pre Roll Tube Labels for your medical marijuana packaging
Custom printed pre-roll tubes are an effective way to market your products. They are designed to keep your products safe and unique. You can customize pre-roll tube labels with foil options, spot UV, special die-cutting, holographic foil (or holographic labels), and other ideas. Following the state regulations and adding the necessary information about the products on pre-roll joint labels, shows your professionalism and enhances buyers confidence in your product. Pre Roll Joint labels will surely help your brand stand out on the shelves. With our custom printing options, you can also ensure that your labels are not easy to get copied by unauthorized personal, to keep the genuinety of your products in the market.
Custom roll label specifications
Roll Labels are available in a wide range of sizes and shapes including circles, ovals, rectangles, cone shapes, and custom shapes. By choosing material, finish and features such as White Matte Bopp, Silver Gloss Bopp, Clear Gloss Bopp, White Matte Paper, and Silver Gloss Paper, you will get a game-changer solution. You can also apply 3 types of lamination: Matte, Gloss, and Gloss Gold Glitter. We also offer spot uv, foil stamping, white support to make them very unique. Kraft paper option has recently been added to our list of materials to be printed on, and it's a great addition to the material selection of our pre-roll joint labels, which gives a very organic and unique look to your product packaging.
How to get roll labels with AxiomPrint?
Either you can upload your own design or you can work with our designers to create a custom design that demonstrates your brand and industry creatively for an added fee. At Axiom Print in Los Angeles our team of creative and skilled designers will create a design that meets all of your needs and those of your clients.
We offer innovative printing, quick turnarounds and personalized account managers to give you the ultimate printing experience you deserve.