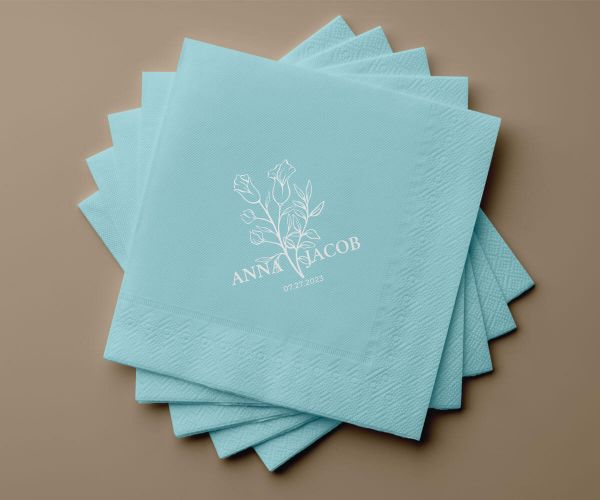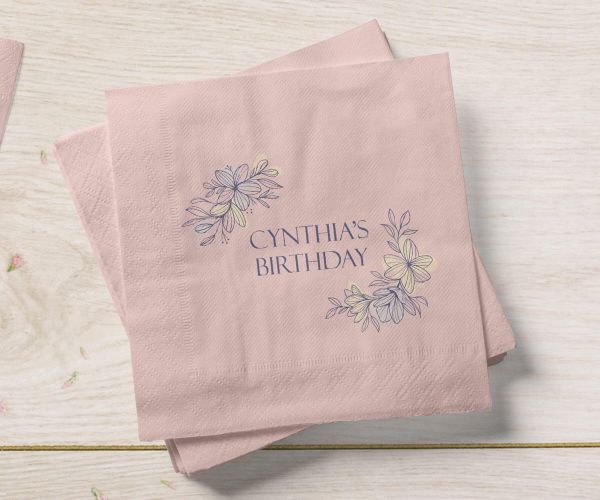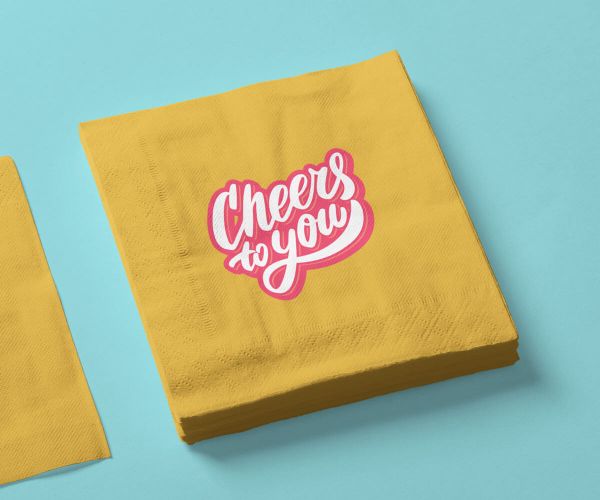 View Video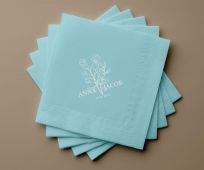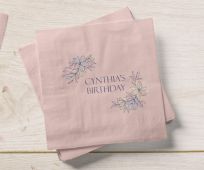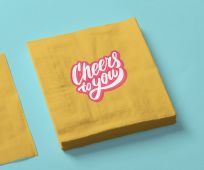 Get Your Personalized Cocktail Napkins by AxiomPrint
Whether you're looking to add a personal touch to your cocktail hour, impress clients at a corporate event, or create lasting memories at your wedding, our Personalized Cocktail Napkins are a charming and functional choice.
Personalized cocktail napkins are custom-designed napkins that are typically used at parties, events, weddings, and other special occasions. These napkins are perfect additions for specific needs and preferences of the host or organizer, making them unique and personalized to the event.
While they are called "cocktail napkins," these personalized napkins can be used for more than just cocktails. They are suitable for serving appetizers, desserts, or simply as decorative elements at tables. Personalized cocktail napkins feature designs, text, or graphics that are chosen or created by the host. These designs often include names, dates, monograms, event themes, or special messages.
Characteristics of Personalized Cocktail Napkins Printing
Customization
To transform ordinary napkins into memorable, branded keepsakes AxiomPrint offers detailed customization options for personalized cocktail napkins printing. Order them for hors d'oeuvres, desserts, or to add an extra touch of class to your beverage station. Choose from a spectrum of colors, foilings to perfectly match your theme or brand identity. With our customer-friendly online ordering system, you can also choose the quantity that meets your needs. No matter what standards appear in our website, we are flexible and open to all special requests.
Material
Our personalized cocktail napkins are printed on durable 3-ply paper. They're strong and soft, offering a luxurious feel. The three layers of premium paper not only provide a sturdy foundation but also deliver a soft feel.
Sizes
We offer the most suitable sizing for personalized cocktail napkin printing:
4.75'' x 4.75'' (Beverage Size)
Foiling
Foiling leaves a space for you to emphasize the uniqueness of your business or brand and convey luxurious and rich shine on the name or logo of the company. To start your glossy journey look through what foiling we offer:
White (Print / Foil Stamp)

Ecru (Print / Foil Stamp)

Lavender

Sand

Gold

Coral

Slate

Claret

Magenta

Melon

Blush

Marine

Silver

Black

Hunter

Navy

Violet

Orange

Wine
FAQ
Q: What are personalized cocktail napkins?
A: Personalized cocktail napkins are customized napkins often used at special events, parties, weddings, or corporate gatherings. They can feature custom designs, text, or graphics to suit the occasion.
Q: What customization options are available?
A: You can usually customize the napkins with names, dates, monograms, event themes, special messages, logos, and more. At AxiomPrint, you have choices for colors, foiling, designs.
Q: Can I order personalized napkins in bulk for a large event?
A: Yes, bulk orders may also be more cost-effective.
Q: Can I use personalized napkins as keepsakes for my guests?
A: Yes, personalized cocktail napkins make excellent keepsakes, especially at weddings and special occasions.
Q: What if I don't have design options, do you provide design services?
A: We have a design service. Our team of creative designers have years of experience and are happy to help you perfect your preferred design. Before printing, we share with you the initial design of what it looks like and make changes if needed.
Q: Is there a minimum order quantity?
A: Yes. Minimum order quantity for personalized cocktail napkins is 50pcs..
Q: What is the turnaround time?
A: Our regular turnaround time is 12 business days for custom logo napkin printing. But for last minute events we may be able to work with your tight deadline, next day or same day turnaround.
Q: How much does delivery and shipping cost?
A: Click on the "Shipping Estimate" button, which is right under the "Continue" button. Enter your zip code and it will automatically calculate the price.