View Video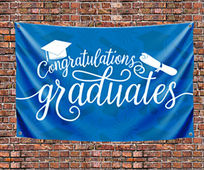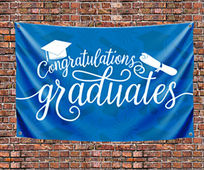 One of the best tools for indoor advertising is the utilization of fabric banners. Fabric banners are commonly made of a high-standard polyester/nylon blend that is great for indoor usage. The banners are washable and the fabric is wrinkle-resistant which makes it great for multiple usages. Due to the thin threads and the tight weave of the banners, high durability yet lightweightness are guaranteed.
Such factors as multiple display options, full custom printing, and the easy-on-the-eye looks of fabric banners make them great for using in a wide variety of purposes such as in-store displays, business events, churches, schools and so on.
Fabric Banners Uses
Fabric banners with grommets are easily attached to stationary objects such as poles or fences with the help of cords, strings or bungees. In the case of smaller banners, hanging is the right option by means of a rope or a ribbon. If you want to have your banners attached to a rigid background such as walls or wood, you can easily do this as well by using screws or washers. The pole pockets enable you to just hang the banner for indoor displays, booths, etc.
Thus, if fabric banner printing is what interests you then AxiomPrint is the right place to have it done. Our specialists will make the best custom fabric banners that come with high quality, versatility, durability and of course, affordability. Our fabric banners are water and UV-resistant which makes them great for outdoor use as well. All you need to do is give us the design and size specs and let our masters do the rest for you. Fabric banner printing is a classy way of promoting your business and being sure that people will receive your message. Don't miss the chance to make your special events unforgettable with AxiomPrint's high-standard fabric banners.
Looking for a sophisticated way to maximize your business, public or retail space? Add a professionally printed fabric banner from AxiomPrint to your business or in-store display. Fabric banners are our top recommendation of all our custom banner materials. Not only are they more vibrant and crisp with colors when viewing up-close, but they have an eye-catching premium look from far away. These are ideal for indoor use, but can also be used for outdoor advertising. Fabric banners are perfect for photo backdrops because they have minimal light reflection, reducing glare from lighting and camera flashes.
Fabric Banners from AxiomPrint are made of high-quality, durable fabric material that makes colors eye-catching and vibrant. Excellent for advertising. Our lightweight fabric banners allow wind to blow right through the display, they are durable, water, & UV resistant. Don't let the weather get in the way of proudly displaying your company's message. The beautifully-hanging fabric banner offers an elegant way to promote your brand, advertise a sale or decorate for a special event. Sometimes, people will order a custom fabric banner to create a custom sign for their homes. Displayed in the family room or "man cave," fabric banners can be an ideal wall decoration. Be sure to have the best fabric banners at AxiomPrint.